What is RoHS?
RoHS directive 2002/95/EC (RoHS 1) is a restriction on the use of certain hazardous substances in electrical and electronic devices adopted by the EU in 2003. The directive has been amended twice so far, including RoHS 2 and RoHS 3. The RoHS 2 or 2011/65/EU was issued in 2011, while the directive (EU) 2015/863 was issued in 2015.
RoHS prohibits the use of 10 toxic elements in electrical and electronic equipment. These elements are listed below:
Cadmium (Cd) (0.01% maximum)
Lead (Pb) (0.1% maximum)
Mercury (Hg) (0.1% maximum)
Hexavalent chromium (Chromium 6) (0.1% maximum)
Polybrominated Biphenyl (PBB) (0.1% maximum)
Polybrominated Diphenyl ether (PBDE) (0.1% maximum)
Bis (2-Ethylhexyl) Phthalate (DEHP) (0.1% maximum)
Butyl Benzyl Phthalate (BBP) (0.1% maximum)
Dibutyl phthalate (DBP) (0.1% maximum)
Di-isobutyl phthalate (DIBP) (0.1% maximum)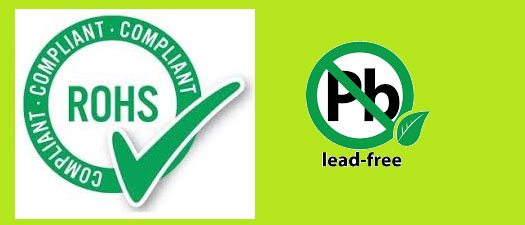 What is the purpose of RoHS?
The RoHS regulation, also known as the lead-free directive, was instigated to limit the pollution of the environment caused by toxic e-waste. Even the smallest proportion of disposal of the above-mentioned elements is harmful to plants and animals. They contaminate the environment and also pose a risk of occupational exposure. The standard is significantly related to the European Union's waste electronic equipment directive (WEEE). The regulation controls the usage of hazardous chemicals while WEEE monitors the disposal of such products.
Restricted substances found in consumer electronic products
In consumer electronics, RoHS-restricted elements have been used on a large scale. Examples include:
Paints and pigments
PVC (vinyl) cables as a stabiliser (e.g., power cords, USB cables)
Solders
PCB surface finishes, leads, internal and external interconnects
Television and photographic products made of glass (e.g., CRT television screens and camera lenses)
Metal parts
Lamps and bulbs
Batteries
Integrated circuits or microchips
Steps involved in certification and documentation for RoHS compliance
It is necessary to complete the certification process and documentation for being RoHS compliant. The certification steps include:
1. Testing: To evaluate the values of the 10 prohibited RoHS chemicals, XRF (X-ray fluorescence spectroscopy) and lab phthalate solvent extraction testing is used.
2. Process audit: It is the study of critical processes that include examining business and operational key risk factors and the proper controls to reduce those risks such as compliance with the laws, policies, procedures, and processes.
3. Documentation review: In this step, all the important documents such as bill of materials, assembly drawings, materials declarations, technical files, test reports, and conformity certificates from all the suppliers should be reviewed correctly. Technical file mainly contains:
Product description and design structure
Risk assessment of elements, components, and subassemblies
Conformity details of elements, components, and subassemblies
Documents and records of the manufacturing process
4. RoHS certification: After the audit, the certificate is issued by the authority.
CE marking
CE marking is done only when the product is validated to the RoHS 2 directive. There are certain steps for CE conformity. They are:
Determination of the required information
Collection of the important information
Evaluation of the information
Technical documentation
The CE marking can be applied, once all the required directives have been followed and compliance has been verified according to the standard.