Flex PCBs are flexible circuits made of very thin substrates with high levels of bendability. A rigid-flex board is a combination of rigid and flexible technologies. Scroll down to learn more about this topic as we answer some of the most common questions.
» MORE
We are more than your PCB manufacturer. We help you flex your design potential. Get low-to-high volume flex and rigid-flex PCBs manufactured with industry leading quick turnaround times.
Start building a quote online now.
What are flexible printed circuit boards?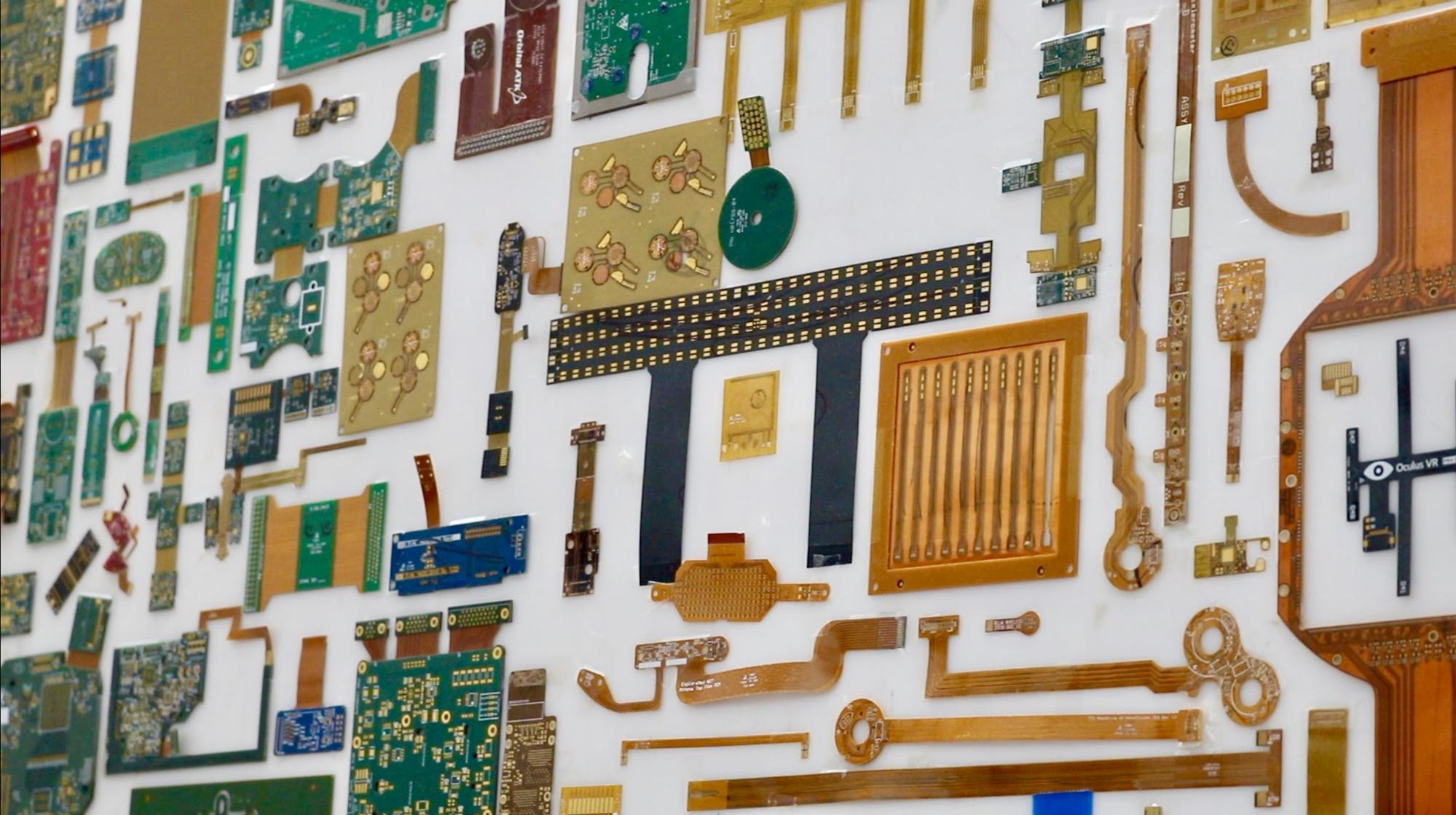 Flexible PCBs are made of very thin substrates with high levels of bendability, tensile strength, and physical flexibility. They can also be molded into complex three-dimensional shapes for use across a diverse range of applications. These boards were originally used within the military industry due to their durability, reliability, and lightweight. Now, they can be  found in nearly every industry such as medical devices, fitness wearables, and cameras. Flex boards also eliminate traditional wiring harnesses and ribbon connectors.
Flexible PCBs classification based on configuration
Flex circuits are classified into single-sided, double-sided, and multi-layered boards.
Single-sided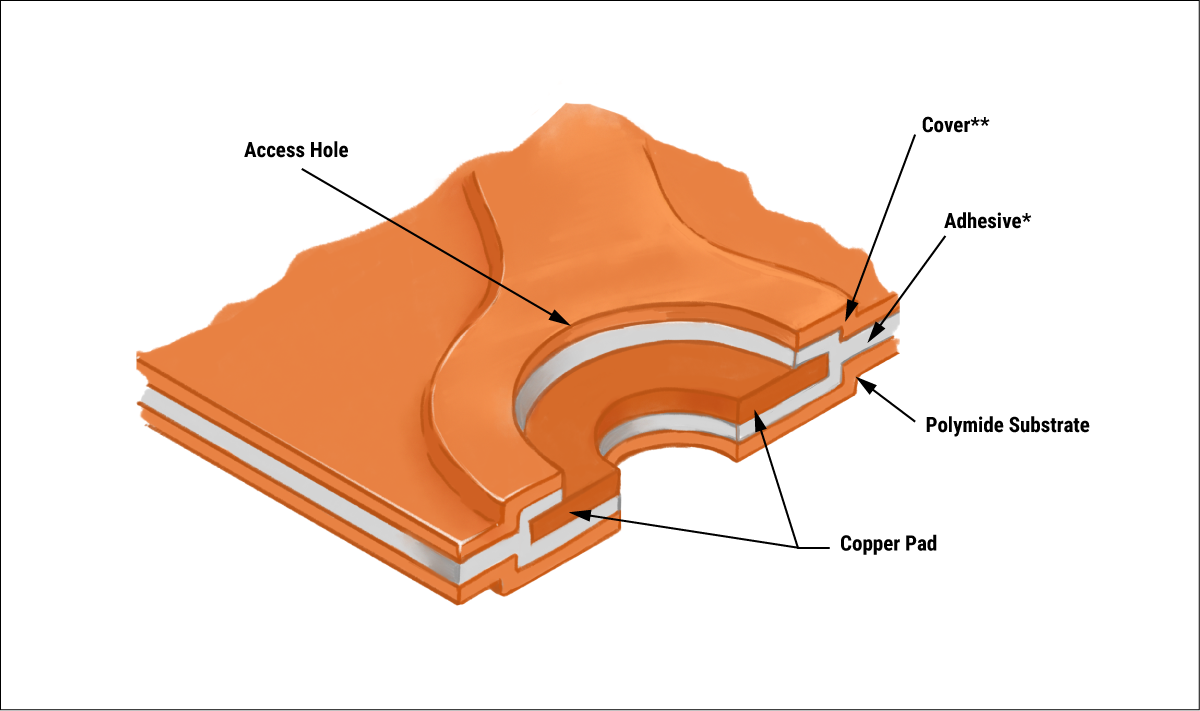 Single-sided are the most basic type of flexible printed circuit boards. These boards consist of a single conducting layer on a flex substrate. A flexible polyimide is laminated to a thin sheet of copper. Holes may be drilled through the substrate to allow lead of the components to pass during the soldering process. A polyimide coverlay can be used for insulation and environmental protection of the circuit.
Double-sided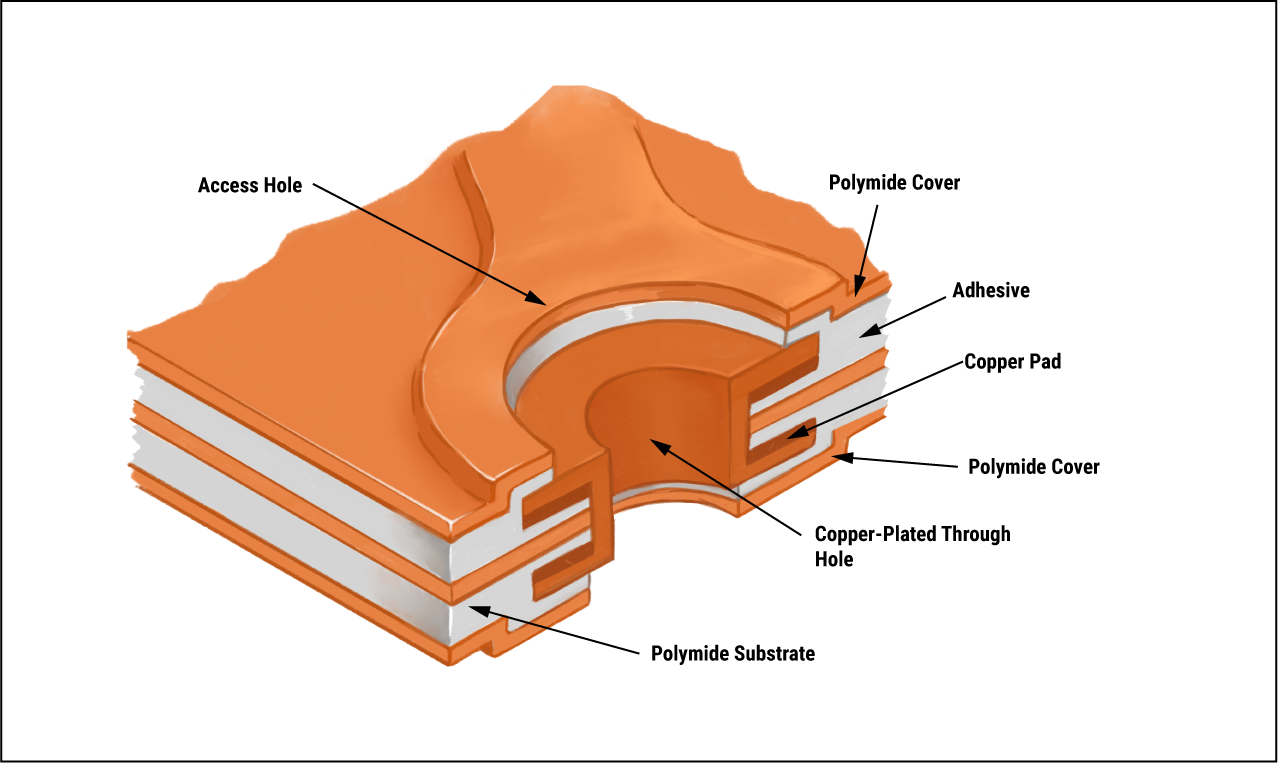 Double-sided flexible printed circuit boards have two conductive layers (one on each side of the flex substrate). Here, the copper foil is laminated on either side of the polyimide substrate. Plated through holes or vias establish electrical connection between the layers. These boards can be fabricated with a protective layer on one side, both sides, or neither side, depending on the circuit design requirements.
Multi-layered flex circuits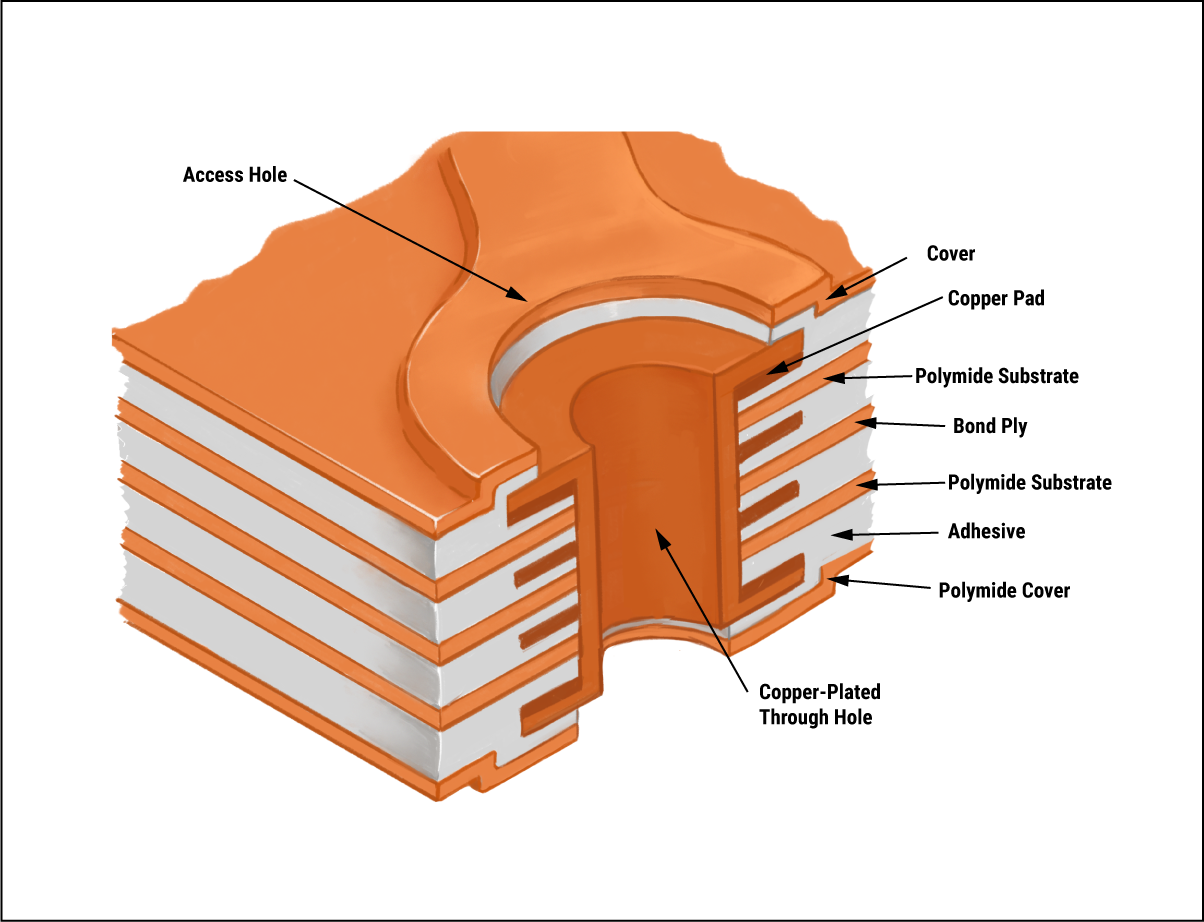 Multi-layered flex circuits consist of more than two copper conductors. Like double-sided boards the conductive layers are interconnected through PTHs or vias. Thesse circuits are the best solution to tackle the design challenges such as: specific impedance requirements, unpreventable crossovers, crosstalk, high component density, and shielding.
Rigid-flex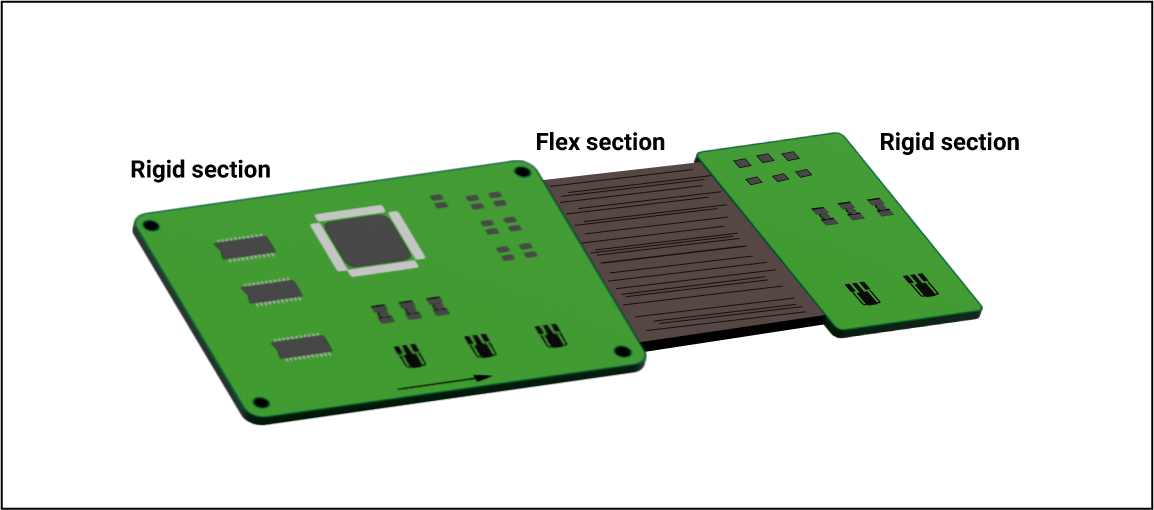 A rigid-flexible board is a combination of rigid and flexible technologies. Here, one or more flex circuits are used to connect sub-circuits in rigid PCBs. The flexible section of the rigid-flex are generally multilayered.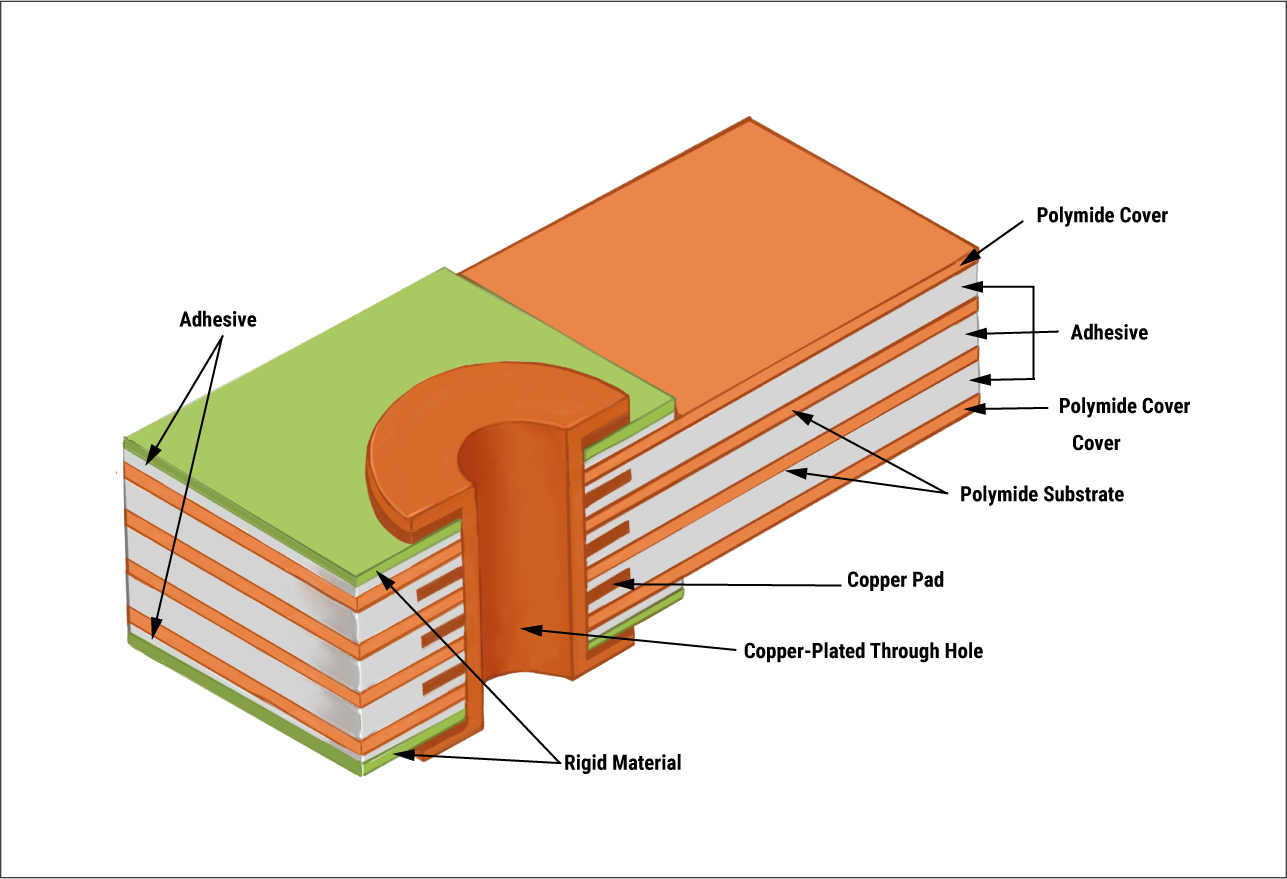 Plated through holes are used to secure the interconnectivity among these layers. These boards use a combination of rigid and flex PCB materials. The materials include core, prepreg, copper foil, flexible laminates, coverlay, and bond plies. The below figure shows the basic structure of a rigid-flex circuit board.
Rigid-flex stack-up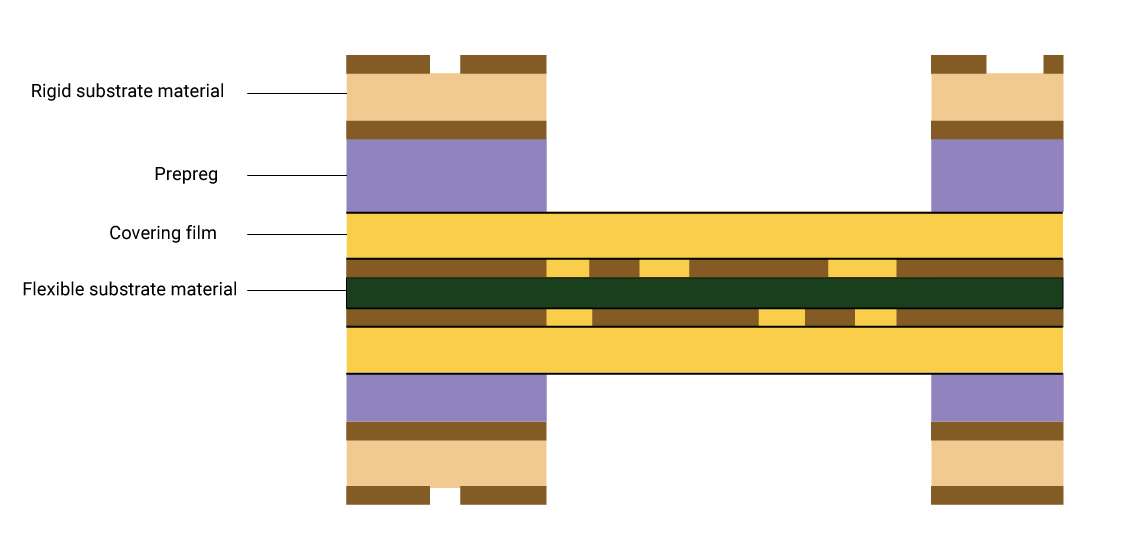 What are the materials used in flexible PCBs?
PCB materials used in flex sections are just a few microns thick but can be reliably etched. This often makes them preferable over rigid boards. Flex circuits are built using unreinforced substrates made up of polyimide dielectric film cladded with rolled copper. The rolled copper is more flexible than the copper foil used in the rigid PCBs. Bondply is used to isolate the conducting layers similar to prepreg found in rigid boards. It is a layer of polyimide film with adhesive coated on either side. This layer also insulates the outer surfaces of the flex stackup.
Flex materials offer better dielectric constant compared to standard rigid materials. They offer uniform thickness as they are made of acrylic base. The rigid materials, on the other hand, are built from interwoven glass fiber and the thickness of these materials may not be uniform. Below are few flex materials that we generally use:
DuPont Pyralux AP
DuPont Pyralux LF
DuPont Pyralux FR
What are the advantages of flex boards?
Flexible printed circuit boards reduce the space consumption and improve flexibility to achieve a smaller and higher density design. They also help to reduce the assembly process and enhance reliability. In brief, flex is one of the solutions to ensure the miniaturization and mobility of electronic products.
These PCBs unlock many other advantages such as:
Minimize the connection points and simplify the assembly. As a result, they eliminate the chances of interconnection defects like poor solder joints. This makes them more reliable when compared to rigid PCBs.
Superior resistance to vibrations and other disruptions within harsh environments.
Better airflow and heat dissipation.
Assembly costs are much lower than those with traditional wiring harnesses.
Elimination of wiring harnesses results in no wiring errors. This eases out the testing procedure which also reduces the assembly costs.
Eliminate connectivity issues even before the components are assembled and prevent unnecessary wastage and expenses.
What is the difference between FFC and FPC?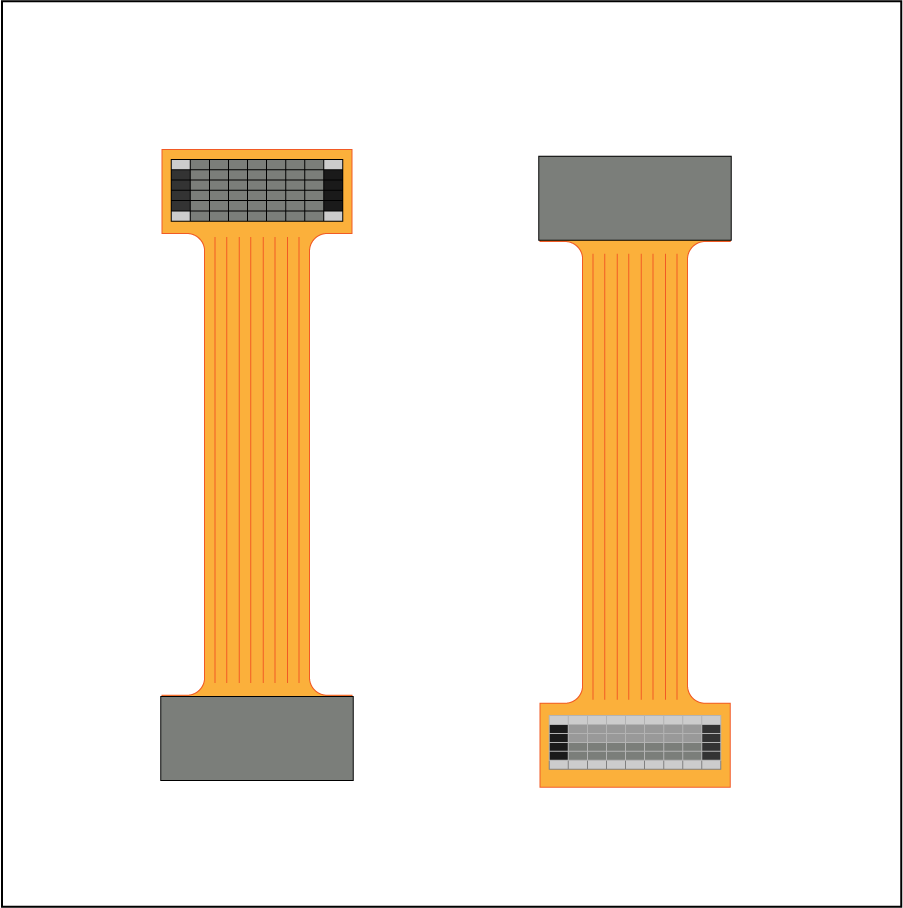 FFC (flexible flat cables) refers to any type of electrical cable which is flexible and flat whereas an FPC is a flexible printed circuit. FFC is a type of ribbon cable and is named after its wide and flat structure. They are usually straight connectors without any additional components. FFC cables usually consist of a plastic film, to which multiple metallic connectors are bonded and the spacing between each connector is referred to as the 'pitch'.
To learn more about flex design guidelines, download our Flex PCB Design Guide.