PCB Quality refers to the measurable characteristics of a circuit board that enable it to meet customer requirements while meeting industry standards.
We understand that your devices need to fulfill the highest standards of quality for optimal performance. Our fabrication processes are geared to meet your expectations followed by validation through quality conformance checks. Every product we manufacture is checked during and after the fabrication process .
We hold every certification and approval required to validate the manufacture of high-quality PCBs.
How is PCB quality testing and inspection done?
To ensure board quality in terms of meeting customer requirements, we conduct stringent quality control checks. Here are some of the tests and inspections that we perform:
DFM (Design for manufacturability)
It is a set of design guidelines that ensure the board design is actually manufacturable in the real world. Following the DFM rules is essential to achieve a manufacturable circuit board in terms of quality and cost. We specialize in DFM analysis and offer internal PCB quality review systems that guarantee zero-defect boards. To learn more about DFM, read our article 6 DFM issues designers should check before PCB manufacturing.
Automated optical inspection (AOI)
AOI systems work by capturing an array of images using high-resolution cameras illuminated by LED sources for automated comparison. They also use laser scanners with a high resolution along three axes. The type of inspections being conducted determines which system is used.
In the case of solder paste inspection instrumentation, laser scanning is used to determine the solder volume on a pad. Whereas in assembly verification systems, the images of the soldered components are taken and compared.
Time domain reflectometer (TDR) testing
A time domain reflectometer (TDR) is an electronic device that uses reflected waveforms to measure the characteristic impedance of PCB traces, cables, connectors, etc. It checks for electrical discontinuities in connectors, boards, or any other electrical path.
TDR impedance measurements are essential for ensuring signal integrity in a PCB design. The TDR inputs a pulse onto the PCB trace/transmission line on a test coupon. Next, it measures the characteristic impedance by evaluating the changes in the amplitude of the reflected waveform. Note that the TDR will only measure the reflections if the injected pulse experiences any discontinuity in its path.
What is a flying probe test?
Flying probe test uses test probes that move from a test point to another as per the instructions fed by a specific software program. It is also called a fixtureless in-circuit test when used on an assembled PCB. Hence, it is highly cost-effective for prototypes and low to mid-volume production.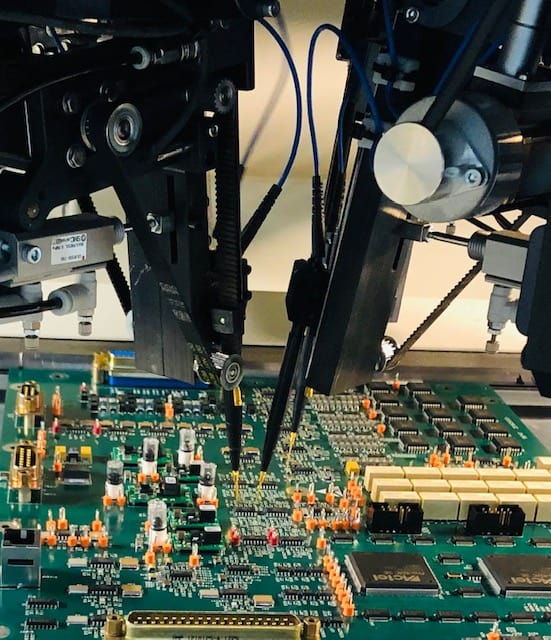 First article inspection (FAI)
When a contract manufacturer fabricates a first-article circuit board there are two objectives to be accomplished. The first is to ensure that all of the required standards have been met to develop a process of record (POR) for the production of the circuit board. Once the POR is developed, it must be followed across the board's production process. This ensures that each board is fabricated in the same manner and functions in the same way.
The first article circuit board is fabricated not only for the production of a new circuit board design, but also for the revision of an existing design. Generally, FAI refers to the verification of at least one to three PCBs after the production starts in a manufacturing facility. It is performed for products that call for a high level of precision.
Certifications
Sierra Circuits PCB quality is validated by several global and U.S certifications. These certifications validate a company's ability to manufacture high-quality PCBs.
ISO
ISO 9001:2015
Sierra Circuits is certified with the ISO 9001:2015 standard that validates the board quality management system (QMS) in an organization. It ensures that the PCBs manufactured adhere to the highest standards in the industry for a particular application.
ISO 13485:2016
The ISO 13485:2016 standard defines the requirements for a QMS in an organization needing to display its ability to fabricate medical devices and associated services. This means that the fabricated PCBs are of the highest quality according to the prevailing industry standards for medical applications.
International traffic in arms regulations (ITAR)
ITAR is a set of rules and regulations put forth by the US government to regulate the manufacture, sale, and distribution of defense and military associated services, products, and technologies that are listed in the U.S. Munitions List (USML) to establish security.
ITAR compliance
To be classified as ITAR-compliant, all fabricators, vendors, and exporters and the technical data used need to follow ITAR rules laid down by the U.S government. ITAR compliance calls for the supply chain to be ITAR-compliant as well.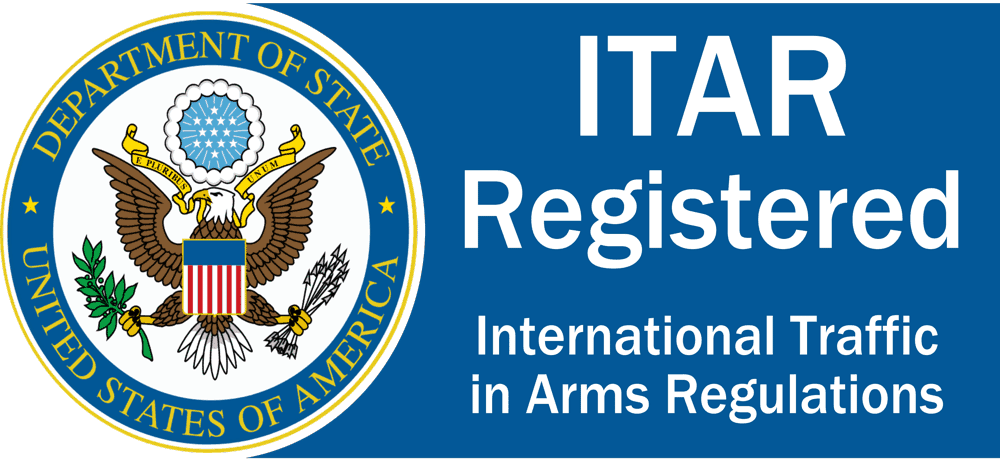 When a company is engaged in the fabrication, sale, or distribution of products listed under the USML, the enterprise must be registered with the state department's Directorate of Defense Trade Controls (DDTC). This will ensure that the company is ITAR-compliant or ITAR-certified. The company should also compulsorily verify that they operate within rules specified by ITAR. To know more about ITAR, read what is ITAR, the international traffic in arms regulations?
Defense logistics agency (DLA) approval letter – DD2345
The military critical technical data agreement (DD2345) is a form that is needed to register in the joint certification program (JCP). The JCP enables defense contractors in the US and Canada to apply for access to unclassified export-controlled U.S. Department of Defense (DoD) or Canadian Department of National Defense (DND) technical data or critical technology.
Unclassified technical data includes data with military or space applications, associated blueprints, drawings, software, and many more. It also covers any technical information that can be used to design, fabricate or repair any military or space technology.
This approval is of prime importance as it validates the access to any US or Canadian technical data required for design and development of products.
MIL-standard specification
MIL-PRF-31032 certificate
The MIL-PRF-31032 certification assures the customer that the board manufacturer can meet their design requirements with demonstrated competence and reliability. Fabricating boards with advanced features and characteristics and submitting them to the defense department's certified testing facility is a major component of the 31032 certification procedure.
MIL-PRF-55110 certificate
The MIL-PRF-55110 certification specifies the performance and qualification requirements for rigid single-sided, double-sided, and multilayer printed wiring boards with or without plated through holes. For verification, the standard lists appropriate testing and screening methods.
Conflict minerals reporting template (CMRT)
The CMRT is a free standardized reporting template created by the RMI (responsible minerals initiative). It provides information about the mineral's country of origin along with the smelters and refiners being employed in the process. The RMI addresses responsible mineral sourcing issues in their supply chains.
The metals tantalum, tin, tungsten, and gold are officially classed as "conflict minerals" by US statute and are extracted from the minerals cassiterite, columbite-tantalite, and wolframite, respectively. Minerals that were extracted without benefiting armed groups in the nations listed are referred to as conflict-free minerals. This template offers transparency to the customer in the procurement processes used by the contractor or manufacturer.
What is UL certification for a PCB?
Underwriters Laboratories (UL) is a worldwide safety science enterprise and is the largest and oldest testing laboratory in the U.S. It tests the latest products and technologies before they are released into the global market. The products can range from consumer electronics and security equipment to medical devices and even robotics.
UL is one of many organizations that has been approved to implement safety testing by the U.S. federal agency, Occupational Safety and Health Administration (OSHA). OSHA holds a list of testing laboratories that are approved and known as nationally recognized testing laboratories (NRTL).
This certification includes information about safety testing by American and Canadian standards. All boards manufactured by Sierra Circuits have UL 94-VO certification that signifies a high level of flame-retarding characteristic.
IPC-6012 and IPC-A-600
IPC-6012 defines the actual acceptance criteria, but IPC-A-600 provides visual interpretations of those requirements, including examples of acceptable and rejectable versions. These standards set the level of acceptance criteria for each class of product. It describes the ideal, admissible, and minimum requirements of various circuit board specifications such as base materials, drilling, holes (plated and non-plated), soldering, testing, and so on.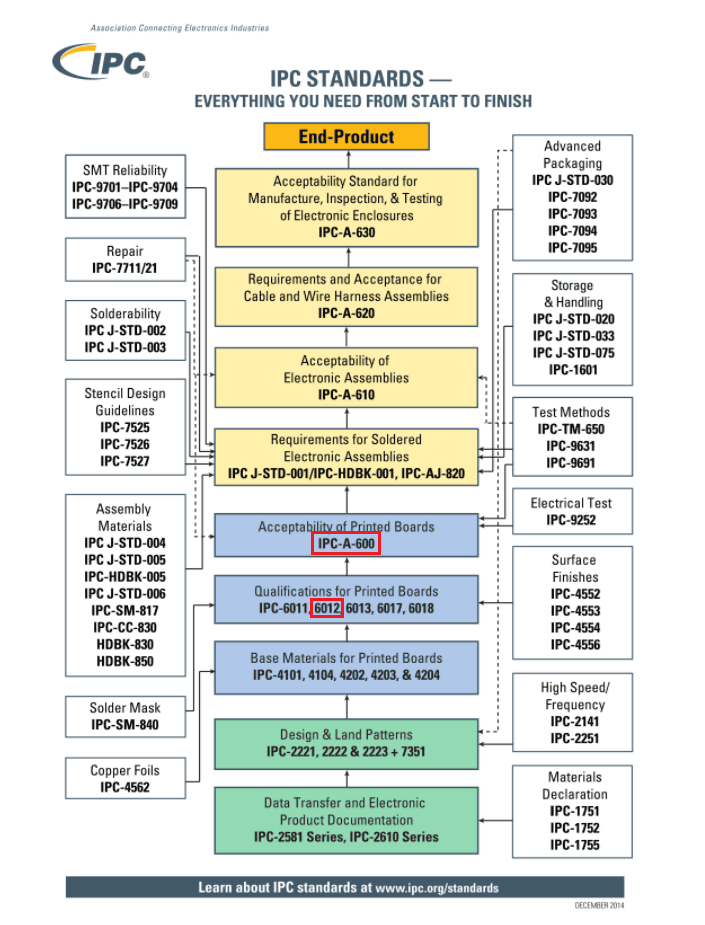 Our certified inspectors ensure that the boards manufactured adhere to the IPC-A-600 standard.
RoHS and REACH
The restriction of hazardous substances (RoHS) EU directive has prohibited the use of 10 poisonous substances in electrical and electronic equipment beyond a certain percentage. These substances are:
Cadmium (Cd) (0.01% maximum)
Lead (Pb) (0.1% maximum)
Mercury (Hg) (0.1% maximum)
Hexavalent chromium (Chromium 6) (0.1% maximum)
Polybrominated biphenyl (PBB) (0.1% maximum)
Polybrominated diphenyl ether (PBDE) (0.1% maximum)
Bis (2-ethylhexyl) phthalate (DEHP) (0.1% maximum)
Butyl benzyl phthalate (BBP) (0.1% maximum)
Dibutyl phthalate (DBP) (0.1% maximum)
Di-isobutyl phthalate (DIBP) (0.1% maximum)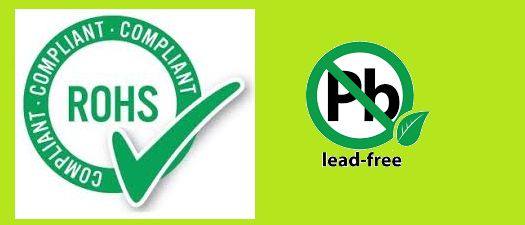 This directive is also called a lead-free directive and was implemented to limit environmental pollution caused by toxic electronic and electrical waste. The disposal of such waste is not only dangerous as an occupational hazard but is also harmful to flora and fauna in the ecosystem. RoHS is also known for its association with the waste electronic equipment directive (WEEE) that monitors the disposal of the aforementioned toxic waste.
REACH is the European Community regulation on chemicals and their safe use (EC 1907/2006). As the name suggests, it includes the registration, evaluation, authorization, and restriction of chemical substances. This law was passed in 2007.
» MORE
Get started designing your military grade PCBs
We design, manufacture and assemble IPC Class 3A circuit boards in just 2 days for standard boards. Our PCB experts and engineers are available to guide you through the design and manufacturing process, while delivering all the traceability and tolerance documents you need.
Start building your quote now.