The minimum annular ring width should be greater than or equal to the values defined in the PCB design.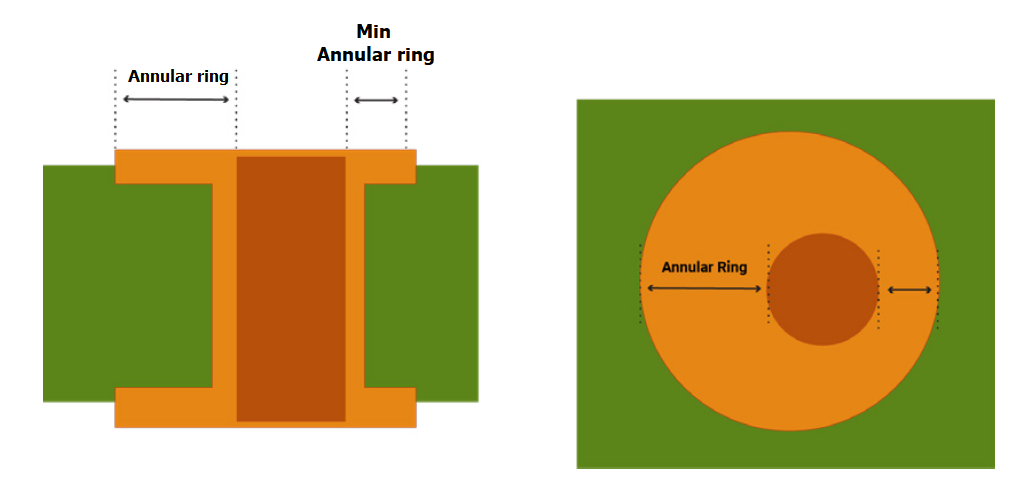 When an annular ring is less than the specified width, the attachment of the component might be affected. This might lead to a pad breakout that refers to a condition of an annular ring being absent or of zero width. Here, the circuit will enter the pad, minimizing the current-carrying capacity of the circuit.
A less than 2 mil annular ring is acceptable for laser-drilled vias, while mechanically drilled vias need a minimum 3 mil annular ring.
Note: Use a 5 mil drill diameter for laser-drilled holes and 5.9 mil for through-hole vias.
Given below is a table of annular ring sizes for rigid, flex, and rigid-flex PCBs:
| | | | |
| --- | --- | --- | --- |
| Rigid PCB | Standard fab | Advanced fab | Micro fab |
| Process pad diameter | D +0 .012" (1-mil annular ring) | D + 0.008" (Tangency) | D +0 .008" (Tangency) |
| Flex and rigid-flex PCBs | Flex | Rigid-flex | |
| Process pad diameter | D + 0.014″ (1-mil  annular ring) | D + 0.014″ (1-mil  annular ring) | |
Tolerances
When drilling vias, a drill wander of 2 mils is expected. Therefore, the annular ring should not be lesser than 2 mils for microvias/laser drills and 4 mils for mechanically drilled vias.
Note that annular ring measured in the CAM software considers the drilled hole size and not the finished hole size. Plated holes are drilled at a bigger size to accommodate for plating and surface finish.
Teardropped annular ring
Teardropping is used to fix breakout vias and to reinforce connections. When vias breakout at the junction of the conductor and the pad, adding copper around the via can reestablish the broken connection. This will fix the short and ensure the signal can still reach where it needs to go.

Teardrop annular rings are critical when dealing with traces thinner than 20 mils. The structural integrity they provide is of great importance in flex boards against shear forces and vibration.
To learn more about annular rings, read annular ring explained by a PCB manufacturer.
» MORE
One-stop PCB assembly services, capabilities, and testing
We source components from chip manufacturers across the globe, including Mouser, Digi-Key, Arrow Electronics and others. We also warehouse a significant inventory of common parts. If we cannot source a specific component, our engineers will make recommendations for fair-price alternatives. Get started now.