Getting a quickturn PCB prototype is not science fiction. There are a few facts on PCB manufacturing that you simply need to acknowledge before you begin working on your design.
Mistakes to Avoid for Quickturn PCB Prototype
With standard technology—single lamination, through hole, two, four, six and eight-layer boards… a one to three-day turn is fairly routine. But a quickturn PCB prototype can only be as quick as the information provided and the technology you are working with. You need to be aware of a few things that can slow down a quickturn.
Laminations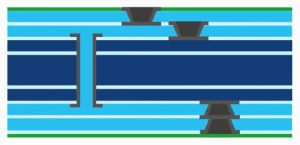 Let's start with multiple laminations. Every time you laminate a board, it is like building another multilayer board. The board goes back through all the early fabrication steps. Each lamination cycle usually adds two days to the process. This doesn't mean that multiple laminations aren't ever necessary, of course. But the process is inherently going to conflict with quick turn efforts, and as such should be used sparingly in quickturn PCB prototype designs.
Via-in-Pad Plated Over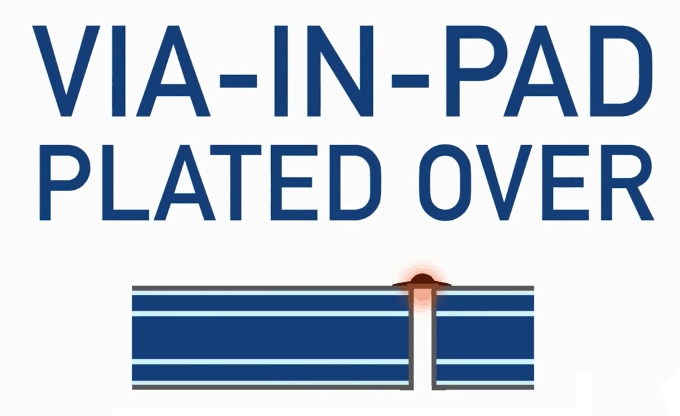 Another example is via-in-pad plated over, applicable to single lamination stack-ups. If you have a surface mount footprint with vias in the pad, it can cause solder to wick into the hole. Sometimes this process may be required to keep heat out from under the component, or as a means of saving space. While via-in-pads have become very common, be aware that it can add at least a day to the cycle time.
Fabrication Drawing
Be aware of the notes you put on your fabrication drawing. Know what your notes mean to the fabricator.

For example, let's look at solder mask tenting or solder mask dams. In order to cover the hole and create a vacuum tight seal, you would first need to plug the via with mask and then go back again and coat the rest of the board– basically a duplication of the process.
Surface Finish
Another time-consuming process step is surface finish. If your board requires two types of gold finishes– ENIG for surface mounts and hard gold for edge connectors—you are adding twice the time to the plating process. Each finish must be plated separately, and go through the complete surface finish process twice.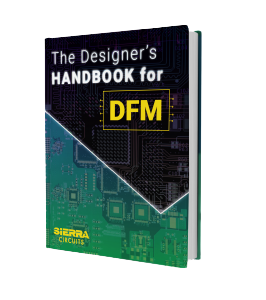 Design for Manufacturing Handbook
10 Chapters - 40 Pages - 45 Minute Read
What's Inside:
Annular rings: avoid drill breakouts
Vias: optimize your design
Trace width and space: follow the best practices
Solder mask and silkscreen: get the must-knows
Download Now
Partner for Quickturn PCB Fabrication in the USA
Several factors determine a business's quick turnaround capabilities. Among the largest and most underappreciated: printed circuit board design and manufacturing. Quickturn PCB prototype efforts can improve time to market in a number of key ways. Here are some of the most significant.
Location
Location is a critical factor when it comes to quickturn PCB prototype efforts. Naturally, the further away the PCB fabrication partner is, the longer PCB delivery will take. For some, this may not be a major issue. However, if a business requires quick turnaround time and immediate time-to-market, the PCBs need to arrive as soon as possible following the placement of an order.
A number of PCB manufacturers are based outside the U.S.; primarily in Taiwan, China, Japan, or South Korea. A PCB manufacturing partnership with such a firm will cost you additional time—due to geographic distance, not to mention any other outstanding factors. By choosing a U.S.-based PCB fabrication partner, your potential turnaround time immediately becomes much quicker.
Prototype Development Time
Naturally, prototypes are heavily featured in any new product to market. Depending on the company's approach—and its manufacturing partner—PCBs can either contribute to a quick turnaround time or cause significant delays throughout the prototype development. The sooner the prototype can be produced, the sooner the firm will be ready for large-scale production.
Quickturn PCB prototypes have a fairly straightforward impact here. Best case scenario, a company can send off a new prototype PCB design prototype and receive the board in a few days. Conversely, if you work with a PCB manufacturer with slower turnaround times, you may be waiting several weeks for your prototype circuit board to arrive. That same delayed turnaround time will be a factor during every additional prototype the company needs in order to get a new product to market.
In that sense, getting the printed circuit board design right the first time and choosing the ideal fabrication partner will ultimately have a direct impact on every single prototype, which means these are top-level considerations for any company eager to improve time to market.
Quality PCB
Of course, product quality is always important. As a company prepares to bring a product to market, there will inevitably need to be a tremendous amount of focus on ensuring the item in question meets expectations and standards. Any shortcomings need to be addressed.
Circuit board quality can have a major impact here. How? By helping companies narrow down the list of potential problems. After all, most people aren't going to look at the printed circuit board as the issue within a malfunctioning prototype until they've exhausted other potential factors. By the time the investigation leads to the PCBs, it'll be too late to avoid substantial delays.
However, you can obviate this particular problem by relying on a high-quality quickturn PCB manufacturer. A PCB fabrication partner should be able to deliver circuit boards so well-made no product quality investigation needs to eventually lead to this point—PCB quality should never be in doubt, and should never be the problem.
Consistency
Getting to market isn't just a question of developing a product that's ready for store shelves—it's also about producing that product at scale.
That's where PCB fabrication consistency enters the picture. It's not enough for a manufacturer to deliver a high-quality prototype circuit board, or even several, although that's obviously critical. To reach the market quickly and fully prepared, you need to be able to produce at volume. For that to happen, you must have a quickturn PCB prototype partner who can provide consistency while still meeting short turnaround deadlines.
The fact of the matter is that some PCB manufacturers may be capable of producing high-quality PCBs at a small-scale, but they can't maintain that consistency over large volumes. When that's the case, there's a huge risk that product defects and deficiencies will emerge, leading to delays.
If you want to get to market quickly and without serious problems, that type of partner isn't going to meet expectations. You'll need to find a PCB manufacturing company that can deliver quality both quickly and repeatedly, no matter the volumes involved.
These are just a few things to consider before production begins. Having this information ahead of time will give you a realistic schedule and could save you a lot of headache. If you wish to master the art of quickturn, the secret is simple: Learn how your requirements impact the process. Get a stack-up. A stack-up is quickly sketched up. Any good board house will provide this free of charge. And most importantly, communicate with your fab house.