Have you noticed that most of the PCBs are green? Unfortunately, there is nothing green about them. Truth be told, the PCB waste generated decades ago will continue to harm our environment in the years to come. The PCB waste consisting of hazardous substances, which include heavy metals such as lead, mercury and cadmium, and several other chemicals, adversely affect life on earth.
There is a need for environmentally responsible manufacturing for  RoHS compliant PCBs across the entire consumer electronics sector in today's time. RoHS directive, which stands for Restriction of Hazardous Substances, restricts the use of hazardous materials, particularly found in electrical and electronic components.
The RoHS directive, under the name of Directive 2002/95/EC, is instigated by the European Union in 2002. As per the initial of Directive 2002/95/EC, the six hazardous substances are prohibited for its use in electrical and electronic products. So far, there have been two upgradations to the RoHS directive, including RoHS 2 and RoHS 3. The RoHS 2 or the Directive 2011/65/EU was published in 2011, while the Directive (EU) 2015/863 was published in 2015. Under the Directive (EU) 2015/863 four different elements were added in the previous list of the restricted elements.
The Concerns
Major concern begins with the piles of electronic waste found in open junkyards across the globe. The electronic waste mostly consists of hazardous substances such as heavy metals and other chemical materials with absolutely no chemical control. The problem persists further as the acidic rainwater dissolves Lead and other harmful substances. This contaminated rainwater will be added to the water bodies. Thus, severally causing harm to aquatic life and human well-being.
Heavy metals like Lead and Mercury have an adverse effect on the human body organ and can disturb the entire central nervous system. These metals also affect the functioning of kidneys and the reproductive system. Higher intake of lead through contaminated water will reduce the reaction time of body organs such as fingers, wrists, and ankles.
RoHS initiatives will provide necessary relief for all of us. Compliance with RoHS directives by PCB manufacturers will support our fight against climate change and global warming.
Adhering to the Laws of Nature with the Restriction of Hazardous Substances (RoHS) Initiative
Restriction of Hazardous Substances (RoHS) 3 directive prohibits the use of 10 hazardous elements in the electronic and electrical products. Additionally, the substances and chemicals used during the PCB manufacturing and PCB assembly should not contain these ten elements in the form of impurity. The permissible quantity in the form of impurity is determined in RoHS directives. For instance, the permissible quantity of Cadmium is restricted to 100 parts per million (0.01%) in the form of impurity. These directives are specifically directed towards Lead and poly-brominates, and sometimes they are referred to as the lead-free directive.
Sr

No.

Restriction of Hazardous Substances (RoHS) List
Permissible Value in terms of PPM (parts per million)
1.
Lead (Pb)
<1000 PPM
2.
Mercury (Hg)
<1000 PPM
3.
Cadmium (Cd)
<100 PPM
4.
Hexavalent chromium (Cr6+)
<1000 PPM
5.
Polybrominated-biphenyls (PBB)
<1000 PPM
6.
Polybrominated-diphenyl ether (PBDE)
<1000 PPM
7.
Bis(2-ethylhexyl)-phthalate (DEHP)
<1000 PPM
8.
Butyl benzyl phthalate (BBP)
<1000 PPM
9.
Dibutyl phthalate (DBP)
<1000 PPM
10.
Di-isobutyl phthalate (DIBP)
<1000 PPM
EU RoHS directive has specified maximum levels for the 10 hazardous substances as above. The last four substances were added under RoHS 3 and are taking effect from July 22, 2019.
RoHS-Compliant Circuit Boards
There is a steady rise in the number of electronic products ending their life in the open junkyard. These products are further sent for the trash reclamation process, which is polluting our landfills. RoHS compliant PCBs do not contain hazardous chemicals and substances. Lead-free or RoHS compliant PCBs are increasingly in demand due to the growing preference towards environment-friendly circuit boards.
There is a steady rise in the number of RoHS compliant PCBs manufacturers who are adhering to RoHS compliance requirements due to customer demands and stringent government policies. We are witnessing a radical shift with environmentally responsible manufacturing across the globe. Additionally, RoHS-compliant manufacturing will reduce the possible ill-effects to workers during manufacturing processes.
Availability of plating finishes that are RoHS compatible, including lead-free immersion white tin, Immersion silver, OSP, electroless-nickel immersion gold (ENIG), soft bondable gold and full-body gold finishes, will keep PCB manufacturers away from leaded surface finishes. Other compatible surface finishes include:
ENIG (Electroless Nickel-Immersion Gold)
IS (Immersion Silver)
IT (Immersion Tin)
OSP (Organic Solderability Preservative)
Before using the lead-free finishes, RoHS-compliant PCB manufacturers must perform the internal changes in RoHS-compliant PCBs design, material selection, and component assembly. Other factors, the PCB manufacturer needs to pay more attention are the shelf life of the final product, working conditions, and storage.
As more and more customers are started to demand the lead-free product, assuming all requirements are fully met, we will likely witness the prevalence of green manufacturing worldwide.
Status of PCB Manufacturing Processes in regard to RoHS Initiative
PCB manufacturers are bound by RoHS directive for using lead-free substrate materials, inks, solder mask, surface finishes, and other chemicals during the manufacturing processes. Additionally, PCB manufacturers and assembly service providers must ensure the discrete components, solder joints, and heat sinks are RoHS compliant.
Out of the 10 restricted materials, the replacement of lead is causing inconvenience to the PCB manufacturers. Higher processing temperatures associated with lead-free alloys is major concern among the PCB manufacturers.
To understand their concern, let's have a look at the status of the different manufacturing processes that require RoHS compliant testing.
Preparation of laminates: There are several limitations of the lead-free FR4 material during the assembly processes. However, the availability of advanced materials, such as, Isola IS410, Isola FR415, and Polyclad 370HR that can withstand higher temperatures and can ensure standard electrical performance, are ideal for PCB manufacturing processes. A few important characteristics of lead-free materials that are used for the preparation of laminates and prepreg include Td, T-260 & T-288, and CTE (Coefficient of Thermal Expansion). The Tg ratings are also useful while deciding the selection of material based on the type of application.
These manufacturing processes are carried out at higher temperatures than that of leaded processes. RoHS compliant materials must be capable of handling higher reflow temperatures during assembly processes. However, the choice of RoHS material is still dependent on the type of application. The lead-free materials must assure standard electrical performance with low losses.
Application of solder mask and legend inks: The solder mask and legend inks must be free of hazardous material and withstand the higher temperatures. Typically, there is a higher possibility of noticeable discoloration at higher temperatures.
Availability of RoHS compliant surface finishes: Availability of the several surface finishes such as plated nickel gold, electroless nickel immersion gold, immersion silver, and palladium will dissolve the need for leaded surface finishes.
Application of stencil: Applying the stencil to the lead-free circuit board is the first step of the assembly process. The solder lead-free alloy such as SAC305 is increasingly used for surface-mount technology, wave soldering, and wire soldering.
Our Capability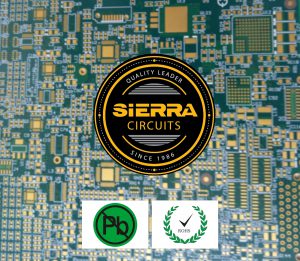 Sierra Circuits has delivered lead-free or RoHS-compliant PCBs from the last decade. Our laminates can withstand higher temperatures and give out consistent performance over the period of time. We may be bound by the laws of manufacturing, but we adhere to the laws of nature as well. Join us as we take a pledge to keep our planet green.
DOWNLOAD OUR DFM HANDBOOK: