Contents
Turnkey PCB manufacturing services include design review, fabricating bare boards, procuring components, assembly, and testing of your prototype. Choosing a one-stop solution for all your prototype requirements can save you time and money.

In this article, we will show you the benefits of opting PCB manufacturing and assembly from a single manufacturer.
What is turnkey PCB manufacturing?
Outsourcing fabrication and assembly services to multiple manufacturers requires you to be involved in procuring materials and managing both stages. A faster alternative is to have your entire board built and packed by a single electronic manufacturer utilizing turnkey PCBA manufacturing services. This is because many of the fabrication and assembly stages are automated and parallelized with standard SOPs. This integration maximizes the progression of your boards from the initial quote with DFM/DFA review through shipping. Thus a one-stop solution for your PCB manufacturing and assembly requirements can work in your favor.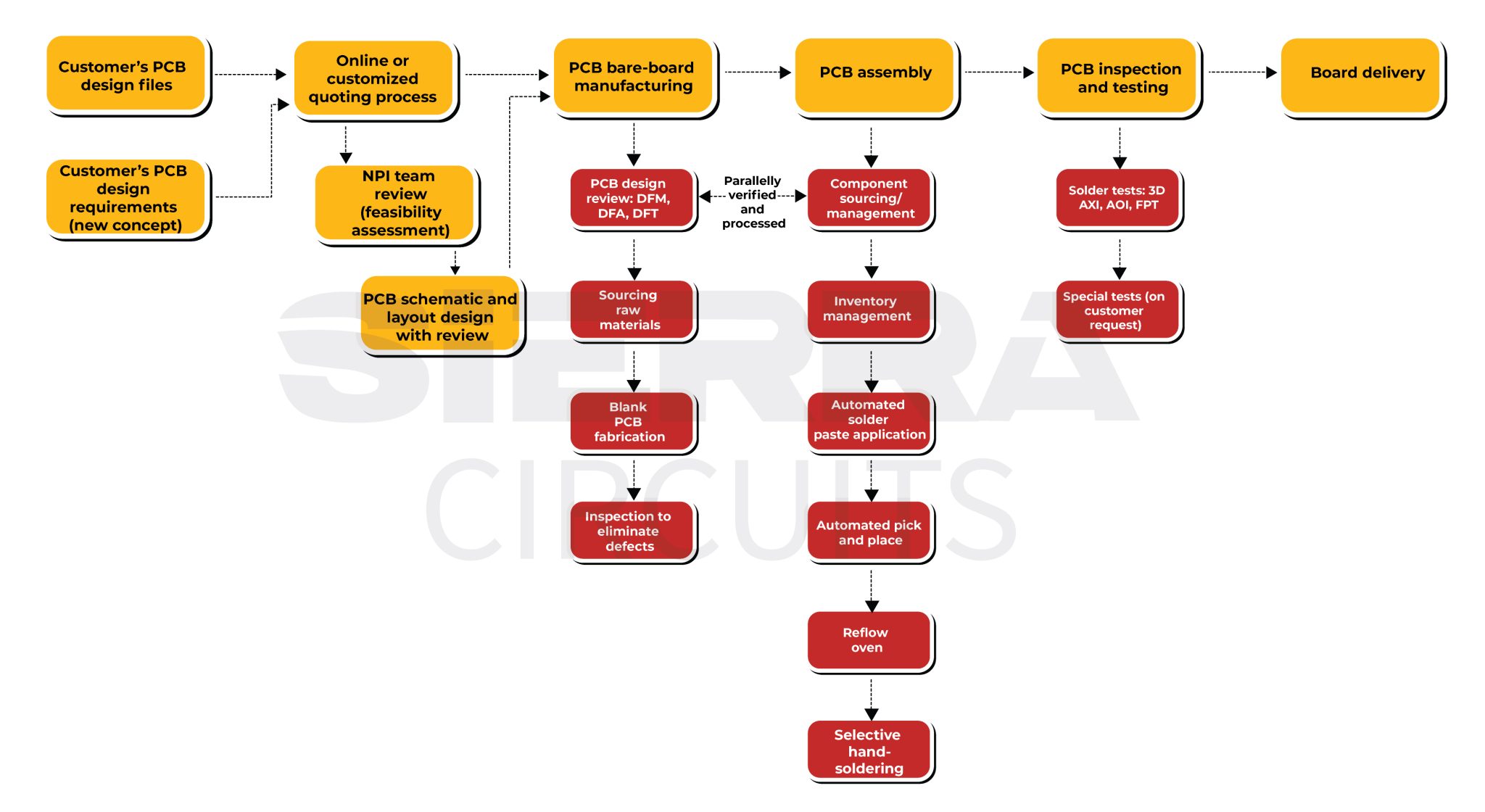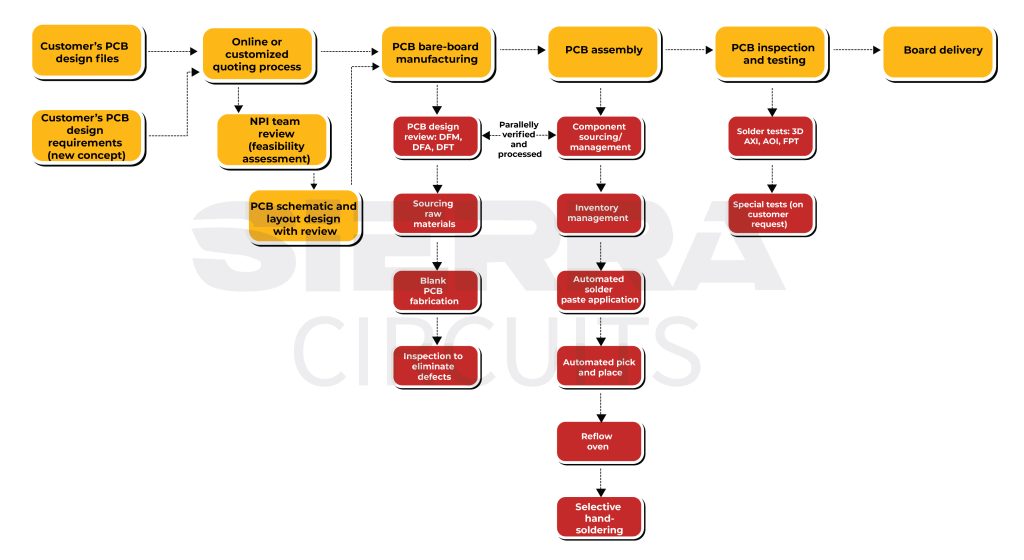 Turnkey PCB manufacturing services involve:
Fabrication solutions: Design review, sourcing dielectric materials, and bare-board manufacturing
Assembly solutions: Sourcing parts, design assistance, board population, prototype testing, component obsolescence management, and aftermarket services
It is called 'turnkey' as PCBA arrives at your doorstep ready to be turned on and used, with all parts functioning as intended. All entities involved in this integrated process have access to design data whenever you need it. The figure above shows the important steps in board manufacturing processes and sub-processes.

Difference between PCB and PCBA
A PCB is a bare circuit board that is not yet functional. PCBA is a completed assembly with all the components attached to the board that will operate as desired for a given application. However, they are used interchangeably. PCBA services include bare board fabrication, sourcing parts, solder paste printing, component placement, and hand/reflow/wave soldering. PCBAs require anti-static or compartmental packaging whereas PCBs typically use vacuum packaging.
Benefits of opting for turnkey prototype services at the same fab house
Turnkey solutions allow you to make better use of your time to focus more on board design. It ensures that your design is tailored as per the CM's capability. This is perfect for companies that frequently upgrade their products. Since they need to cater to a larger market by providing multiple creative electronic products, this calls for seamless fabrication and assembly processes.
Reduces prototype turnaround time
If you work with a single company, the production channels are limited. Potential incompatibilities in manufacturing equipment and software are also reduced. You need not stress over managing contracts and following up with multiple vendors as everything is included in a single purchase order. This results in a shorter production time.
Having multiple vendor pipelines adds to the delay. Shuffling your product between different facilities is a logistical nightmare that will cost you heavily and increase your lead time. There are chances of misplacing your parts in the process too. Having a single point of contact provides an opportunity for symbiosis and an effective PCBA development process.
The images below depict how having single or multiple vendors can affect the turnaround time of a standard 6-layer rigid board.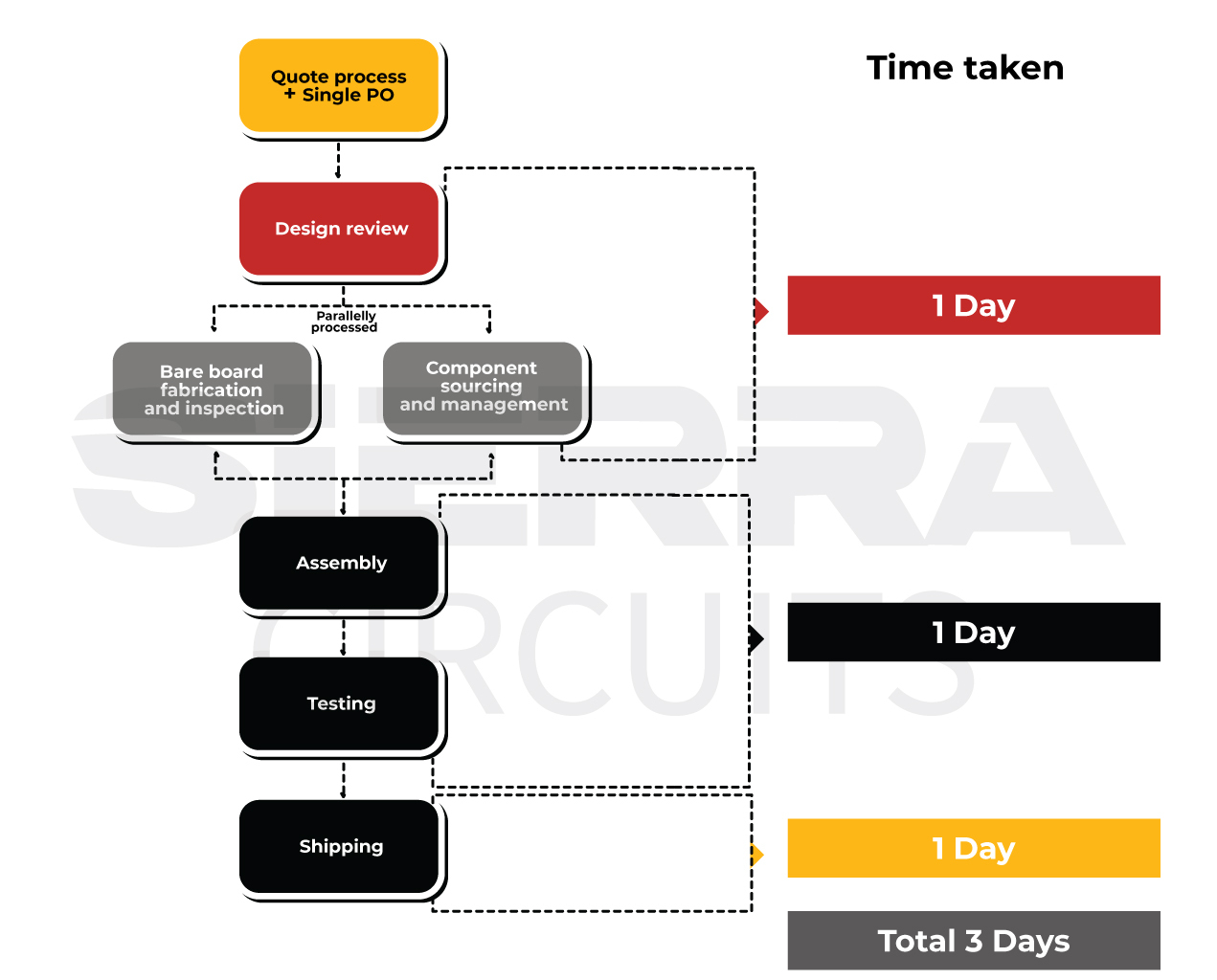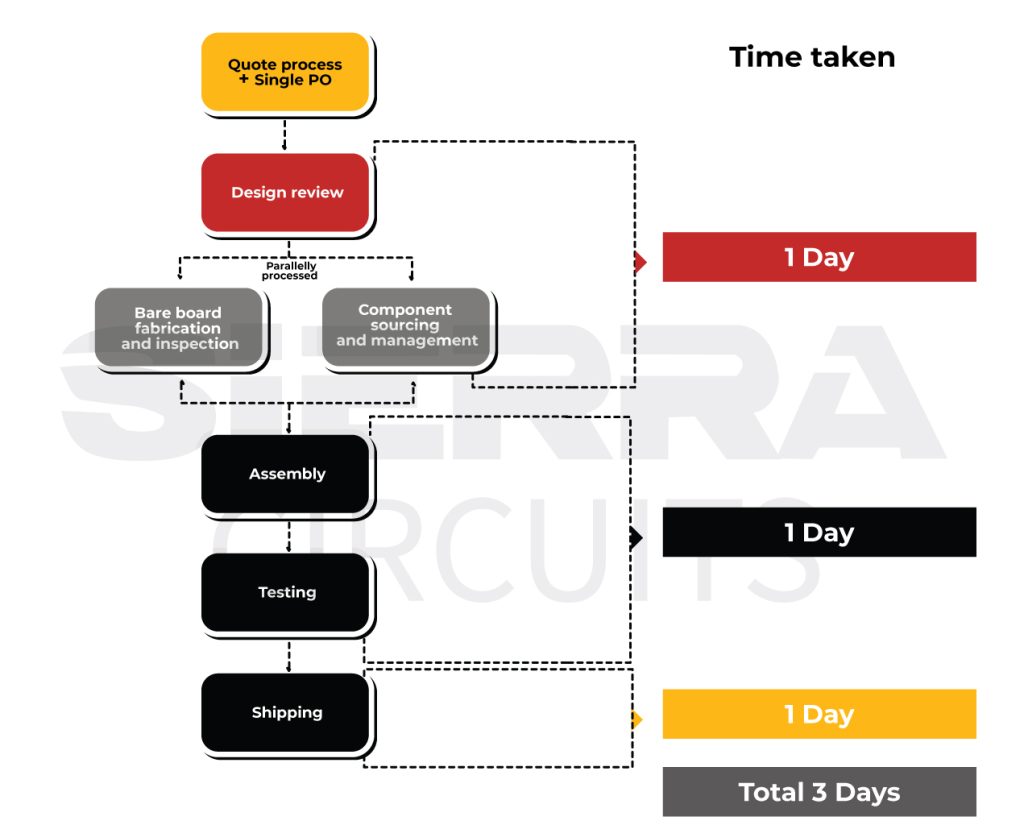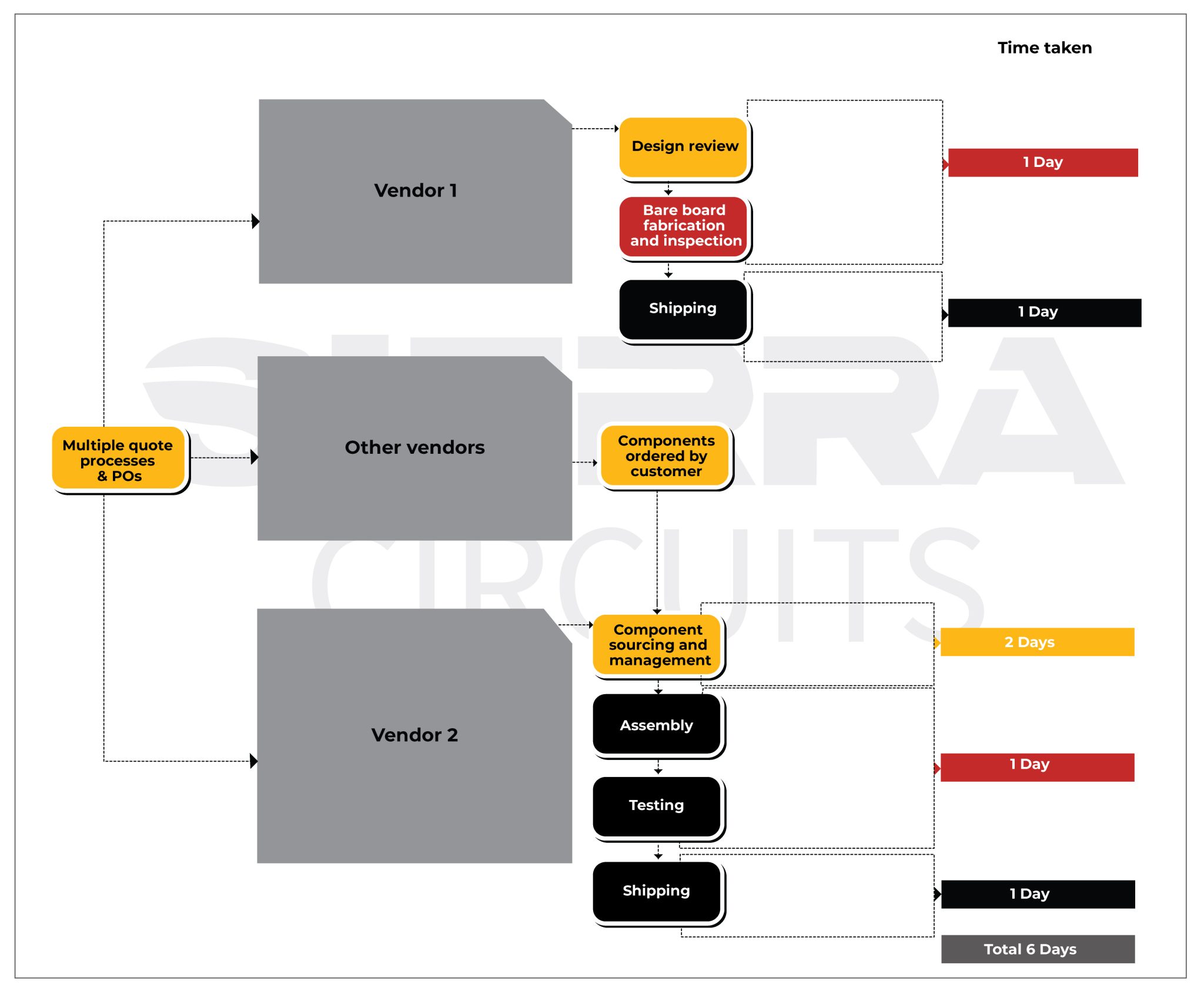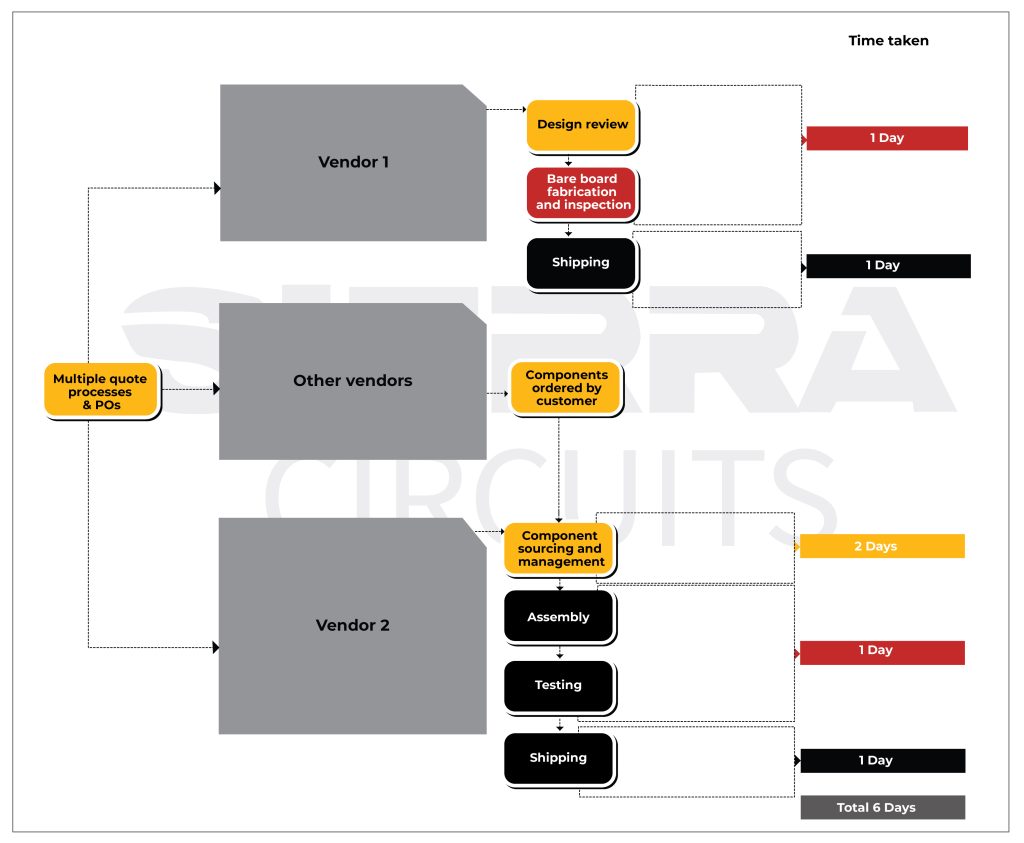 To learn the factors that can delay the lead time of your prototypes, see how to get a quickturn PCB in the USA.
Prevents miscommunication between vendors
Having many vendors will result in communication and compatibility issues, especially if there is a language and time zone barrier. This can slow down the prototype fabrication process. Turnkey PCB manufacturing and assembly approach allow for the whole process to be easily monitored as a single process. The sub-sectional supervision is handled by qualified experts within the manufacturer's structures. A reputed board shop ensures good in-house communication between fabrication and assembly departments reducing manufacturing and population errors.
Gives more design improvement time
By choosing a single EMS company, you can use your resources/personnel and time for important design tasks rather than them spending time with follow-ups. Your CM will manage the entire process including component procurement, vendor(s) coordination, and quality control. Besides reducing project man-hours, you can dedicate more time to elevate your board design.
Provides efficient engineering design support
Design engineers use the best EDA tools available to capture and verify the schematics. This ensures that any design flaws in your board construction are eliminated in the initial phase, reducing the need for design modifications. A good CM will provide DFM and DFA assistance for your design. Their engineering team will be in constant communication between fabrication and assembly. This helps in catching errors quickly and results in producing reliable yet cost-sensitive prototypes.

Features:
Identifies errors in your design ahead of time preventing on-holds and re-spins
Provides an instant quote for your board
Ensures that you have a complete set of design files required for manufacturing
Optimizes soldermask and silkscreen data
Simplifies component sourcing process
Component shortage is one of the key challenges faced by many printed board assemblers. Finding reliable alternatives can also be tedious and time-consuming. This can be easily prevented by partnering with a company that offers turnkey PCB manufacturing services.
Component sourcing is a laborious process. There is also a likelihood of errors and compatibility problems. You may not even realize that the wrong part has been ordered until you assemble the prototype, delaying the process.
Sourcing reliable and good-quality components at bulk pricing will be easier through your turnkey manufacturer due to long-term cooperation with suppliers. They will have a large supply-chain contact base to meet all your board requirements. The fab house will have a team dedicated and a well-established system to ensure error-free assembly. They will manage your part needs with push (have buffer stocks) and pull (order only based on requirements) inventory strategy. In addition to this, the company will also manage customers' consigned and customized components/materials.
A responsible EMS will also be proactive and provide early component sourcing. This prevents project derailment due to a volatile supply chain environment. It also mitigates the risk of extensive redesigns involving component alternatives.
Minimizes assembly defects
Sometimes, distributors can send mislabeled parts that don't match the specs. Once the components are procured, the team verifies samples of each part to check if it is in line with the BOM specifications to prevent errors and delays.
Sierra Circuits follows a zero-defect initiative when it comes to assembly. We perform BOM cleaning early in the development stage to ensure that your boards can be produced at the intended scale. See how we successfully assembled a board by rectifying the design data in the case study, eliminating BOM and footprint errors in PCB assembly.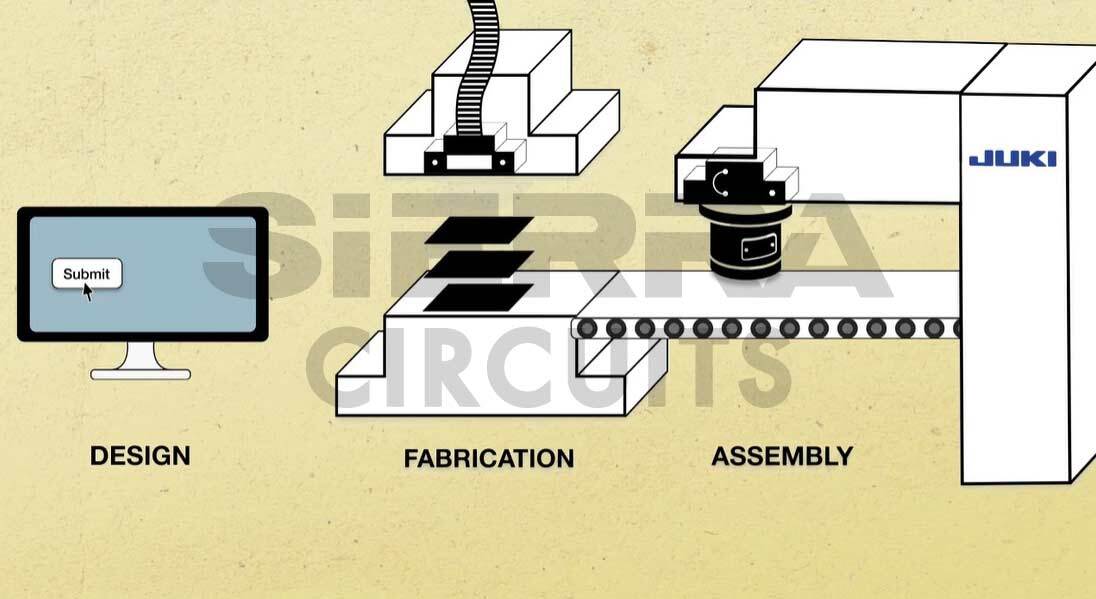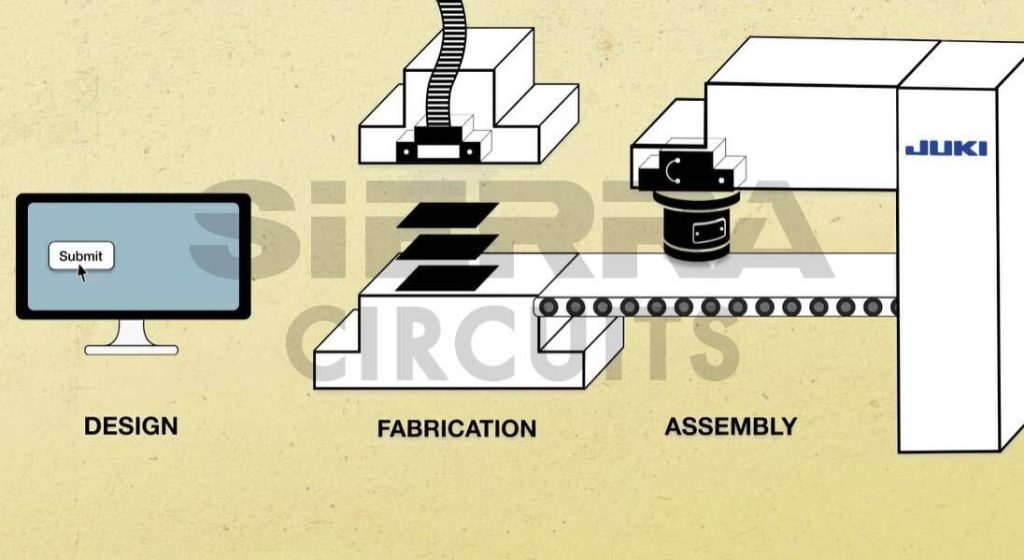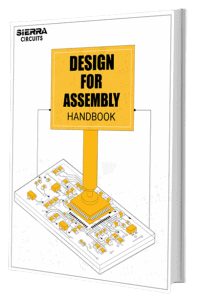 Design for Assembly Handbook
6 Chapters - 50 Pages - 70 Minute Read
What's Inside:
Recommended layout for components
Common PCB assembly defects
Factors that impact the cost of the PCB assembly, including:

Component packages
Board assembly volumes
Download Now
Increases cost savings
Piecemeal-style manufacturing of PCB assemblies will lead to higher production costs. By choosing a single vendor, you save on the overall project costs like:
Freight charges
Component costs
Customs fees
Equipment costs
Testing and certification charges
Assembly
Nonrecurring engineering (NRE) costs (includes pick place programs, stencils, reflow, and test fixtures)
Costs due to extra resources costs
Costs are also optimized with shorter manufacturing times by following required SOPs.  At Sierra circuits, we waive charges for tooling, setup, stencil, and CAM reviews.
Negotiate the quote and relax until the PCBs arrive at your doorstep within the deadline.
Assures quality control
Board manufacturing and assembly, especially multilayered boards is a very intricate and expensive process. Any small mistake during these tasks can render the entire board useless. Hence, maintaining stringent quality control is essential in producing a high-performance prototype. A reputed turnkey PCB manufacturing and assembly service provider will implement many proactive steps to review the quality of their processes and circuit boards. Early DFM checks are a step towards guaranteeing quality. Their quality control department will perform comprehensive inspections and testing before shipping. Automated X-ray inspection (AXI), automated optical inspection (AOI), electrical tests, and special certification tests are conducted at their facility. Therefore, you can be confident that your PCB has no defects and will function as expected. X-ray validation is carried out for all leadless device connections. Every board is scrutinized by AOI equipment to verify the correct placement and orientation of all components. You need to make sure your fabricator has the required certifications and registrations.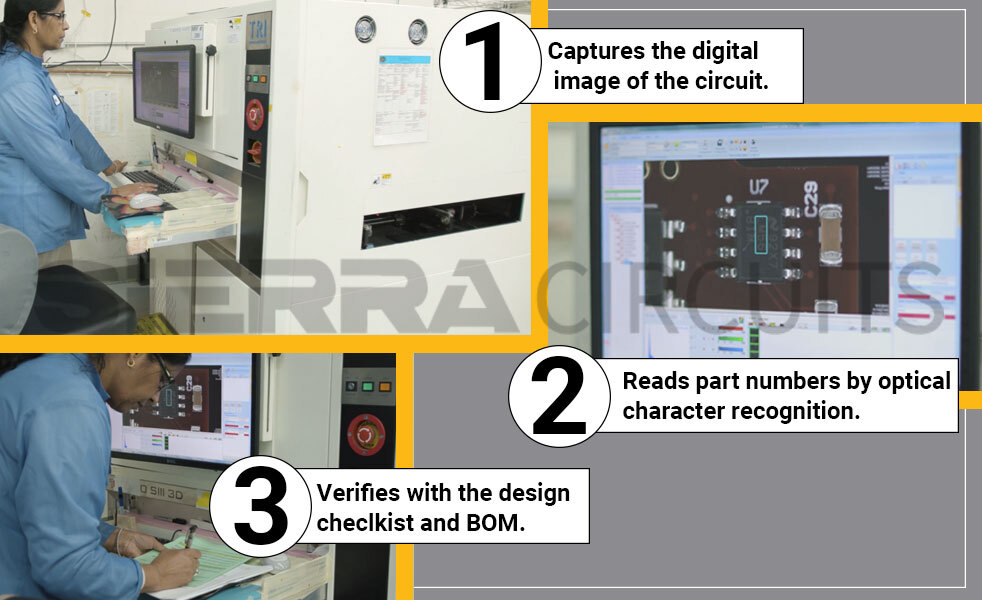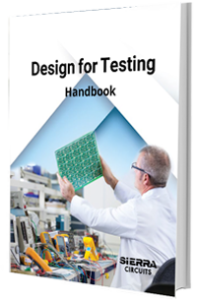 Design for Testing Handbook
7 Chapters - 28 Pages - 45 Minute Read
What's Inside:
PCB testing strategies
Guidelines to design and place a test point for FPT
Directives to make your board ICT compatible
Benefits and drawbacks of various testing methods
Defects that you can identify through board testing
Download Now
How to choose your PCB fab and assembly shop?
Do not rush the process of finding a good electronic CM. Your project should go from an idea to a finished product smoothly and consistently. It is essential to balance quality and cost to attain a successful prototype. Partner with a certified CM having a workforce who can provide a standard product using the latest technologies within the stipulated time. The criteria to choose the right EMS service provider are:
Very good experience in a wide variety of PCB manufacturing and assembly services
Responsive communication practices and support
Adherence with industry standards like IPC and UL
Utilization of advanced PCB technologies. Visit the contractor's facility in person to check out their advanced machinery and capacity. Discuss the critical basics with them like project goals, high-level needs, and IPC class requirements.
Established associations with material and component vendors
Outstanding in-house design, testing, and inspection facility
Allows easy prototyping with short lead times for PCB assembly
Trusted IP protection practices to secure data
Provision for online quotes, and orders
Why Sierra Circuits should be your preferred fab and assembly partner?
We provide PCB development optimization for complex critical system requirements for diverse industries such as military, medical, aerospace, automotive, and industrial electronics.
Sierra Circuits' engineers and turnkey PCB manufacturing teams are always accessible and responsive from quote through production and shipping. You will be provided with timely and personalized services.
Capable of delivering high-quality quickturn boards so that you have a competitive edge in the market. We do not have minimum quantity requirements.
Equipped with state-of-the-art machinery to provide you with end-to-end PCB prototype solutions. Have a look at our production facility in Silicon Valley.
Customer-friendly easy-to-use online quote process. Turnkey PRO quoting process provides fast and efficient pricing with no hidden costs.
We possess the necessary industry standards. To know more, visit our certifications and registrations page.
Advanced machineries at Sierra Circuits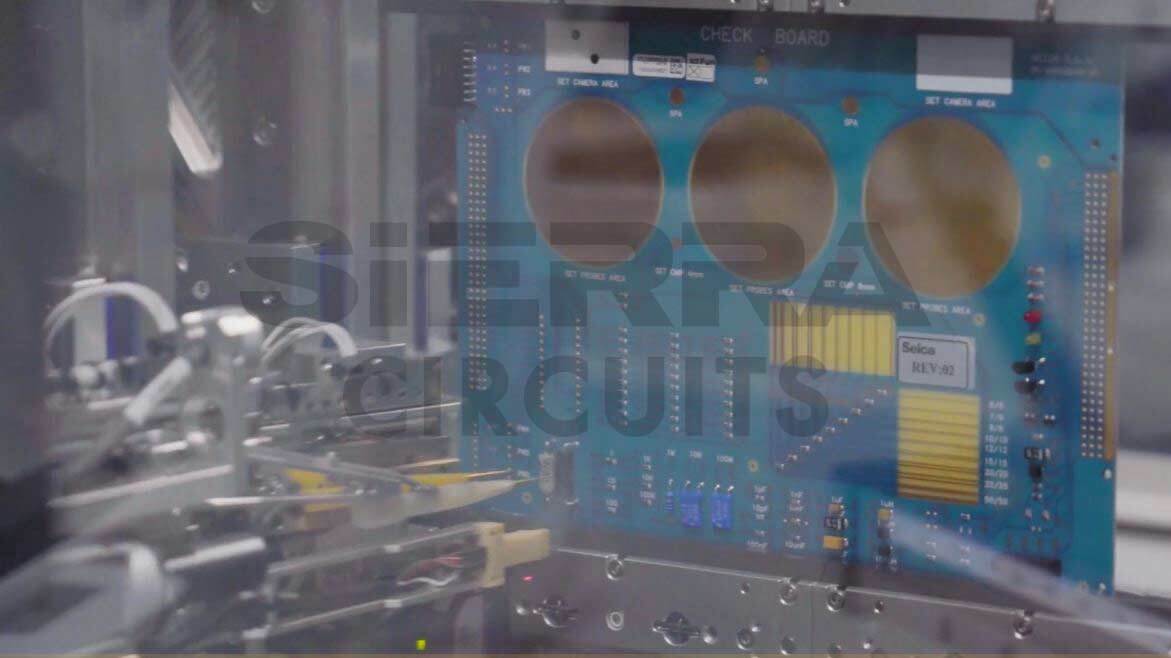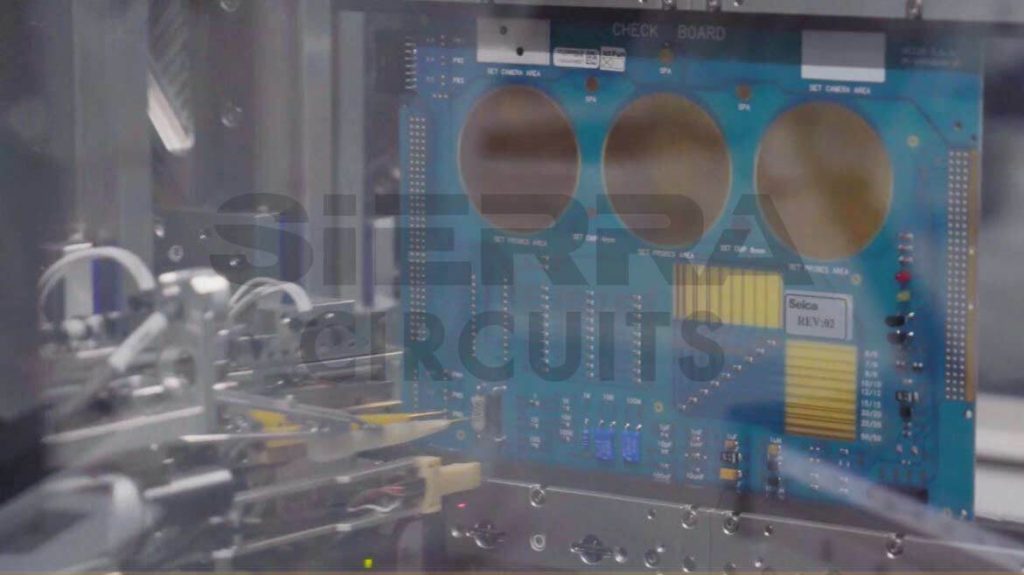 A few of the advanced machinery we use are:
Dage 3D X-ray machines that incorporate rotating cameras. It allows us to view solder joints at individual BGA pins at various angles.
Advanced Juki machines for assembly. This equipment can place up to 15000 components per hour all the way down to 01005 SMT component size. One of the reasons our turnaround is unmatched is because of the modular formats in the Juki machines. It allows us to prepare for pending jobs offline during an ongoing job.
Camtek AOI machines have advanced optics and data processing algorithms to identify defects. They provide automated inspection solutions for advanced PCB and IC substrate applications.
Schmoll and Pluritec depth control drilling machines are used for precision drilling, micro-drilling, and routing for quickturn and high-end applications.
Orbotech laser direct imaging (LDI) equipment for patterning enables optimized PCB manufacturing to achieve the best imaging results at high speeds.
ATG's (Luther & Maelzer) FPT equipment is used for bare board examinations while Seica's cutting-edge machines are used for final FPT evaluations post-assembly.
Apart from our excellent design and manufacturing capacity, we provide exceptional engineering, procurement, and customer services. We provide total visibility through every step of board development to see that your PCB is built quickly, efficiently, cost-effectively, and of the highest quality. We always look forward to building long-lasting relationships with our clients. Our electronic manufacturing services (EMS) guarantee a cost-effective and hassle-free quickturn delivery of your printed boards.
Before moving to mass production of your board design, read advantages of ordering PCB prototype and bulk production from a single fab house.
Sierra Circuits creates an unbroken thread from design through delivery. Reduce your vendor count today. Decrease production delays and eliminate quality issues. Count on us for providing value-added manufacturing and assembly services. We are your one-stop shop for all of your PCB fabrication and assembly needs – from a single component to a complex board build.