Contents
Testing is an essential step in ensuring the integrity of your flexible printed circuit boards. While there are many possible approaches to verifying the quality of both your raw materials and your finished products, guidelines from the Association Connecting Electronics Industries (IPC), such as IPC-6013, IPC-2223, and IP-FC-234 and their respective successors, are a good place to start.
First published in December 2013, IPC-6013C, "Qualification and Performance Specification for Flexible Printed Boards," supersedes a number of previous IPC standards, including the original IPC-6013 from 1998. It specifies many different test methods for flex PCBs, including thermal, bend, and impedance testing. Also included are quality assurance provisions, such as sample test coupons and guidelines for acceptance and quality conformance tests. As of May 2015, a draft of IPC-6013D was already in the works.
Of course, the IPC offers much more than just the 6013C specification when it comes to processing flex PCB. For example, IPC-2223C, "Sectional Design Standard for Flexible Printed Boards," provides guidance on selecting adhesive materials as well as connecting flex and rigid PCBs, with specific tips such as placing flex adhesives away from plated through-holes and vias. There is also IPC-FC-234, "Pressure Sensitive Adhesives Assembly Guidelines for Single-Sided and Double-Sided Flexible Printed Circuits," for further reference.

Picking and following an IPC test method for flex PCBs
Circuit board testing is a very application- and environment-specific undertaking. There is no blanket, one-size-fits-all approach that will cover every possible flex PCB and use case. Aerospace and space applications, for instance, require a much more demanding process than their more consumer-oriented counterparts.
In a recent interview, flexible circuits expert Vern Solberg noted this situation but also outlined some general tips for getting started with flex PCB testing, such as using applicable IPC standards to see what level of product the design will qualify for. He also pointed out that the flex materials themselves, which are quite rugged, are never the mode of failure in the flex PCB. Instead, the real things to keep an eye on are the assembly process or issues outside the supplier's realm.
Solberg highlighted the usefulness of IPC-2223 as well as IP-FC-234 in ensuring the best possible reliability for your flex PCBs. Following these standard guidelines, at least to some degree, gives you a solid framework for designing for a wide range of possible scenarios, from single metal flex to multilayer boards such as 6-layer flex PCBs that might not be all that flexible.
"At the very least, [the IPC guidelines] give you a good foundation in designing for reliability, things like how to build up your flex," Solberg said. "Some people consider flex with metal on one surface, but what happens when it is metal on two surfaces and you have to go through an area that has to flex, where the material actually has to bend? How do you arrange your circuit on the flex so that you won't have stresses or cracks in your copper? [The IPC] has a lot of different examples of that. If designers don't have [the guidelines] in their libraries, then they should get that."
Also, read 6 flex PCB design guidelines and rules.
Flex PCB tradeoffs and next steps
There is no denying that flex is less familiar territory than rigid for many designers (in fact, flex guidance was actually absent from IPC documentation until relatively recently), which makes use of the IPC guidelines all the more important throughout the design process. Simple designs, especially for teams that are newcomers to flex, are advisable in order to keep costs under control and also streamline the testing process.
IPC documents are widely available and should be utilized as needed to support your design. Solberg suggests avoiding "working in a closet" (that is, don't isolate yourself from your supplier and from available resources like design guides) and be sure to learn from the community and communicate with others. Changes are continually being made to the IPC guidelines—e.g., fine-tuning and new guidance on things like minimum bend radius and folding—but the basic structure from one version to the next is largely the same.
Sierra Circuits provides a wide range of fast, high-quality flex PCB services. Find out more on our main flex PCB page as you get started in your design and testing process.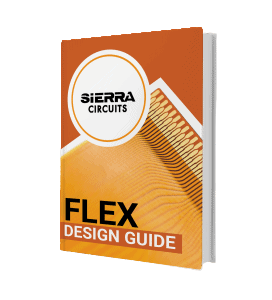 Flex PCB Design Guide
10 Chapters - 39 Pages - 45 Minute Read
What's Inside:
Calculating the bend radius
Annular ring and via specifications
Build your flex stack-up
Controlled impedance for flex
The fab and drawing requirements
Download Now