Contents
Institute of printed circuits constantly publishes performance documents that govern practices in the PCB industry. Two such documents are IPC-6012 and IPC-A-600. IPC-6012 provides the actual acceptance criteria whereas IPC-A-600 provides the visual interpretations of those requirements.
What does IPC stand for?
The association connecting electronics industries – commonly known as IPC – is an international trade association serving the printed circuit board and electronics assembly industries since 1957. Initially known as Institute for Printed Circuits, the organization changed its name to the Institute for Interconnecting and Packaging Electronic Circuits. IPC has taken the lead in generating new standards for PCB materials, design, manufacturing, testing, qualification, and performance. It is accredited by American National Standards Institute (ANSI) for developing standards. The headquarters is situated in Illinois, US with additional offices worldwide.
Significance of IPC standards in PCB design
By adhering to IPC standards, you can ensure the manufacturability of your design. It also enables the fabricator to produce safe, reliable, and high-performing circuit boards.
As a designer, you need to be in consensus with the latest released standards. IPC standards serve as the common base for making sure that you and your contract manufacturer use the same terminology and agree on the required expectations. Complying with IPC standards ensures that your boards are produced without any difficulties and delays.
What is IPC-6012?
IPC-6012 is the specification that establishes the performance and qualification requirements for the fabrication of rigid boards. These specifications are applicable to the circuit board technologies listed below:
Single-sided and double-sided: With/without PTHs
Multilayer: Standard and HDI
Active/passive embedded circuitry: These have distributive capacitive planes and may have either capacitive or resistive components.
Metalcore printed boards: These boards incorporate metal as base material.


IPC-6010 series defines performance and quality regulation standards for all major types of PCBs. IPC-A-6012 is a supplementing part of the IPC-6010. The base document of the series is IPC-6011 which defines all the generic requirements of circuit boards irrespective of the substrates. The table below shows the IPC standards that specify the performance requirements for different types of boards.
| Type of board | IPC standard |
| --- | --- |
| Rigid boards | IPC-6012 |
| HDI circuit boards | IPC-6016 |
| PCBs containing embedded passive devices | IPC-6017 |
| High frequency (microwave) | IPC-6018 |
The IPC-6012 document discusses requirements related to:
Dielectric materials and foils
Board dimensions
Conductor widths/thicknesses/surfaces
Structural integrity
Hole/vias plating thickness
Surface plating and surface finish coating criteria
Solder mask coverage/thickness/curing specification
Cleanliness
Electrical, mechanical, and environmental parameters
Thermal stress testing
Quality assurance provisions (includes test plans for quality conformance testing and acceptance testing frequency)

Latest revisions and addendums of IPC-6012
IPC-6012E is the latest revision that IPC has published in March 2020 (Amend 1 4/22). It incorporates many new requirements in areas such as:
Back-drilled structures
Surface finishes
Solderability testing
Plating overhang
Marking inks
Thermal shock
Performance-based testing for microvia structures.
IPC-6012EA (2021) addendum contains specs for rigid circuit boards used in the automotive industry. These boards need to survive the strict vibration and thermal stress cycles. It includes updated requirements for the following:
Lifted lands
Pattern feature accuracy
Solder mask thickness
Dielectric removal and wicking
Cleanliness criteria
Suitability and reliability testing parameters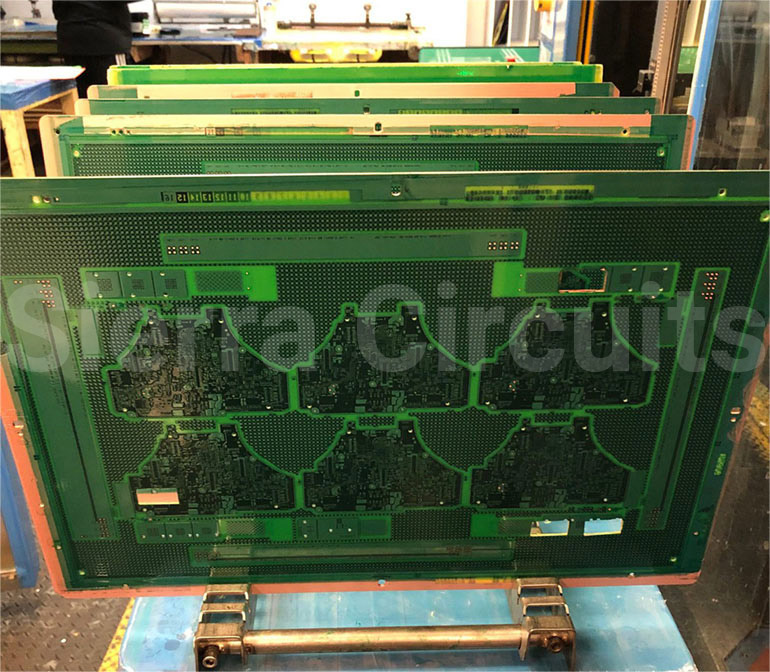 IPC-6012ES (2020) addendum provides class 3 requirements for space and military applications. It covers circuit board requisites to endure vibration, intense thermal cycling, and ground testing that is associated with space environments.
IPC-6012EM (2020) addresses the standards for medical-grade PCB. It discusses feature sizes that are finer than the HDI technology. For example, it talks about conductor width/spaces below 60μm and via structures below 100μm.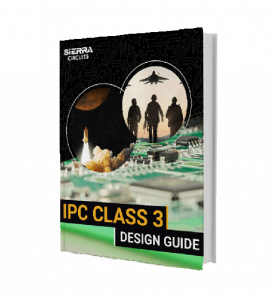 IPC Class 3 Design Guide
8 Chapters - 23 Pages - 35 Minute Read
What's Inside:
IPC guidelines for manufacturing defects
IPC standards for assembly processes
Common differences between the classes
IPC documents to set the level of acceptance criteria
Download Now
What is IPC-A-600?
IPC-A-600 – also called IPC-600 – sets the level of acceptance criteria for each class of product. It provides graphical illustrations of the ideal, admissible, and non-negotiable conditions that are externally or internally observable on printed boards.
The imperfections on the board's exterior surface that can be seen and evaluated are called externally observable conditions. Internally observable conditions are features that need microsection evaluation of the specimen to check acceptability. Some internal anomalies can project outside as voids or blisters. The boards should be sufficiently illuminated for effective evaluation. By following this process of inspection, it is measured whether the physical features of the final board are in accordance with the requirements.
The IPC-A-600 document provides the visual interpretation of minimum requirements set forth in various printed board specifications such as the IPC-6010 series and J-STD-003. These standards apply to rigid, metalcore, HDI, rigid-flex, and flexible printed circuits.
This document is designed to make sure that the PCBs conform to layer-to-layer spacing, the structural integrity of laminates, the physical dimensions of copper features, etching characteristics, and plating standards.
The examples of features that are scrutinized using this standard are:
Final PCB thickness
Hole characteristics (e.g. size)
Solderability
Dielectric thickness & solder mask errors
Existence of copper voids
Annular rings requirements and drill breakouts
Surface/Subsurface imperfections
Anomalies in conductive circuitry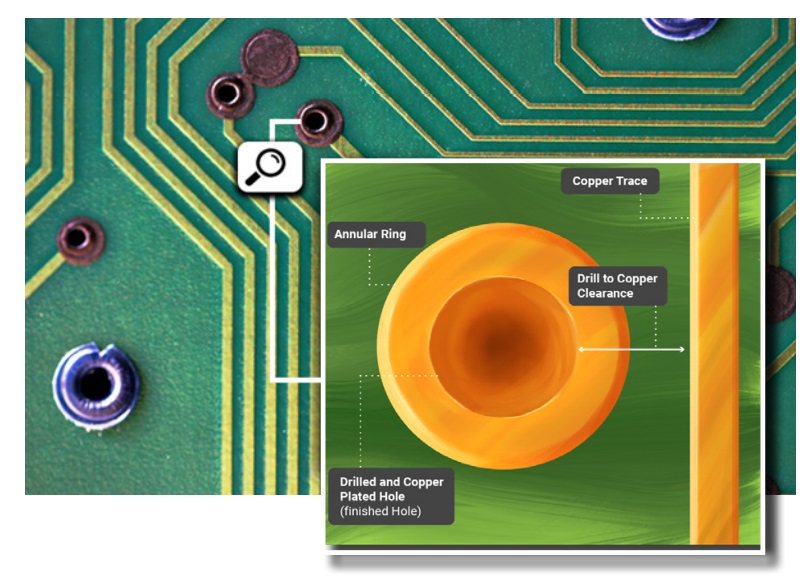 As a designer, you need to consider the requirements of the IPC-2220 standard in order to conform with IPC-A-600. Customers and manufacturers can also agree on acceptance criteria that will replace the requirements of the appropriate IPC standard.
Another supporting document to the IPC-600 is IPC-9121. It is a useful troubleshooting guideline that discusses problems, causes, and possible corrective actions related to printed board fabrication processes.
The current revision of IPC-600
IPC-A-600K is the latest revision(July 2020) that gives more coverage on topics that include:
Dielectric removal: performed by etch-back, smear removal, and negative etch-back.
Voiding and fill
Microvia contact dimensions
Wicking
Delamination
Surface plating: covers criteria for edge board contacts, rectangular, BGA, and wire bond pads.
Etched and ink marking
Via fills
Hole registration
The contents of the document are in synchronization with the acceptability requirements expressed in IPC-6012D and IPC-6013C. IPC-A-600 acts as a useful tool for interpreting and understanding the results of automated inspection technology (AIT). AIT is used to evaluate several important dimensional characteristics of the board, it includes:
Automated solder paste inspection (SPI)
Automated laser test (ALT) measurements
Machine vision (MV) method (recently developed).
These methods speed up the inspection process and identify the defects in PCB manufacturing during the nascent stages.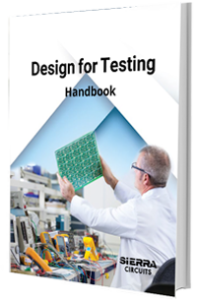 Design for Testing Handbook
7 Chapters - 28 Pages - 45 Minute Read
What's Inside:
PCB testing strategies
Guidelines to design and place a test point for FPT
Directives to make your board ICT compatible
Benefits and drawbacks of various testing methods
Defects that you can identify through board testing
Download Now
What's the difference between IPC-6012 and IPC-A-600?
IPC-6012 or IPC-A-600? What is the difference between these documents? This could be a tricky question that is running in the industry right now. Both the documents, the IPC-6012 and the IPC-A-600, are applicable for rigid printed circuit boards. However, sections of IPC-A-600 define the standards for flex and rigid-flex boards.
IPC-6012 provides the performance criteria whereas IPC- A-600 simply provides the visual illustrations of those requirements showing examples of acceptable and rejectable versions of those requirements.
The circuit board design and manufacturing prerequisites are present in both documents. But the advantage of IPC-A-600 over IPC-A-6012 is that helps the inspection purposes. Every assessment aspect is illustrated clearly with a photo and details on how it looks in practice and what needs attention. It is a good and easily understandable tool for examining PCBs where the inspector need not have full knowledge and experience with circuit boards.

IPC-6012 or IPC-A-600: which standard is right?
When we have to fabricate the rigid printed boards, IPC 6012 is the spec we need to use. This document establishes the requirements that manufacturers have to meet for all three classes of boards.
However, IPC-A-600 seems to be the most heavily used document lately. It is widely accepted due to the ease to work with it and is hence a natural choice for certification.
IPC-6012 and IPC-A-600 are two of the primary guiding documents, also called performance and inspection documents. They both work hand in hand and are indispensable if a high-grade product needs to be produced.
A correct understanding of these IPC requirements is essential at both design and manufacturing levels to avoid any misinterpretation. For example, the fab drawing should specifically mention whether the copper weights mentioned are for the start or finished state. This prevents any rejections due to deviations during the quality check and dispatch of the circuit boards.
Visit our PCB certifications and registrations page to know the manufacturing and design standards we adhere to.