Designing, ordering and receiving your printed circuit board should be a seamless process. Ideally, you could verify your design, receive an instant quote, and then begin ordering your components within minutes. Sierra's customers already benefit from this type of efficient, intuitive system through our NoTouch PCBs (using our automatic file verification (AFV) tool) and Web PCBs (which offer additional services and capabilities).
What happens after you place your order, though? We guarantee a quick turnaround thanks to streamlined manufacturing and delivery, as well as our ability to serve as a single point of contact throughout. Let's look into what else you can look forward to after completing your order.
After the order: From placing your order to receiving your board
We'll look at turnkey, consigned, and partially consigned orders as our main example here. Sierra suggests ordering turnkey, during which we procure all necessary components, saving you time and hassle. An order can be submitted at any time to our 24/7 operation, and may be done in any quantity—from one to several hundred.
Verification
For NoTouch files, quotes are received and either approved or denied by our AFV tool. Denied quotes receive instructions via email on why the quote was denied, and how to fix the errors. For all other orders, once the quote enters our system, expert design engineers will examine and verify the manufacturability and reliability of the PCB. If the order is partial turnkey or consigned, further instructions will be emailed.
Component procurement
After that, component location and procurement begins. If you requested a quote for an order with consigned assembly, you will supply components in accordance with our kitting guidelines. We will acquire everything needed for turnkey submissions through our specialized buyers and component engineers, alleviating miscommunications that often occurs when working with multiple vendors.
With the design finalized, manufacturing begins. JUKI pick and place machines ensure accuracy to meet exact specifications. Other services include through-hole assembly (where components are mounted via insertion of leads into holes, followed by soldering) and SMT assembly (direct mounting on the PCB surface), as well as a mix of those two techniques. We can assemble a wide variety of board component sizes and capacitors during these assembly processes. Additional pinwork, stenciling, and tooling can be provided at no extra charge.

Quality assurance
Quality testing is up next. We vet the manufactured PCBs in accordance with IPC-A-610, IPC-A-612, IPC-A-613 Class 1, 2, and 3 assembly standards. Overall, our operations also meet the requirements for certifications including ISO:9001:2008, ISO:13485:2003, and the Restriction of Hazardous Substances Directive (RoHS). We are also ITAR-registered.
X-ray inspection
Finally, the completed board is closely inspected using advanced  X-ray technology. For example, after assembly on the single- or double-sided ball grid array or micro-BGA installation, the boards are X-rayed 100 percent to ensure integrity.
If you need to request a rework or require any additional technical assistance, feel free to contact our team. And check our fabrication + assembly and Turnkey PRO services.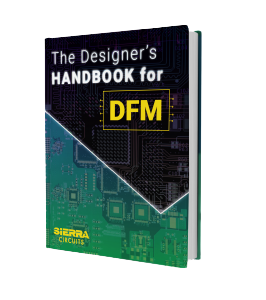 Design for Manufacturing Handbook
10 Chapters - 40 Pages - 45 Minute Read
What's Inside:
Annular rings: avoid drill breakouts
Vias: optimize your design
Trace width and space: follow the best practices
Solder mask and silkscreen: get the must-knows
Download Now