Patriotic PCBs
We have one of the best in class facility for PCB manufacturing and PCB assembly. We boast ITAR expertise, and we follow them and produce the military PCBs. Our company uses only high-class materials for prepregs and core. We use the latest LDI technology for precise traces. Some really hot-shot companies are our clients and blah blah. We and almost all PCB companies have been marketing their service with these lines since ages. Therefore, today we won't talk about those. Let's talk patriotism today!
If the estimations are to be believed, more than one-third of defense procurement spending is accounted for by computers and electronics. And this proportion is increasing in a steady graph. PCB being the heart and brain both of electronics obviously plays a great deal in them too. With that sort of budget, military equipment holds a much higher standard than commercial products. Produced at comparatively lower volumes, military PCBs expect a notch higher and more complex product performance. When the success of the mission is on the line, stakes are really high. You can't afford to have even one of your devices fail.
Hence, when it comes to the country, you can't just be one of the best, but being the best is the only option. Moreover, like soldiers' PCBs in the military are also exposed to extremes for an extended period of time. Adverse conditions like exposure to moisture, high heat, and humidity, freezing cold. While the life expectancy for a consumer product is somewhere around 2-5 years, before that technology doze-off. Military circuit board applications take longer to get in action and are expected to stay in action from 5-15 years. Hence, only the best of quality circuit boards assembled and produced by experienced experts will survive and emerge as the winner under such conditions.
The contribution of military PCBs in the past, now or in years to come cannot be ignored!
It's very interesting that the military is known to be an ice-breaker in electronic technology. From World War I up to the present day, military technological innovations have been carving the way for consumer products. Thomas Edison and his Naval Consulting board were some of the first major innovators in the electronics field. Military navigation, guidance and control, missiles, electronic warfare, communication, and surveillance equipment, PCBs became an integral part of warfare.
Now, along with times, the nature of war is also changing, that requires high density, highly reliable and highly robust and ruggedized interconnections. The tools warfighters put their faith on are evolving every day to be more than just a tool, to become soldier-centric.  Dependent on network topology of integrated information systems and mechanisms on their instant command, the war tools are like never before. As if an entire battlefield- every tiny sector of it-can be seen and regulated through a single eyepiece.


What is different in military-grade PCBs?
To meet all these goals and expectations, typical military-grade PCB designs must meet IPC-A-610E Class 3 for high performance and electronic products standards. To meet the standards products need to maintain consistent high-performance levels and on-demand mechanisms with virtually zero tolerance for equipment failures. Test application in real-time is almost impossible for military PCBs as no one has any solid idea of what they can go through. Therefore, pre-layout simulations are also quite critical.
Again, military standards require quite a robust sort of testing prior to production. The standard testing process includes Design for Test (DFT), New Product Introduction (NPI), and Design for Manufacturability (DFM), along with x-ray testing. The listed testing sounds extensive right? But these tests have quite a significant impact. They decide upon the number of revisions required and ultimately result in a product all set to conquer the enemies.
Although in today's time, when industry investments by PCB producers are focusing on the high-volume, low-cost growth segment rather than on the high performance, reliability, and extreme environmental tolerances, product engineers for military-grade equipment diligently choose or at least should, the best for the end-use of the result. Cutting corners is not an option when it comes to national security.
We know all our requirements for our military-grade PCBs,  but how do we ensure that people we are working with are also eligible enough?
Well, this is a million-dollar question! Remember the time in your school, where you had all the clubs and groups of organizations to participate in. Different clubs had different signing up processes. Lottery, rituals, interest, and last but not the least deciding upon pure merit is also a thing. In certain industries (read military PCB) a similar type of merit-based membership is required for companies and organizations that supply components. Like all vendors, distributors, and suppliers in the defense industry needs to be AS9100 certified.
AS9100 is a standard that defines the quality management system (QMS), which in turn ensures the companies conformity to supply the critical components for military electronics.
AS9100 has different and specific requirements for the entire QMS:
 General requirements- Section 4
 Management requirements- Section 5
 Resource requirements- Section 6
Realization requirements- Section 7
Remedial requirements- Section 8
Let's talk about section 7 in a bit detail, in particular, it deals with product realization and provides the primary AS9100 requirements that apply to PCB manufacturing and your contract manufacturer (CM). Under AS9100C, your CM is not required to be certified by AS9100, but that does not mean they are not supposed to maintain any sort of QMS. Depending on your PCB development stage, specific actions your CM can take in support of these requirements include:
The manufacturer should use board materials specific to meet electrical breakdown, temperature resistance, and other requirements. Ensuring precise DFM specifications is a must. For that, the designer and manufacturer should work together from day 1 to incorporate design intent. Use reputable suppliers, track components and employing practices. Must be very alert towards the usage of counterfeit components as mentioned in ITAR.
AS9100D revises its previous version and put forward a few more points in Section 8, accelerating the degree of emphasis on the choice of CM.

Design Considerations for Military-Grade PCBs
"Government Project", this tagline gives you a feeling of power. A power that distinguishes you from other commercial manufacturers. But with power comes responsibility, a compulsion to give your best or sometimes to even outdo yourself. And when it comes to national security, it doubles up the expectations. The US was one of the first nations to rely on electronic warfare. They have been concerned about military security by ensuring quality electronics since the mid-1990s. But owing to the explosion of consumer products, in the last decades of the century have made way for the counterfeit components. In response, various safeguards and standards have been put into place.
As part of the National Defense Act of 2011, the Defense Department took various measures to address the integrity of the military-grade electronic components problem. The most significant result of this effort is probably the Supply Chain Hardware for Electronics Defense (SHIELD) program launched by the Defense Advanced Research Projects Agency (DARPA).
SHEILD program is expected to have its test run this year, with it's in the house tracking system. Yes, SHIELD is nothing but a sophisticated approach to supply chain management. It calls for manufacturers of integrated circuits (ICs) to install a semiconductor dielet or penny, inside the package that could be read using a probe that is attachable to a smartphone. Each IC package is supposed to contain a data encryption program with power supplied via the probe. Additionally, all the chips would have a tracking feature. GPS will track every chip with the location verified against a database. These measures would provide several safeguards against tampering or counterfeiting.
Performance Standards for Military Grade Electronic Components
MIL-PRF-38534 (Hybrid Microcircuits, General Specification)
MIL-PRF-38535 (Integrated Circuits (Microcircuits) Manufacturing)
MIL-PRF-55342 (Resistor, Chip, Fixed, Film, Non-established Reliability, Established Reliability, Space Level, General Specification)
MIL-PRF-55681 (Capacitor, Chip, Multiple Layer, Fixed, Ceramic Dielectric, Established Reliability and Non-established Reliability)
MIL-PRF-123 (Capacitors, Fixed, Ceramic Dielectric, (Temperature Stable and General Purpose), High Reliability, General Specification)
The list above is only a subset of military standards that specifically deal with common PCB components.
DOWNLOAD OUR IPC CLASS 3 DESIGN GUIDE: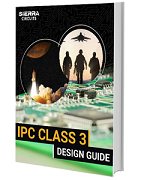 Sierra As a Mil-Grade PCB Manufacturer
We in Sierra Circuits are certified to PCB military certification MIL-PRF-55110 G.
Sierra Circuits is qualified under the US Department of Defense to MIL-PRF-55110, MIL-PRF-31032/1, MIL-PRF-31032/2 for GF (FR4) and GI (Polyimide) printed circuit boards.
Sierra Circuits has extensive experience of manufacturing high-reliability printed circuit boards to MIL-PRF-55110, MIL-PRF-31032/1, MIL-PRF-31032/2 for GF (FR4). We boast in-house capability in providing Group A testing for Mil-Spec PCB boards.
High technology RF (Radio Frequency) devices using low dielectric, low loss materials such as Rogers, Taconic and high-reliability materials like Polyimide all comes in our expertise. Also, we are ITAR registered company; hence we understand the sensitivity and security requirements for the data and intellectual property.
Why are we different?
Conformance and compliance are very confusing terms. As in both of them means to follow rules. But we in Sierra Circuits see the thin line we have between them. We saw some plans fail and some succeed without any sort of violations in either one of them. Conformity is all about your own rules, mean what you follow to meet the bare minimum. Compliance, usually associated with satisfying external demands, can imply that you straight up entirely to the intent of the requirement. So, where were we lacking?
From a technical regulatory perspective, we were just fine as long as we met the requirements. However, for a company like ours that is seeking military standards, just meeting the requirements is not enough. Sierra Circuits strive to exceed and hence, are all ready to take up and conquer the mil-grade.
DOWNLOAD OUR DFM HANDBOOK: