Contents
Robotic surgery requires remotely operated, minimally invasive surgical tools. It assists the surgeon with more control, accuracy, and flexibility during complex surgical procedures. Sierra Circuits manufactures smaller circuit boards with a quick turnaround time to facilitate compact medical devices, the primary building block of medical robots.
Surgical robots are also used in orthopedic surgeries, such as total hip and knee replacement. This case study is based on the information collected from two robotic surgery equipment manufacturers with whom Sierra Circuits had the opportunity to work with.
What is robotic surgery?
Robotic surgery is a type of surgical procedure carried out by robotic arms to avoid the need for large incisions. The entire procedure is controlled by the surgeons and adds more precision and flexibility compared to conventional techniques.
Challenges procuring the right PCBs for surgical devices
The first organization that we partnered with is a leader in medical technology. Since we have kept their names anonymous, we will be referring to them as Org A throughout this case study. Org A offers innovative products and services in orthopedics, neurotechnology, and spine, that improve patient and hospital outcomes. This company was facing issues regarding quick delivery and board quality. Their biggest PCB design and manufacturing constraints were obtaining circuit boards with tighter trace and space, required in their end product.

The second organization included in this case study is an innovator in the musculoskeletal healthcare market. We will be referring to them as Org B in this case study. They design, manufacture, and market orthopedic reconstructive products. This robotic surgery equipment manufacturer collaborates with healthcare professionals around the globe to advance the pace of innovation. Their products and solutions help treat patients suffering from disorders of, or injuries to, bones, joints, or supporting soft tissues.
Check out our case study on PCBs for Healthcare and Life Science Industry
Similar to Org A, Org B was also experiencing issues with quick turnaround time and board quality. The size and cost of the circuit boards were their major design and manufacturing constraints. The fast-paced R&D department at this organization designs and develops products at an accelerated rate. This means the prototype circuit boards should be reliable and delivered quickly.
The manufacturing of boards and the assembly of components requires coordination between the fab and assembly teams, making procurement a time-consuming process.
The solution: Turnkey Pro and NoTouch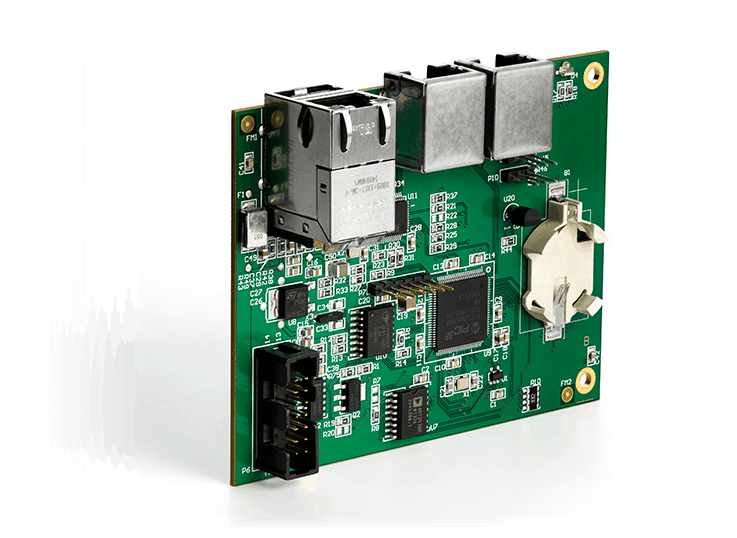 Sierra Circuits' quick turnaround time and circuit board quality attracted Org A. They incorporated our boards in devices used in cadaver labs. They also mentioned that Sierra Circuits has some additional capabilities that most vendors do not offer, like blind vias and tighter trace and space. This robotic surgery equipment giant applauded our approach in dealing with bare board manufacturing issues and prototype to production hurdles.
Generally, Org A uses Sierra Circuits' PCBs in surgical orthopedic tools. They require 6 to 12-layer rigid, rigid-flex, and flex PCBs with 6 to 12-mil trace and space. These circuit boards operate around 200MHz and can handle 15A of current. They also use BGA ICs with 0.5mm fine pitch and 100-ohm traces for impedance matching. All these were possible due to Sierra Circuits' advanced capabilities.
Org B implemented Sierra Circuits' NoTouch and assembly services to create their development boards and production equipment. The NoTouch PCB service enabled them to get cost-effective bare boards online. It allowed them to upload their files and run automatic DFM verification before placing an order.
Org B utilized Sierra's boards in some equipment in their facility to test their medical devices. Generally, they require 4 to 8-layer rigid and flex boards with 5 to 7-mil trace and space. These circuit boards operate at around 2.4GHz and 100MHz and can handle up to 1A of current. They implement 0.4 and 0.5mm BGA ICs to achieve a tiny form factor and 50-ohm impedance traces for digital and clock signals. They credited Sierra Circuits for helping them accomplish their design goals.

Quality, timeliness, and form factor at one go!
The following aspects helped both the organizations to pull off their business goals:
Both companies found Sierra's Turnkey Pro online platform fast and economical.
Sierra Circuits opened up the capabilities to achieve a suitable form factor for their end products.
Both companies had quality and timeliness issues from previous vendors, which was solved by choosing Sierra.
Fabrication and assembly under one roof saved time and hassle for both the organizations.
Org B was happy with Sierra's approach in handling complex board requirements.
Org A was impressed by the fact that Sierra was willing to take on a challenging design that was being done for the first time in the facility.
Org B mentioned Sierra as their preferred quick-turn manufacturer, and they have seen a good ROI with respect to the R&D process.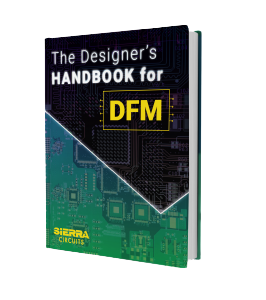 Design for Manufacturing Handbook
10 Chapters - 40 Pages - 45 Minute Read
What's Inside:
Annular rings: avoid drill breakouts
Vias: optimize your design
Trace width and space: follow the best practices
Solder mask and silkscreen: get the must-knows
Download Now