January 10, 2014
|
|
2 Comments
Behind the Scenes with IPC-2581

---
On October 16, 2013, IPC published IPC-2581B, the updated industry-standard format for transferring PCB design data from CAD tools directly to CAM systems for board fabrication and assembly. Representatives from the nearly 50 companies who belong to the IPC-2581 Consortium had revised the standard to support detailed stackup definition including material types, and incorporated further refinements so designers could express their build intent with even greater clarity. Whether the industry embraces this intelligent format, which can speed PCB manufacture, depends upon how faithfully the vendors of CAD tools, DFM software developers, and CAM system developers implement it. The first releases under IPC-2581B are expected in 2014.
IPC-2581B incorporates rich attributes to clearly explain exactly what manufacturers should build and aggregates all the elements of a design into one file.
The great majority of PCB designs are exported to fabricators as Gerber files that graphically define the layers, in conglomeration with a drill file, a netlist, a board drawing, a file of coordinates to drive assembly pick-and-place machines, a bill of materials, and a read-me file of notes and instructions. None, or few of these files share the same format, except for the Gerbers. All of that information in disparate formats must be imported to the CAM systems that control the fabrication and assembly processes. Manufacturers have to review and prepare the data before they can be downloaded, and that takes time.
The Current File Input Standard
Consider what happens when a board manufacturer receives Gerber files. There is no fixed guideline on the design side for naming layers, their types (plane, signal, solder mask), or polarity, with Gerbers. A fab front-end engineer has to identify the order of the layers, which usually consumes about 15 minutes per job. That may not seem long, unless you are a prototype manufacturer who receives 100 orders daily from customers with large investments riding on getting assembled boards for testing, debugging, and design revision by the product deadline.
Most Gerber files are received in the RS- 274X extended format, but occasionally some arrive in the outdated RS-274D format, and those require more work. If there is any doubt about how layers are designated, the job must be put on hold until the designer can be reached. The delay certainly could jeopardize a customer's critical schedule and impact production planning at the fab.
IPC-2581 Benefits
IPC-2581B incorporates rich attributes to clearly explain exactly what manufacturers should build and aggregates all the elements of a design—every aspect from layer description through assembly—into one file, in one format, to streamline downloading the data to CAM systems. It will speed fabrication, assembly, and testing.
In my January 2013 column, I noted that my company had volunteered to fabricate a reference design on behalf of the IPC-2581 Consortium to validate the prevailing version of the standard, when CAM software would be available to load the design. No U.S. manufacturer had yet built a PCB from an IPC-2581 file.
Here is what happened. Fujitsu Network Communications and Sierra are both Consortium members, and we collaborated to evaluate the transfer and fabrication of a design output from a Cadence Allegro platform in the IPC-2581 (version A) format. The evaluation vehicle is a 12-layer network line card, measuring "8.5 by 3" (Figure 1). The board design was output directly from the EDA tool in both the IPC-2581 format and the ODB++ format for comparison. The design was also processed and output as an array in both formats from Wise Software VisualCAM (Wise is also a Consortium member). Each file was imported to our Valor Genesis system and compared for production.
The data were assessed to determine the source or sources of any anomalies and, in particular, whether the IPC-2581 file was valid for fabrication. Ultimately, four problems were identified, none of which were native to the files exported in the IPC format.
The First U.S. Manufactured PCB through IPC-2581
First, the Genesis software for inputting IPC-2581 data failed to recognize pad rotations that were properly described in the design file. Second, Genesis did not translate the step-and-repeat direction, which was correctly provided by way of the file from Wise to create the array. Third, the attribute tagging SMD pads as such in the IPC-2581 data was not recognized by Genesis. Fourth, the layer types as designated in the IPC-2581 data were not interpreted by Genesis.
Notably, none of the identified anomalies prevented the design from being fabricated directly from the IPC- 2581A file. The format proved valid. Consortium member Sanmina and Sierra independently fabricated boards from the same design in the IPC format.
Aside from the glitches resulting from origins other than the design file, the test convinced me that the IPC- 2581 format can save significant time in transferring design data to fabrication and improve clarity. When properly implemented, the IPC-2581 format can minimize workflow errors in fabrication.
Frontline Genesis V10.1, which will be released in the first quarter of 2014, will show layer type coincident with IPC-2581 design files. Genesis V10.1 will also correctly indicate pad rotation.
Open standards such as IPC-2581 that are free from commercial restraints are good for the entire supply chain. Sierra Circuits will compare vendors' implementations of IPC-2581B as they become available. I would very much appreciate any comments and recommendations. Leave them in the comments below.
For more information on IPC-2581, check out our IPC-2581 Tech Talk video.
DOWNLOAD OUR DFM HANDBOOK: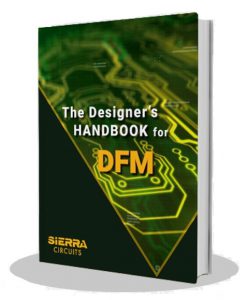 Tags: Fujitsu, Genesis, Gerber, IPC-2581, odb++, Sanmina, soldermask, valor