Contents
We interviewed Keven Coates at PCB West 2022 on how to use cables and connectors for signal integrity. Watch the entire video to learn more.
How do connectors and cables relate to signal integrity?
Keven Coates: Signal integrity depends on the entire electronic system and not just the circuit board. Even if your board is efficiently engineered, the product becomes inoperative if the connector and cable don't have uniform impedance. It goes without saying that the source, transmission line, and receiver impedances must match. You can achieve good signal integrity with cables and connectors if the impedance is constant throughout the application.
To learn how to mitigate the challenges of implementing connectors, download the connector design guide.
How does the energy flow in wiring circuits?
Keven Coates: Generally, energy flows in the space between the conductor and the reference plane. In a cable assembly, you don't have a reference plane but you have a reference conductor. As the leading edge of the wavefront travels down the cable, it induces capacitance throughout the transmission line. Here, the current actually propagates between the transmission line and the reference wire. This reference wire should always be grounded to avoid EMI.

What are the good and bad ways to use connectors?
Keven Coates: A connector should be designed in such a way that the return path is accessible for the signals. This means, every time a signal is transmitted through a wire, there should be a return path and it must be either power or ground. This is crucial to have uniform impedance throughout the connector which reduces the attenuation and FCC issues such as radiation in your high-frequency applications.

What are the good and bad ways to use cables?
Keven Coates: As mentioned for connectors, return paths also play a vital role in cables. You must ensure that the connectors and cables have enough ground points for each wire to access a nearby reference conductor. For instance, let's say you have a 20-conductor cable and a 20-conductor connector. You would require an optimum number of ground and power lines between the conductors so that every wire has access to return paths. These reference lines provide uniform impedance and ensure that there are no radiated emissions.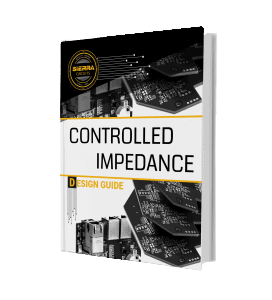 Controlled Impedance Design Guide
6 Chapters - 56 Pages - 60 Minute Read
What's Inside:
Understanding why controlled impedance is necessary
Stack-up design guidelines
How to design for impedance
Common mistakes to avoid
Download Now
What are your recommendations for grounds in cables?
Keven Coates: The most important thing is that the cables and connectors should have uniform impedance throughout their length. To achieve this, you must disperse grounds in between the signals wherever possible. This is crucial when it comes to high-speed designs.
Which kind of cable does not provide any protection against EMI?
Keven Coates: Let's say you have a 20-conductor cable and connector with a single reference plane. This means that not all the signals have access to the return path. Due to this, signals can take the path of another signal to return resulting in crosstalk. To avoid this, you need to make sure that every signal on the cable has access to a return path. This implies that no signal is shielded from EMI if it cannot reach a return path.
Comment below if you have any queries on how to employ cables and connectors in your design to enhance signal integrity. Our design and assembly team will be glad to assist you. Visit our design service page to learn more about our capabilities.
Keven Coates is the Senior Electrical Engineer at Fluidity Technologies. He has 28 years of experience in the industry. Keven's presently working on the development of flying vehicles such as multirotor and eVTOL (electric vehicle take-off and landing).