Contents
Cube satellite is a nascent market. Universities, research organizations, and even high schools have used simple, modular satellite design and manufacturing to get projects and experiments into orbit quickly and cheaply compared to traditional launch payloads.
But, now, commercial interests are starting to see the benefit of low-altitude satellite networks that can be built quickly in a scalable manner for all sorts of applications from GPS to aerial photography.
What is a cubesat?
A cubesat is a type of miniaturized satellite for space research that is made up of multiple cubic units. The cube dimensions are mostly in the order of a few cm. It is used for remote sensing and communications.
How long does a cubesat stay in orbit?
A cubesat stays in orbit anywhere from 4 to 25 years depending on the altitude of orbit it was launched into. For an altitude of 500 km, the cubesat will stay in orbit from 4-7 years and for an altitude of 650 km, the satellite will stay in orbit for around 25 years.
"There's a huge opportunity for companies that can deliver custom cubesat services from cradle to grave for this emerging market," said Carl Hooks, a senior electrical engineer with Tiger Innovations. "But, as a commodity, cubesat is a volume business. We need to launch projects within 18 months from the initial proposal to delivery to launch to in-space operations. The margins are really small."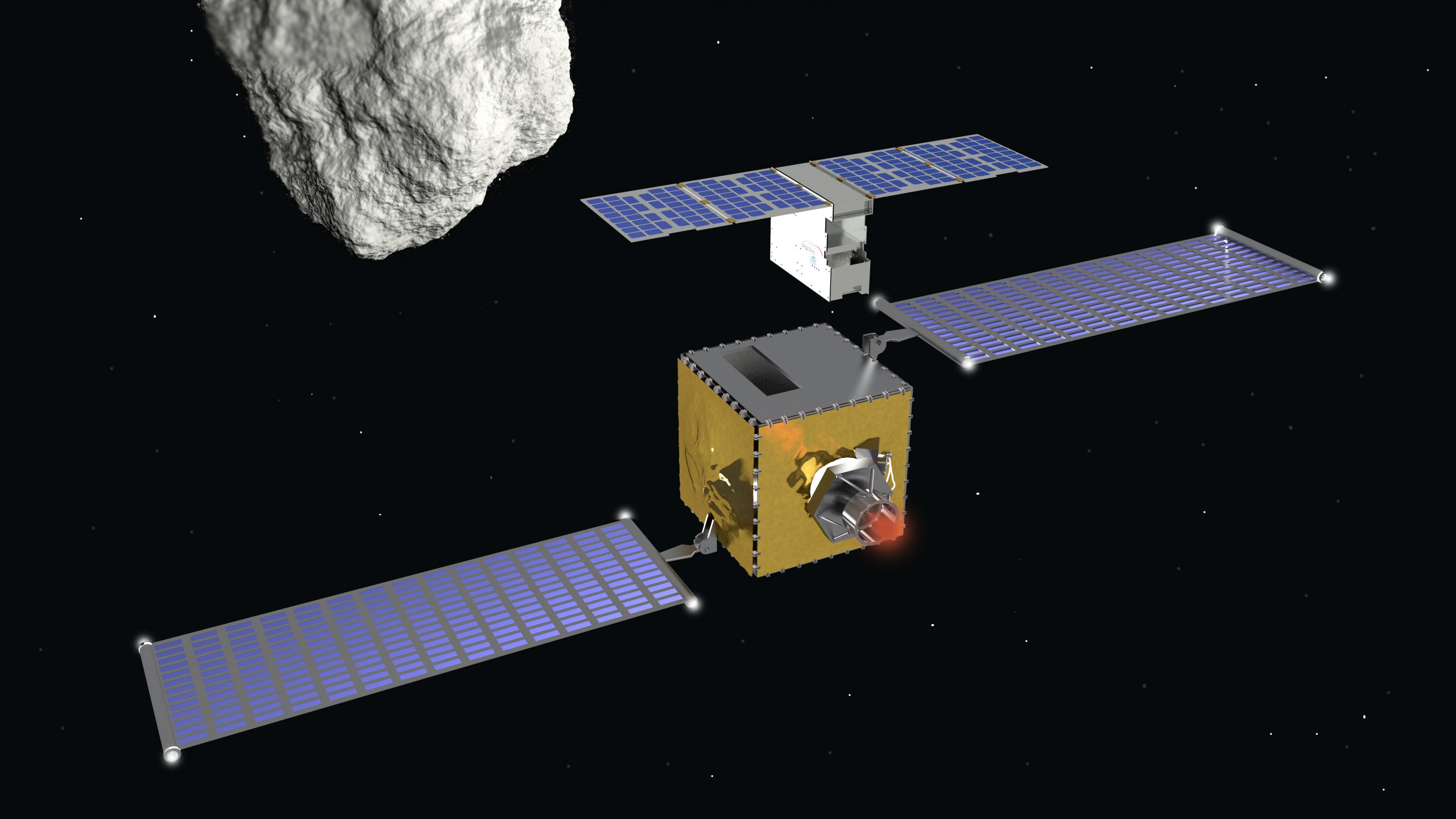 Given this 18-month turnaround time, the process of designing, manufacturing, testing, and assembling the circuit boards that command the various components of the satellites needs to be managed in conjunction with the larger manufacturing process and timed to deliver final boards at the exact right moment in time. A delay of just a few days could push back the entire project, making it difficult to meet launch windows or release specialized applications.
"I can't just order a bunch of boards in advance and sort through them to find ones that meet the exact specs we need," Hooks said. "PCB designs are being adapted alongside the larger cubesat designs right up until we need them in hand. I need to finalize a design and get them back in a matter of days. There's little margin for error."
Sierra Circuits Turnkey Pro
Knowing that there's little margin for error, Hooks orders the boards from Sierra Circuits, a PCB manufacturing company in the Bay Area that specializes in quick turn and medium production runs. Using the company's Turnkey Pro online platform, Hooks submits a board design, selects a turnaround time (usually five days), has it checked by Sierra's electrical engineering experts, receives the PCBs before the deadline, and slots them in their place in the cubesats.
"The process couldn't be easier," Hooks said. "I can get the exact boards I need for each component—whether it's the I/O interface or power cell or something else—and I know it's exactly what I ordered. There's no need to send back any boards or over-provision."

Given that the PCBs need to reliably operate in space, the boards have very specific requirements—including operating in a vacuum and running optimally across extreme temperatures, and they must be manufactured with materials that won't boil off or freeze in these harsh conditions. Sierra is able to easily meet these specifications—consistently and with a quick turnaround time.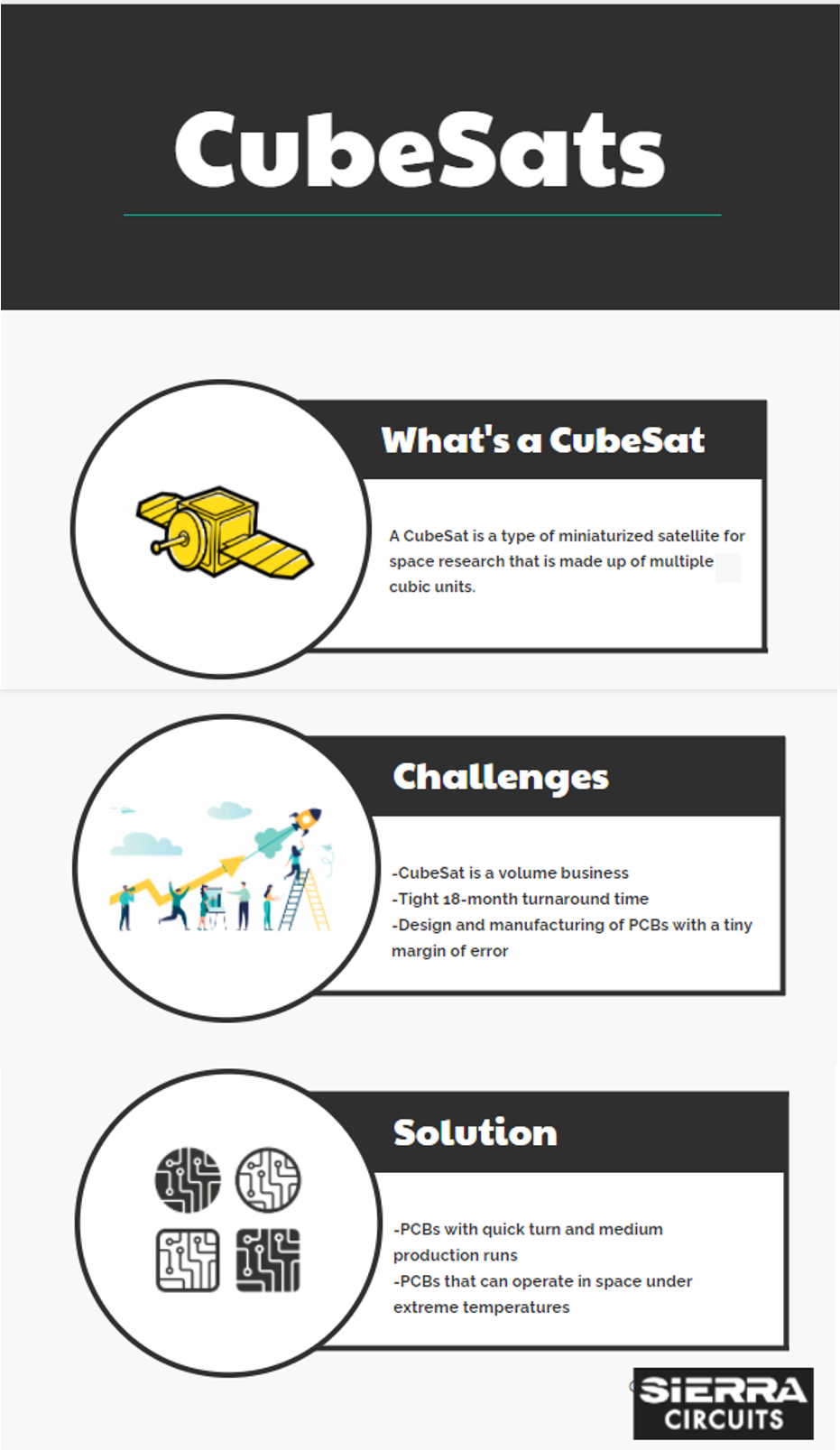 Challenges in the cubesat market
Deliver cradle-to-grave cubesat services from design to manufacturing to in-space operations
Create efficiencies throughout the process to allow the company to operate on slim margins
Meet tight project timelines without adding complexity or cost
Benefits of opting for Sierra Circuits
Consistent PCB quality and manufacturing
Fast turnaround for tight project timelines
Easy procurement process with access to PCB experts
Quick turnaround and consistency enable growing market share
Sierra Circuits gives Hooks and the rest of the Tiger Innovations team the peace of mind they need to provide timely, quality cubesat services to customers across the research, education, and commercial markets. Without high-quality PCBs, like those produced by Sierra Circuits, Tiger Innovations wouldn't be able to guarantee the quality of the cubesat or meet customers' tight production and delivery milestones.
Most importantly, Tiger Innovations never has to turn down work because of PCB turnaround—a critical benefit that allows them to gain market share in a growing market. "Our business model is built on having a company like Sierra turn around consistent quality boards," Hooks said. "Sierra Circuits is a forward-looking partner that we have complete confidence in."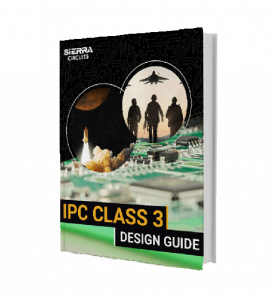 IPC Class 3 Design Guide
8 Chapters - 23 Pages - 35 Minute Read
What's Inside:
IPC guidelines for manufacturing defects
IPC standards for assembly processes
Common differences between the classes
IPC documents to set the level of acceptance criteria
Download Now