The aviation and aerospace industry has witnessed significant growth over the past few years owing to the rising investment by various space and aviation agencies across the globe. It is estimated that the number of aircraft carriers will double over the next two decades.
Particularly, the aviation industry will witness significant growth in the Asia-Pacific region. Further, the extensive demand for simulators for pilots will drive industry growth as well. It is predicted that more than 900,000 pilots will be required over the next 20 years to meet an ever-growing demand. Passenger aircraft vehicle is likely to be the most vibrant segment in the aviation industry. This will drive demand for aviation PCBs in the near future.
It is the writing on a wall when we claim that aviation and aerospace circuit board manufacturers will face their fair share of challenges. Aviation and aerospace PCBs are expected to offer higher technical performance at an affordable cost. These PCBs must sustain under extreme environmental tolerances and provide higher reliability. Several PCB manufacturers are focusing on improving their manufacturing equipment and manufacturing expertise in order to meet the ever-changing demands of the aviation and aerospace industry. Furthermore, the expected lifespan of aviation and aerospace PCB is more than 10-15 years. These PCBs have to withstand severe external conditions that include extreme temperature, humidity, and vibration. Additionally, hostile environmental conditions may occur that include salt spray, blowing sand, and solar radiation.
High-Reliability Aviation and Aerospace Circuits Boards
Reliability is a key aspect of aviation and aerospace circuit boards. It is expected of PCB manufacturers to offer a highly reliable product that can withstand severe environmental conditions and operate with zero failure. High reliable PCBs are the first choice for aviation and aerospace applications including satellite, aircraft carriers, and space aircraft. Significant time is spent on designing highly reliable circuits boards due to their mission-critical functionality. The key prospects of aviation and aerospace PCBs include longevity and zero failure.
The reliability of PCBs can be enhanced during designing and fabrication processes. However, the adoption of cutting-edge technology during manufacturing processes improves performance.
Another major requirement of an aerospace PCB is repeatability. To ensure 100% repeatability, each process is standardized by quantifying various elements such as the process control and measurements. Additionally, several processes are implemented such as destructive physical analysis (DPA) and statistical process control (SPC) analysis to ensure no defects occur during the fabrication and manufacturing processes.
To know more about flex PCBs used in satellite applications read our article Flex PCBs in Satellite Applications: Lighter Than the Clouds.
Aviation and Aerospace PCB Requirements
The aviation and aerospace circuit boards should be capable of withstanding up to 2000 cycles from -40°C to 145°C (normal boards may withstand 120-300 cycles) and withhold up to 30 cycles at 570°F (three times that of the new lead-free T288 test requirements.)
Our products not only increase profitability and competitiveness for customers but also offer the following benefits:
Improve thermal cycling reliability by a factor of 4 times or more.
Improve PCB assembly solder cycle reliability 3-4 times or more.
Tg is not an important effect with H.I.E.R. as the copper via is now stronger than the laminate expansion.
Do not affect any parameters such as dielectric rating, CAF ability, impedance or fine lines.
Extend lower temperature usability to -173 ° C or lower.
Extend upper usable temperature a significant amount above Tg.
Do not affect UL or military rating.
Significantly improve RAD ratings in nuclear hardening.
Have been extensively tested by Sierra engineering staff as well as certified independent laboratories.
Due to increased space access, flight velocity, and mission power thermal management has become vital more than ever. Read our post on PCBAs for aerospace thermal control to learn various parameters like thermal interfaces, material selection, circuit board design, etc.

Industry Standards for Manufacturing PCBs
PCB manufacturers across the globe are expected to follow certain industry standards to ensure better operational performance and higher reliability of PCBs for aviation and aerospace applications. Some of these standards are derived from the International Organization of Standardization (ISO), which is universally recognized. Several QMS standards are the byproduct of the International Organization of Standardization (ISO) standards. For instance, AS9100D provides a list of the QMS requirements for suppliers to the aerospace industry. These standards focus on in-house and outsourced manufacturing processes. Also, AS9100D reiterates management responsibilities and emphasizes on customer satisfaction.
Other standards such as IPC 6012DS focuses on release requirements, minimum plating requirements, etc. The changing dynamics of the satellite industry have driven the need for advanced standards that go beyond IPC Class 3A standards. The development of the J-STD-001 standard elevates some of these requirements of satellite PCBs. It is clear that some of these rules and regulations are meant for PCB designers in general. These design rules have been made compulsory for factors such as process control, and release, and DPA.
For instance, a satellite PCB has a higher number of micro-sections in comparison with a regular circuit board. Thus, it is critical to follow certain standards as per the requirement of the customer for high-end applications. Additionally, these standards must be followed during end processes including quality analysis, testing, reporting, and micro-section analysis. These processes are strictly implemented due to mission criticality associated with these applications.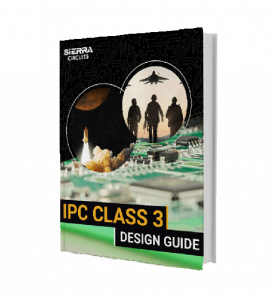 IPC Class 3 Design Guide
8 Chapters - 23 Pages - 35 Minute Read
What's Inside:
IPC guidelines for manufacturing defects
IPC standards for assembly processes
Common differences between the classes
IPC documents to set the level of acceptance criteria
Download Now
Norms and Regulations for Manufacturing PCBs
In our discussion with Paul Cooke on aviation and aerospace circuit boards and their challenges, we came to the conclusion that the RoHS initiative in aerospace and defense is irrelevant owing to the nature of product application and external conditions. For instance, most of these aviation and aerospace circuit boards use leaded HASL, which is not preferred due to the environmental hazards it causes. The use of any other material instead of leaded HASL will increase the risk factor associated with these PCBs. Moving to a different surface finish can lead to increased temperatures, which poses potential risks.
Paul Cooke further states that it is difficult to implement a RoHS type initiative within aviation and aerospace. However, the use of ENIG for manufacturing processes is gaining popularity. It is highly preferred for suppliers to use the leaded materials for assembly processes.
Aviation and aerospace board future prospects
Development of advanced materials that are suitable for high-frequency applications will help manufacturers to increase the lifespan of PCBs up to 15-20 years Currently, polyimide is widely used for geostationary satellites. However, the lower-orbit satellites, which have a lifespan of two to three years, require advanced materials. Several materials such as Rogers are gaining popularity in the space application.
As per our industry experts, the big challenge is getting electronics from the ground to space. The development of high-end technology and embedding these technologies in satellites are the point of contention among PCB manufacturers. Well, the future does look bright for those who have an eye for manufacturing!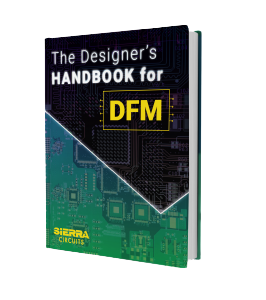 Design for Manufacturing Handbook
10 Chapters - 40 Pages - 45 Minute Read
What's Inside:
Annular rings: avoid drill breakouts
Vias: optimize your design
Trace width and space: follow the best practices
Solder mask and silkscreen: get the must-knows
Download Now