Contents
Sierra Circuits presents 'It's All About the Space', a webinar presented by Elizabeth Morrison, Daniel Beeker, Rick Hartley and Kenneth Wyatt who pay tribute to Ralph Morrison, leading pioneer in the field of high frequency / high reliability electronic control system design.
Overview
Unassuming and humble, Ralph Morrison spent his entire career seeking the connection between the world of electronics and the underlying physics. He published his first book in 1967, which became a foundation text for the signal integrity and EMC community. Ralph's keen understanding of electromagnetic fields and energy management provided a wealth of knowledge which he tried to give to the world. Unfortunately, most of the electrical engineering world failed to recognize this incredible gift. Ralph's teachings were mostly ignored by academia and industry alike. We will never know the true measure of Ralph's genius, now that we have lost him. We hope that today, you will get a little closer to understanding his contributions, and take this opportunity to follow in his path to understanding the world of EM physics and use this knowledge to be more successful in your product development. It is all summed up in the following statement from Ralph:  "Buildings have walls and halls. People travel in the halls not the walls. Circuits have traces and spaces. Energy and signals travel in the spaces not the traces."

Make sure you also watch our webinar on PCB design for low EMI by Ken Wyatt.
Agenda
Introduction by Daniel Beeker
Life, Education and Publications
Ralph's Rules

Field Stays Put
Electromagnetic Field Energy
The New Reality

How a Signal Propagates on a Microstrip
PC Board Design for Low EMI: Rules

Typical, But Poor, 4-Layer Design
Lower EMI 4-Layer Board Stack-Up
Lower EMI 6-Layer Board Stack-Up
Lower EMI 8-Layer Board Stack-Up
Very POOR 8-Layer PC Board
Very POOR 10-Layer PC Board

Discontinuous Return Paths & Crossing Gaps
Demo-Gap in Return Plane
Difference Between Gapped and Ungapped
References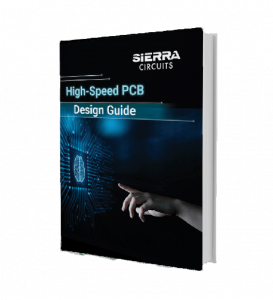 High-Speed PCB Design Guide
8 Chapters - 115 Pages - 150 Minute Read
What's Inside:
Explanations of signal integrity issues
Understanding transmission lines and controlled impedance
Selection process of high-speed PCB materials
High-speed layout guidelines
Download Now
Teaser
Testimonials
"This was one of the best webinars I've ever watched, and I stayed for the whole thing. Definitely worth watching again later. It will be a huge help to many PCB designers out there!"
Jody Waltzer, PCB Layout Engineer
"Thanks to Sierra Circuits for setting up this excellent webinar. Ralph's rules on electromagnetic field energy really gave me a new perspective on EMC. It is a great tribute to Ralph and a very informative seminar."
Sheran Alles, Technical Expert
"I enjoyed the presentation and thought it was very well put together and informative! I did in fact learn some things about PWB layout, as my background has been microwave/millimeter wave circuit design my entire 34-year career. In just the last year, my company has embarked on microwave PWB design, so I'm in the thick of trying to figure out how to port over my chip and wire expertise to PWB's. Oddly enough, as a microwave circuit designer, I always think of microwaves traveling around as Ralph Morrison put it, so that concept of traveling in the halls and not the walls is second nature to me already!"
Michael Friesen, Microwave Circuit Designer
"I am so glad I was able to watch this webinar tribute to Ralph Morrison. While I never met Ralph in person, after listening to the speakers I feel like I did get to know him a little. He taught us so much about how fast signals really operate, and the webinar presenters (Rick, Dan, and Ken) did a great job teaching us some of the main points. Thank you for creating this Ralph Morrison webinar. It was touching, I learned a few things, and it is well worth the time for any electrical engineer. We'll miss you, Ralph."
Gerry Callahan, Embedded Systems Engineer
"The Ralph Morrison tribute webinar, which included a personal remembrance by his widow Elizabeth Morrison, was a real pleasure. It not only introduced me to a man who was clearly one of the unsung giants of high frequency design but provided also a stellar list of presenters which included circuit design gurus and luminaries Daniel Beeker, Kenneth Wyatt and Rick Hartley. Their collective lucid commentaries on high frequency provide a lifetimes worth of vital knowledge in an amazingly short time. Highly recommend anyone working with high frequency design avail themselves to this webinar's valuable information. Many thanks to the presenters and the folks at Sierra Circuits for making this available."
Joseph Fjelstad, Founder of Verdant Electronics