Contents
If you haven't taken our 360 facility tour yet, let us introduce the Juki Pick-and-Place PCB assembly machines we use to pick and place components… In case the name wasn't clear enough.
15,000 components per hour
All the way down to 01005
Modular format
Hassle-free, quick turn delivery
Sierra Circuits PCB assembly uses advanced Juki machines that place up to 15,000 components per hour, all the way down to 01005. To know more about Computer-Aided Manufacturing read our article What is CAM or Computer-Aided Manufacturing?
One reason our turn-around is unmatched is the Juki PCB assembly machines modular format, which allows us to prep pending jobs offline while another job is underway in production. We are a one-stop shop. Sierra Circuits provide the complete range of PCB manufacturing services. You can request design assistance and the fabrication bare boards. You can also get your required components from us, since we offer PCB assembly. We guarantee a hassle-free, quick turn delivery of your prototypes that saves you time and money.
For more design information, contact our DESIGN SERVICE team.
Learn more about our PCB assembly services and upload your BOM: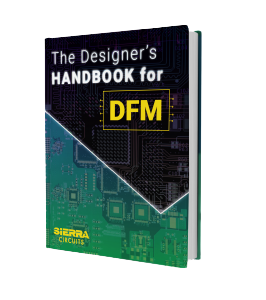 Design for Manufacturing Handbook
10 Chapters - 40 Pages - 45 Minute Read
What's Inside:
Annular rings: avoid drill breakouts
Vias: optimize your design
Trace width and space: follow the best practices
Solder mask and silkscreen: get the must-knows
Download Now