Turnkey PCBs
What is Turnkey PRO?
Our Turnkey PRO online self-service offers full PCB fabrication and assembly as a bundle.
This cost-effective service allows you to get your standard technology PCBs fully assembled in as fast as 5 days.
Zero-Defect Guarantee
What is Turnkey PRO's Zero-Defect Guarantee?
Sierra Circuits turnkey PCBs are engineered to meet our customers' most critical requirements. Our material is manufactured to strict process controls that will give you world-class quality and uncompromising consistency.
Sierra Circuits warrants its boards against defects in materials and workmanship under normal use for a period of 90 days from date of shipment. If a defect arises we will either (I) replace the board at no charge or (II) issue a credit equal to the original purchase price of the board.
Specs and Capabilities
What specs and capabilities does Turnkey PRO have?
You can see all specs and capabilities on the Turnkey PRO product page. Here is a brief list of the specs and capabilities to give you an idea of what we offer:
IPC-6012 Class 2 PCB (No microsection certification or IPC coupons provided with online order)
RoHS compliance available
Material lead-free FR4 370HR
HASL, ENIG (RoHS compliant)
Thickness 0.062″, 0.031″ or 0.093″
Minimum finished hole available 0.006″
Minimum trace width offered 0.004″
Minimum space offered 0.004″
Controlled impedance available (+/-10% tolerance)
Green, blue or black solder mask
White legend
Electrical testing
Turnkey assembled to IPC-A-610 Class 2 spec
What is the minimum width of mask dam in a PCB?
As per standards, a 4 mil wide mask dam is preferred. At Sierra Circuits, we go up to a 2 mil wide mask dam, with LDI.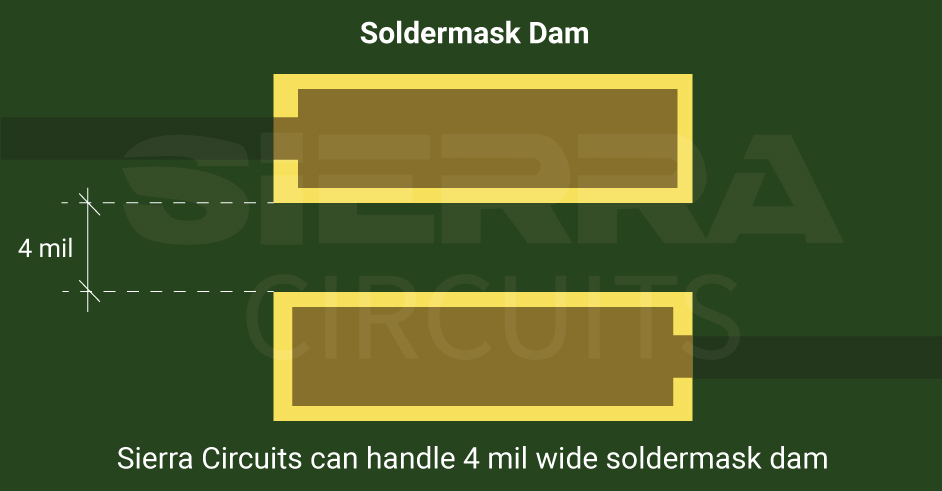 Turnkey PRO Turn Times
What turn times are offered for Turnkey PRO?
5 days, 7 days, 10 days and 15 days turn times are offered for your turnkey project.
Parameters
What design parameters exist for Turnkey PRO?
Turnkey PRO can be used to manufacture standard PCBs, as follow:
Only 2 – 8 layer boards are available
Boards can be ordered in any quantity from 2 through 100 assembled boards
Board thickness can only be 0.062″, 0.031″ or 0.093″
Individual boards must fit within a 10″ X 16″ box shape and must not exceed 150 sq inches in area
Rectangular boards only, but certain slots, notches, and cutouts allowed (see capabilities for details)
Rigid PCBs only
Green, blue and black solder mask only
White silkscreen only
Only HASL, ENIG (RoHS compliant) finishes allowed
Only FR4 lead free (370HR material) available
Single lamination only
No ITAR restricted designs allowed
No arrays
No gold fingers
The standards for assembling standard board using Turnkey PRO are as follows:
Minimum passive component size allowed is 0201
Minimum pitch allowed for BGAs is 0.5 mm and for other components, it is 0.4 mm
Maximum 20 through-hole components allowed per board
Minimum component pad size allowed is 8 mils x 8 mils
Additionally, the following services are not offered through Turnkey PRO:
Wire-bonding, conformal coating, underfills, staking, POP assembly, wire assembly, or cable assembly are not allowed.
Rework like cutting traces, soldering wire jumpers, and cables onto the boards are not allowed.
Assembly of special items like PEM nuts, turret terminals, rivets, and press-fit connectors are not allowed.
To get any of these extra assembly features, please ask for a custom quote.
What if my PCB design specs are too complex for Turnkey PRO standard specs?
If your PCB design does not conform to standard PCB specs for Turnkey PRO, please try our Web PCB online service– more materials, more finishes, more turn times, more options.
For even more advanced technology or complexities like HDI, Mil-spec, flex boards, Metal-core, Aerospace or Medical, please request a custom quote.
Components and Assembly
Is there a minimum order value for components?
When ordering components through Turnkey PRO, your components must add up to at least $100. In other words, there is a minimum charge of $100 for the components kit. For example, if your components kit is priced out to be $78 online, we will still charge the $100 minimum.
What if I need to provide a special component?
Although Turnkey PRO is turnkey assembly, you can consign some components—say special components that Sierra cannot procure in time. These must be shipped to Sierra Circuits' assembly, Sierra Circuits, Inc. 1980 Lundy Ave (Receiving Department), San Jose, CA 95131. Please include your internet order number in the attention line, as follows:
Name
Company Name
Order# (eg 12345-iRW)
Contact Phone #
What if my design has Via-in-Pad features?
If your boards have via-in-pad features on component pads, we put the PCBs through a process of via-filling to ensure good solderability. This is the best practice for board fabrication (regardless of which company assembles the boards.) We specifically ask in the online system if your design has via-in-pad features on component pads; if so, the online system quotes it appropriately. If you indicate No for via-in-pad in the online quote but during our DFM process we do find such features, please understand that this may add to your price and lead time. A customer service team member will contact you accordingly.
Does Turnkey PRO include silkscreen on both sides?
Yes, it does.
If my silkscreen designators get too crowded for the board (given that the minimum text size is 25X25X5 mils), where should I put the rest of the designators for reference?
If the board gets too crowded for all your silkscreen designators, you can show the remaining component designators in the assembly drawing instead of in silkscreen.
Our assembly team will refer to assembly drawing as needed.
Can I order a solder mask color other than green for my Turnkey PRO board(s)?
Solder mask is available in the following colors: green, blue and black.
Ordering Process for Turnkey PRO
What files do I need to include for a Turnkey PRO order?
A BOM file. We will only use the BOM data from what is loaded online. See our sample BOM.
XY Data and assembly drawing. See our sample XYRS file.
Gerber files using English units in 274X format or ODB++ format. (Note: 274D format is not accepted.)

All copper layers (inner & outer)
Solder mask layers
Silkscreen/legend layers
Via plugging layers (if applicable)
Solder paste layers (for assembly)
Aperture list if apertures are not embedded in Gerber data

Fabrication drawing in Gerber format

Board outline, dimensions, including cutouts, chamfers, radii, bevels, scores, etc.
Drill chart with hole symbols on drawing and finished sizes
Material requirements
Finished board thickness and tolerance
Layer stack-up order
Controlled impedance requirements (if applicable)
Notes with other requirements and specifications

Exellon drill file in ASCII format with the following parameters:

Units = Inch
Tool units = Inch
Coordinate = Absolute
Zeros omitted = Trailing
Number format = 2.4

Readme.txt . ASCII text file with the following critical information:

All relevant details about the board, including thickness
Listing of all file names and what they are (e.g. top copper, top solder mask, bottom solder mask, etc.)
Layer stack-up sequence
Other special instructions
Engineering contact information
How should I represent a board outline?
We STRONGLY PREFER that board outline should be in the Gerbers– it could be on any of the Gerber layers or on its own separate layer.
If that is not possible, our second preference would be to have the outline in the fabrication drawing with dimensions clearly shown.
Can I reorder a board from a previous order?
Yes, we will use your previous Gerber and previously used online BOM when you re-order. No new files will be required or accepted for a re-order. Please note: Assembly labor and component price may be revised based on current component availability. You will see your previous online BOM and have a chance to edit if needed.
Why should the plane layers be supplied in negative format?
Negative layers are a smaller file size than positive layer files.
Negative layers are much quicker to work with when we run our engineering analysis.
Positive layers cause longer test times in final tests.
Why shouldn't polygons be in plane layers and signal layers?
Our high-end CAD software, Valor Genesis, will attempt to fill the polygons automatically but can miss some areas on the layers. This would result in missing data and possibly a non-functional board.