April 1, 2019
|
|
0 Comment
The Importance of High-Quality PCB Libraries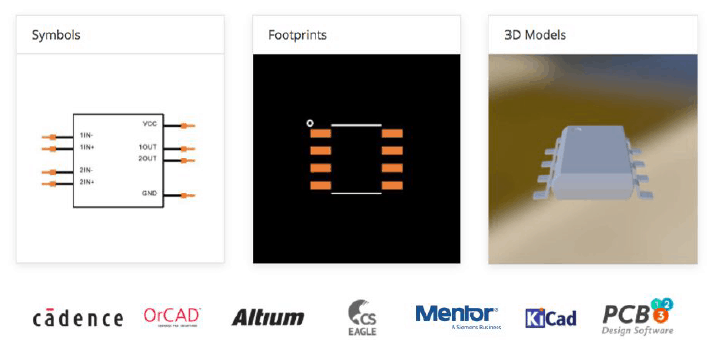 ---
In her presentation at the Winter 2019 IPC Designers Council Silicon Valley, Natasha Baker, founder & CEO of SnapEDA, discusses the challenges of creating and maintaining high-quality PCB libraries, as well as the difficulties that engineers face when designing circuit boards.
SnapEDA is used by over a million professional engineers from around the world to build circuit boards faster. It provides free PCB footprints, schematic symbols, and 3D models for millions of electronic components, allowing engineers to focus on design and innovation, rather than library creation.
When designing a PCB, each electronic component requires a symbol for the schematic capture, which describes pin functions, mappings and types, and a PCB footprint, to ensure that the component is soldered to the board correctly. Additionally, 3D models are also generally used by engineers to check clearances between their PCBs and their mechanical casings.
High-quality libraries can be difficult to get right, but are an essential element of the PCB design process, because they ensure:
Proper and reliable manufacturing
Other CAD tool features function properly (ex: ERC and DRC checks)
Consistency, which makes designs readable and reusable
Building a good PCB library comes with a number of challenges and difficulties, as discussed in Natasha Baker's presentation. First of all, it's a very detail-oriented process, where a high level of precision is necessary for each pin, pad, and part. Additionally, there is a lack of consistency in how datasheets are created, which can inadvertent errors during their interpretation.

Lack of standards and industry alignment is another major challenge in building high-quality PCB libraries. Additionally, users or companies have specific preferences or requirements. Up until recently, most companies had their own standards, but nowadays we're observing a shift in the industry towards creating and using more industry standards.

Finally, a library's importance is often underestimated and overlooked. All companies know it is important to have footprints that manufacture well, but in practice, prioritizing library maintenance over other critical tasks can be challenging.

In her talk, Natasha Baker also discusses common errors engineers make when creating PCB designs. Such mistakes include pin mapping issues, pad dimension errors, silkscreen overlapping exposed copper, and wrong outline dimensions or misinterpretations of the component dimensions. On top of those, there are some less common mistakes that even highly experienced engineers can make, such as using mirrored top/bottom views, wrong or misinterpreted datasheets, wrong centroids, wrong component zero orientation, and more.

To avoid those, verifying the library before a design goes to manufacturing is an important part of the work process for every design team, regardless of the library's origin (whether it's from the component manufacturer, an existing library that the company had created, or an external library from a third-party website), and there are a few crucial steps to follow. These steps can be briefly summarized, as follows: defining a strong verification process and maintaining and enforcing detailed checklists.

In order to help engineers overcome the challenges that they're facing when designing circuit boards and verifying their designs, SnapEDA provides a number of tools. Those include supporting a wide array of design formats, providing the possibility to automatically build parts by using computer vision and optical character recognition and also to request the footprint & symbol of a specific component (if it's not already in the library) instantly.

In conclusion, libraries, although often overlooked, are indispensable for reliable manufacturing, readability, and to enable ERC, and DRC checks. Implementing a strong verification process is essential for good PCB design. A number of tools exist to help engineers design faster and be more efficient and productive.

For more design information, check with our DESIGN ASSISTANCE team.

Tags: Components, Footprint, PCB Libraries