Contents
On a sunny Saturday afternoon, Stanford University held its Solar Car Unveil event on its beautiful campus. Since 1989, students have had the opportunity to gain valuable hands-on engineering experience by working on the Stanford Solar Car Project. Every two years, the entirely student-run team designs and builds a solar car to race across the Australian Outback in the Bridgestone World Solar Challenge. The goal is not only to win, but to raise community awareness of clean energy vehicles.
In 2015, the team raced 1864 miles (3,000 km) from Darwin to Adelaide with Arctan, an asymmetrical catamaran aerobody solar car. They finished 6th overall after 41 hours 23 minutes and 59 seconds of driving over a course of 5 days. This year, they certainly hope to do better with Sundae, the fastest and most efficient car they have ever built.
Meet Sundae
Why the ice cream name for a solar car? Kate, an electrical engineering student from the team, told us, "We always pick names with a reference to the sun in it." Indeed, Luminos was the name of their 2013 car and Arctan's code name was Sunwheel. "Sundae was actually the code name of the car, and we were supposed to find a real name. But we really liked it and decided to keep it. Plus, it seemed like a good excuse to serve ice-cream during the unveil event!" We definitely enjoyed the ice-cream!
What is striking about Sundae – besides the name – is its size. Arctan was six square meters, but Sundae is only four square meters due to a new rule from the Bridgestone World Solar Challenge. This was a design and build challenge for the team since they had to put more components and electronics in a smaller space. It also means less room for them to place the solar array, which turns out to be real inconvenience when your car runs on solar power!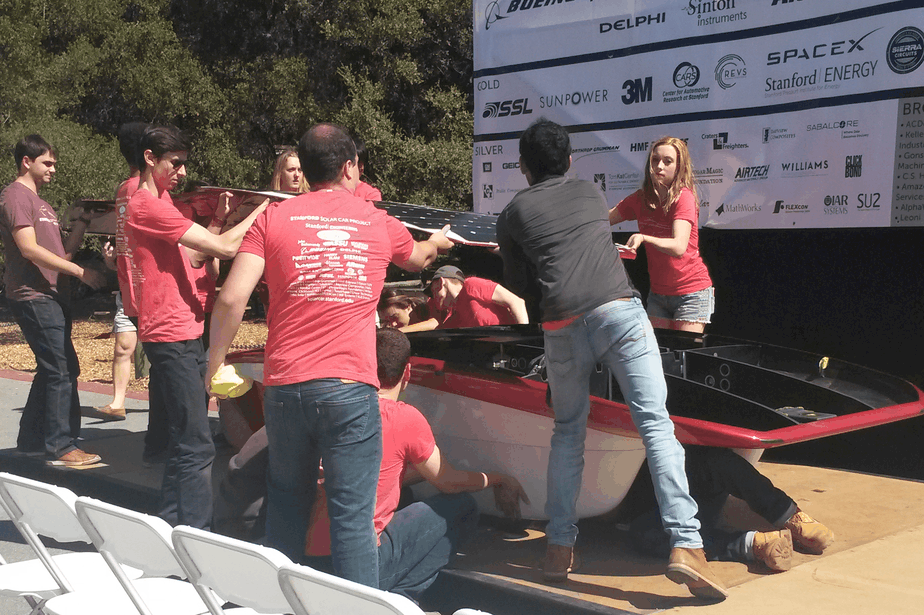 The students chose to build this solar car off Arctan's success. Sundae features a catamaran aerobody to notably reduce air resistance. Kate's teammate, Maggie, explained to me, "The design was chosen for speed, and we wanted the maximal size for the solar array to harvest as much sunlight as we can."
When it comes to the battery, the main goal was to build one as safe as possible. Greg, another member of the Stanford team, stated, "We kind of have the same battery than the ones they use at Tesla, or for many electric cars these days. We got it directly from Panasonic after they reviewed our design to make sure it was safe enough. So we have gone through a certain number of safety checks!" Sundae's battery can last around 150 miles, but Greg clarified, "It depends very much on how fast you are going. If you are going 70 mph, it will probably last less than if you are going 20 mph."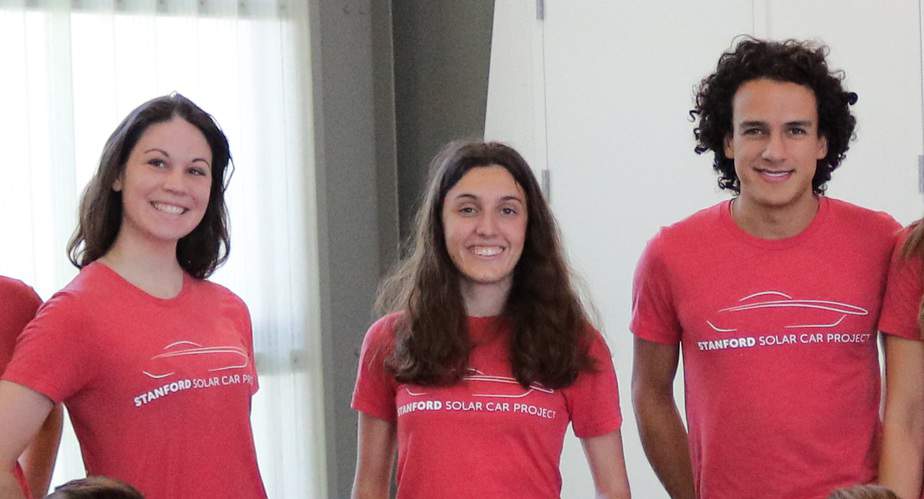 And because there are no stupid questions, we had to ask what happens to the solar panels when it is cloudy or raining. Maggie answered: "Since we are going to race the car in the Australian Outback, rain is an unlikely scenario. But if it is cloudy we will get less power. If it rains, the water is not necessarily bad for the cells of the solar array since we waterproofed the car. However the impact of a heavy rain could be problematic or even damaging."
So far, the team has not tested Sundae, but they plan to do so in California's Central Valley this summer before the big race in October. They want to drive the car for at least 2000 miles to make sure everything runs as planned. The Stanford team already knows they will drive at a constant speed of 55 mph in the Outback. Maggie said, "The car can of course go faster, but the race is more a marathon than a sprint." Greg added, "It is a strategy to not go faster because you are using more energy when you drive fast."
https://www.instagram.com/p/BWBewa8gRyp/?taken-by=stanfordsolarcar

Are solar cars the future?
When we asked Maggie how much Sundae would cost if somebody was willing to buy it, she told me, "Sponsorships and everything that has been put into this car represent around 2 million dollars. And I guess that when you are selling a car you want to make a profit out of it so…" So unfortunately, the average person will not drive a Sundae anytime soon. "One of the questions we are often asked is 'When solar cars will become a thing' and the answer is they probably won't. The typical car does not have enough surface area for the solar array and has way too much drag to be able to move at the speed that people would want while also carrying a certain amount of things that people would want and of course having more than one person in the car." Right now, solar cars do not seem very practical. "We hope that in the future people will drive electric cars and maybe they will get their electricity from solar farms."
Meanwhile, on October 8 of this year, the Stanford team will be in Darwin, Australia, ready to race Sundae across the Outback. Kate said, "Our number one goal is always not to break down because it is something that depends on us and on how the others team do. Our second goal is to rank in the top 3 of the race." Let's wish them good luck!
https://www.instagram.com/p/BWBx_a9ALHP/?taken-by=stanfordsolarcar