Contents
The development of Isola Astra MT77 laminate and prepreg materials has garnered several eye-balls, particularly among PCB manufacturers. These materials will find applications in several mm-Wave systems. Astra MT77 is a low loss FR-4 process compatible laminate and prepreg. Isola Astra MT77 offers exceptional physical properties including broad operational frequency and higher temperature range. These laminates are highly preferred for commercial RF/microwave printed circuit designs and mm-Wave applications.
Isola introduced Astra MT77 during the event of the IEEE Microwave Theory and Techniques Society's 2019 IMS Microwave Week. Some of the major applications of Astra MT77 include long-range antennas and radar applications for automobiles. The increasing popularity of these materials for applications involving adaptive cruise control, pre-crash, and blind spot detection is expected to drive demand for these laminates over the coming years. These laminates also found applications in lane departure warning and stop and go systems.
Astra MT77 displays exceptional electrical characteristics such as better dielectric constant (Dk) within a temperature range of -40°C and +140°C at W-band frequencies, and higher stability. In addition, Isola Astra MT77 provides an ultra-low dissipation factor (Df) of 0.0017. Several applications involving the mm-Wave frequency band prefer an ultra-low dissipation factor. Astra MT77 materials are an ideal substitute for PTFE and other types of microwave laminate materials, due to their cost-effective nature.

Exclusive Features:
Some of the exclusive features include wide-spread industry recognition and RoHS Compliance. Astra MT-77, an ultra-low loss FR-4 process compatible laminate is also lead-free PCB assembly compatible. Some processing advantages include shorter lamination cycle, lower drill wear, good flow and fill, and higher dimensional stability. This type of laminate does not require plasma de-smear, which helps to reduce manufacturing cost as well. However, processing of these laminates requires several lamination cycles. Moreover, Isola Astra MT77 is an HDI technology compatible, which will likely to drive its demand in the near future.
With the rise of 5G, the new wireless world, and an increasing number of mm-Wave applications, demand for advanced PCB materials will likely to escalate over the coming years. Furthermore, 5G technology will likely drive demand for an ultra-low loss FR-4 process compatible laminate and add more value to the PCB industry.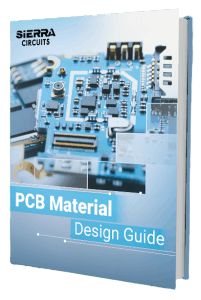 PCB Material Design Guide
9 Chapters - 30 Pages - 40 Minute Read
What's Inside:
Basic properties of the dielectric material to be considered

Signal loss in PCB substrates

Copper foil selection

Key considerations for choosing PCB materials
Download Now
Quote and order your circuit boards online with our Turnkey PRO tools in just a few minutes.