April 15, 2019
|
|
0 Comment
SpaceX Has Shown its Commercial Might with Falcon Heavy Flight Mission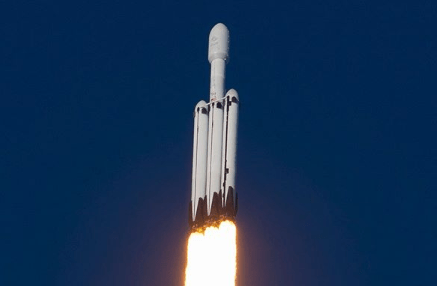 ---
SpaceX has successfully launched its first-ever triple rocket landing during the Falcon Heavy flight mission for an advanced communications satellite into orbit for Arabsat. Launch itself has created significant buzz by recovering the rocket's three Falcon 9 core stages. The Falcon Heavy currently holds 27 engines, which are distributed among three Falcon 9 core stages. The entire assembly was mounted on historic pad 39A at the Kennedy Space Center.
The landing of both booster side-by-side at the nearby Cape Canaveral Air Force Station has grabbed attention of hundreds of tourists and area residents. The boosters completed seemingly synchronized touchdowns with dual sonic booms. Further, it has been reported that the central core landed successfully on an off-shore drone ship Of Course I Still Love You.
The landing of Falcon Heavy's two side boosters after separation at SpaceX's landing zones 1 and 2, i.e. LZ-1 and LZ-2, was a spectacular show. The primary mission was to put out a high-end communications satellite into earth's orbit for Arabsat, a Saudi-based consortium, which was completed within 34 minutes.
After successfully completing the primary objective, SpaceX engineers managed to accomplish a secondary objective in an equally spectacular fashion. The recovery of the rocket's three Falcon 9 core stages for refurbishment and re-use will likely change aerospace dynamics.

The Arabsat 6A satellite, which was manufactured by Lockheed Martin, will serve as an Arabsat consortium for Saudi Arabia. The satellite has been placed in an initially elliptical orbit, where the on-board thrusters will help to put the craft in a circular orbit, 22,300 miles above the equator. The position of the satellite is considered as ideal for communications stations. For Heavy's second flight, it was strictly business. The consortium's latest satellite with a 14,252-pound relay station will offer television, radio, mobile and broadband services across the Middle East, Europe and Africa.

With 5 million pounds of thrust, the Falcon Heavy is currently the most powerful rocket in comparison with its counterpart. Earlier, the launch of the Falcon Heavy was cancelled due to the changing wind speeds. SpaceX has taken up great pride in its successful mission completion, and has made them an elite aerospace technology corporation. "This new satellite will strengthen our existing fleet that offers millions of people mobile and landline communications service across the region," said Khalid Balkheyour, CEO of Arabsat. He further stated that "we look forward to completing and launching this state-of-the-art new satellite to offer even greater internet, television and radio services to our customers."

SpaceX will be soon moving onto its next launch from the Cape, which is currently scheduled for April 26. The mission will involve a Falcon 9 rocket and carry a Dragon cargo capsule to the International Space Station. The Falcon Heavy is soon to become a key part in SpaceX launch services with its several ongoing projects. Number of researchers and fellow space enthusiasts are eagerly waiting for SpaceX to send astronauts to the space station later this year.

Tags: Aerosapce, space, SpaceX