May 17, 2017
|
|
0 Comment
Xbox Project Scorpio Specs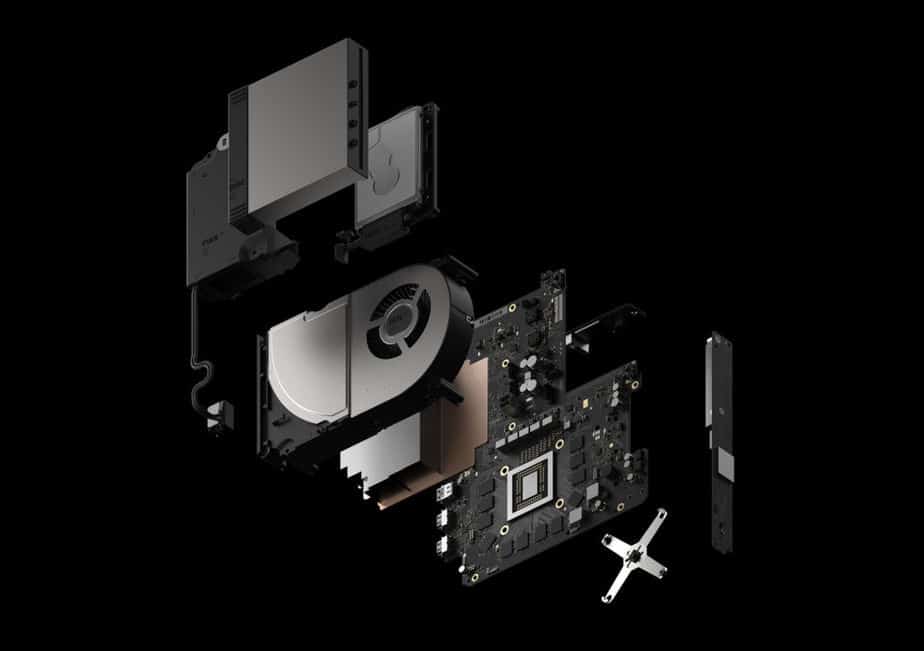 ---
The next Xbox, code named Project Scorpio, is expected to have some impressive new hardware. The last model released was the Xbox One S in 2016. The Xbox One S was a smaller version of the Xbox One, which offers 4K video playback and upscaling, and HDR10 high-dynamic-range color.
Microsoft invited Digital Foundry at Eurogamer to see the new hardware in the game system.
Project Scorpio has a custom GPU to optimize game performance. The new AMD GPU features 40 "customized" Radeon compute units that clocks at 1172 MHz. The GPU runs with 12GB GDDR5 memory and a custom eight-core CPU. 4 of the 12GB will be dedicated to running the operating system, which is required for the dashboard to run at native 4K. Since GPUs need a lot of bandwidth for optimal performance, Microsoft had to figure out how much would be needed for Project Scorpio. They determined they needed 300GB/s memory bandwidth, and ultimately chose to have 326GB/s of memory bandwidth, larger than the Xbox One's 204GB/s.
The CPU consists of eight X86-based cores in two clusters with 4MB of L2 cache. These cores are 31% faster than the ones in the Xbox One. The cores are highly customized versions of AMD's "Jaguar" cores.
Microsoft updated the GPU command processor as well. They essentially "moved Direct3D 12. We built that into the command processor of the GPU and what that means is that, for all the high frequency API invocations that the games do, they'll all natively implemented in the logic of the command processor—and what this means is that our communication from the game to the GPU is super-efficient."  
This setup results in a stellar performance. Digital Foundry says they were able to hit "60 frames per second with a substantial performance overhead, suggesting Scorpio will hit its native 4K target across a range of content, with power to spare to spend on other visual improvements." Games will run with 4K visuals, matching new television standards, and backward compatibility may help older games run smoother and look better. The CPU/GPU upgrades will improve performance significantly and help the system will run more efficiently. There is no date on when this new system will be released, but it is expected to be sometime in late 2017.
Here is a comparison of Project Scorpio to previous Xbox models and PlayStations from Ars Technica.
| | | | | | |
| --- | --- | --- | --- | --- | --- |
| | Project Scorpio | Xbox One S | Xbox One | PS4 Pro | PS4 |
| CPU | 8 "custom" X86 cores @ 2.3GHz | 8 Jaguar cores @ 1.75GHz | 8 Jaguar cores @ 1.75GHz | 8 Jaguar cores @ 2.1GHz | 8 Jaguar cores @ 1.6GHz |
| GPU | 40 "customised" compute units @ 1172MHz | 12 GCN compute units @ 914MHz | 12 GCN compute units @ 853MHz | 36 AMD Radeon GCN compute units @ 911Mhz | 18 AMD Radeon GCN compute units @ 800Mhz |
| Memory | 12GB GDDR5 | 8GB DDR3/32MB ESRAM | 8GB DDR3, 32MB ESRAM | 8GB GDDR5 (plus 1GB DDR3) | 8GB GDDR5 |
| Memory Bandwidth | 326GB/s | 68GB/s, 219GB/s | 68GB/s, 204GB/s | 218GB/s | 176GB/s |
| Hard Drive | 1TB 2.5-inch | 1TB/500GB 2.5-inch | 1TB/500GB 2.5-inch | 1TB 2.5-inch | 500GB 2.5-inch |
| Optical Drive | 4K UHD Blu-ray | 4K UHD Blu-ray | Blu-ray | Blu-ray | Blu-ray |
You can watch a video of the specs below.

Via: Digital Foundry at Eurogamer

Follow us on Twitter for updates and news.

Tags: Microsoft, Xbox