Autonomous cars may be a solution to traffic, but it will still take a few years till this technology becomes widespread. In the meantime, smart traffic lights can give us a head start easing traffic congestion. Carnegie Mellon University professor Stephen Smith is developing traffic lights that use artificial intelligence.
The lights can adapt to the flow of traffic and
While most lights are preprogrammed, Smith's lights can adapt to the flow of traffic and move cars more efficiently. Since traffic flow changes with shifting populations and economies, lights often have a difficult time keeping up. More-efficient lights would be able to shorten travel times.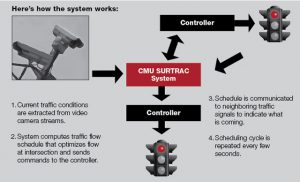 Each light has radar sensors and cameras to detect traffic. The lights, which make their own timing decisions, use data from other lights and also send data to other lights. They rely on AI algorithms to know when to change. A prototype was implemented in nine intersections in Pittsburgh's East Liberty neighborhood in 2012. The lights were able to reduce travel time by 25% and idling time by 40%. Researchers say that this means emissions were cut as well. The smart lights have since expanded to 50 intersections in the city.
Smith's team have also begun looking at vehicle-to-infrastructure communications; notifying vehicles of traffic light changes and upcoming traffic conditions. Short-range radios have been installed at 24 intersections to do just this. Widespread use of this technology can also prioritize vehicles like public buses and emergency service vehicles, and improve traffic conditions for everyone on the road.
Via: IEEE Spectrum
Follow us on Twitter for updates and news.