Samsung recently announced the features of their newest phones, the Galaxy S8 and the slightly larger Galaxy S8 Plus. The new phones have a digital assistant, Bixby. They also offer an "infinity display," or screen curved on the sides to maximize screen space on the device.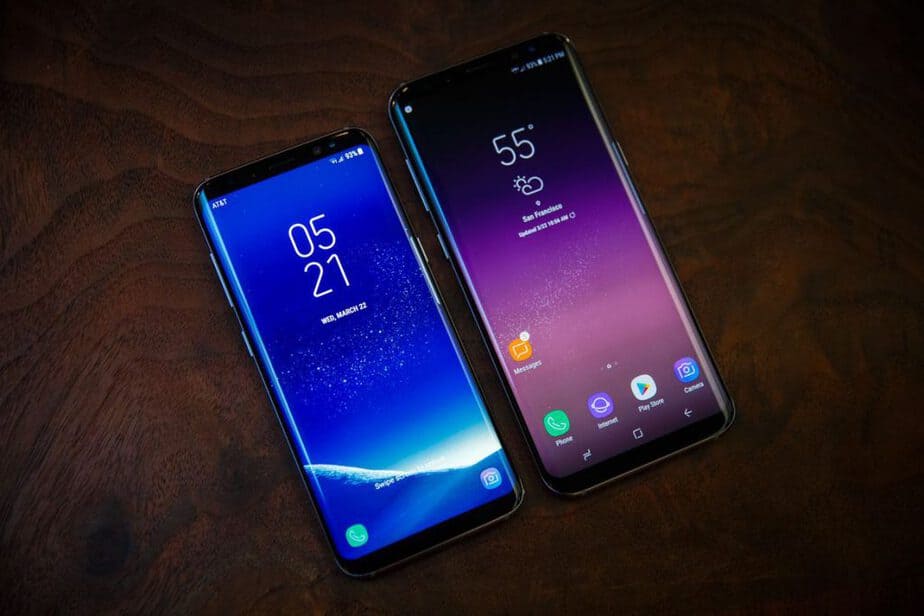 The volume buttons, power button, and Bixby button are located on the sides of the phone, below the curved screen. The USB-C port and the 3.5mm headphone jack are on the bottom of the phone. Neither phone has a physical home button, but instead have a software home button on the screen that gives haptic feedback when pressed. The fingerprint sensor has been moved to the back of the phone right next to the camera. The phone will be offered in black, gray, and silver in the US, and blue and gold will also be offered internationally.
The S8 has a 5.8 inch OLED, 2960 x 1440, 570 ppi display, and the S8 Plus has a 6.2 inch OLED, 2960 x 1440, 529 ppi display. The S8 has a 3,000mAh battery and the S8 Plus has a 3,500mAh battery. The phones have 64GB of storage, a microSD tray, and 4GB RAM. After the Samsung Galaxy Note 7 safety recalls, Samsung has implemented a new 8-Point Battery Safety Check. The phones are resistant to up to 30 minutes underwater and will offer wireless charging.
Instead of only using the fingerprint scanner, the phones can also be unlocked with the iris scanner or the face-detecting system. DeX, another new feature, will change the phone to desktop mode when placed onto a dock (sold separately), and plug the dock into a monitor, keyboard, and mouse.
Bixby will be joining the lineup of other voice assistants like Siri and Cortana. Samsung says: "Bixby offers a deeper experience thanks to proficiency" regarding completeness, context awareness, and cognitive tolerance. Bixby will be able to do any task an application offers (completeness), understand the application and context to be able to work when called upon (context awareness), and complete tasks even when commands are incomplete (cognitive tolerance). Bixby is a complement to applications, will switch between voice and touch interface, and act as a smart interface that helps you with your tasks. About 10 pre-installed applications will support Bixby.
Here are the full specs of the new phones from The Verge:
Processor
US: Qualcomm Snapdragon 835 Octa core (2.35 GHz Quad + 1.yGHZ Quad)
International: Samsung Exynos Octa core (2.35 GHz Quad + 1.9GHZ Quad)
Display
Galaxy S8: 5.8-inch OLED, 2960 x 1440, 570ppi
Galaxy S8 Plus: 6.2-inch OLED, 2960 x 1440, 529ppi
Cameras
Rear: 12-megapixel, OIS, F1.7
Front: 8-megapixel, auto focus, F1.7
Batteries
Galaxy S8: 3,000 mAh
Galaxy S8 Plus: 3,500 mAh
Dimensions
Galaxy S8: 148.9 x 68.1 x 8 mm, 155g
Galaxy S8 Plus: 159.5 x 73.4 x 8.1 mm, 173g
Other
Android 7.0 Nougat
USB-C, 3.5mm headphone jack
NFC and MST for Samsung Pay
IP68 water and dust resistant
Wireless charging
LTE Cat.16
Bluetooth 5.0 offers the ability to stream to two devices
Wi-Fi a/b/g/n/ac
The phones are available for pre-order on March 30th and will ship on April 21st.
Source: The Verge
Follow us on Twitter for updates and news.