As we were stalking Tesla's Twitter account this morning – just a typical Tuesday, right? – a post entitled "Wait for it" caught our attention. After all, every time Barney Stinson said "Wait for it", it was actually worth waiting for it.
Wait for it pic.twitter.com/mR13wIIu1r

— Tesla (@Tesla) May 15, 2018
So we sat there, eyes on Tesla's Twitter page staring at a grey Model X driving slowly when… Wait a minute, is the "it" in "Wait for it" an airplane? Truth be told, we were excepting something big since, not so long ago, Elon Musk shared on Instagram a video of a Model X winning the race against a gasoline Alfa Romeo Spider while towing another sports car.
And there was this amazing video published on Facebook this winter of a Model X pulling a truck stuck in the snow in Raleigh, North Carolina.
5,000 lb towing limit, lol. Ben #ModelX #Tesla #TeslaSemi #Snow #DualMotor

Posted by Kyle Conner on Wednesday, January 3, 2018
But come on, we were definitely not expecting something as big as an actual airplane.
How and why did this happen?
The publicity stunt was initiated by Qantas at a remote taxiway at Melbourne Airport in Australia. The goal is for the airline company to promote its collaboration with the EV carmaker and its reward program for Tesla owners while bringing attention to its sustainability efforts. Qantas indeed uses electric aircraft tugs to pull planes at two Australian airports.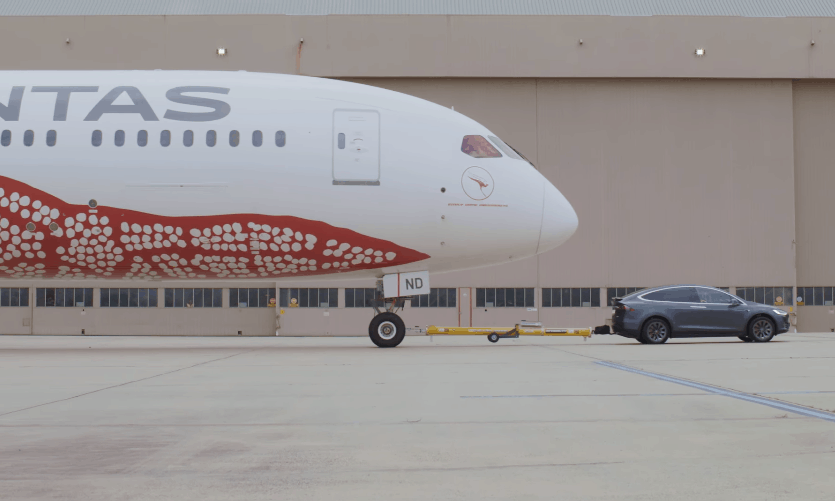 Just like that, you have a Model X P100D towing a 287,000-pound Boeing 787-9 Dreamliner for nearly 1,000 feet. Not so impressive some might say. The SUV is already the passenger electric vehicle with the highest towing capacity (it can typically tow 5,500 pounds) currently available on the market.
Of course, the Dreamliner's tank was almost empty and it was not carrying any passengers nor suitcases when the towing occurred. When loaded to its maximum takeoff weight, the 787 weighs 560,000 pounds.
The stunt set a new Guinness World Record for being the heaviest tow by an electric production passenger vehicle, as we are still wondering whether or not Tesla unveiled Model Y last week.
As Barney would say, "This is legen – wait for it – dary!"