Last Sunday in Australia, the Stanford Solar Car team began the Bridgestone World Solar Challenge. With their solar car Sundae, the students crossed the entire Australian Outback from Darwin, NT, to Adelaide, SA. The 1,885-mile long race ended yesterday. Sierra is proud to announce that the team we sponsored crossed the finish line at the 9th place!
And the race was not a piece of cake. On Tuesday, the team's Business Lead, Roman Decca, gave us really bad news, "It is with great pause that I must announce the Stanford Solar Car Project has switched to adventure class for the remainder of the race due to three days of cloudy conditions. After waking up in a thunderstorm and driving the car as far as it possibly could, the battery state of charge reached 3% and the team held a consensus meeting."
Only the front four teams could make it out of the storm into sunlight in time to keep their batteries charged. But, as Stanford was supposed to finish the race as part of the adventure class, the students spoke to mission control and found out that the next control stop's closing time had been extended due to weather.
Roman said, "With this extension, I am thrilled to announce that we were able to stay in the challenger class! The team wants to give major thanks to the quick thinking of driver Ashe Maghaeles who encouraged leadership to press race officials just one more time, and here we are at the control stop in Kulgera. Perhaps the greatest lesson for all of us is that when you really want something, you must not be afraid to ask, persist, and ask again to achieve your goal."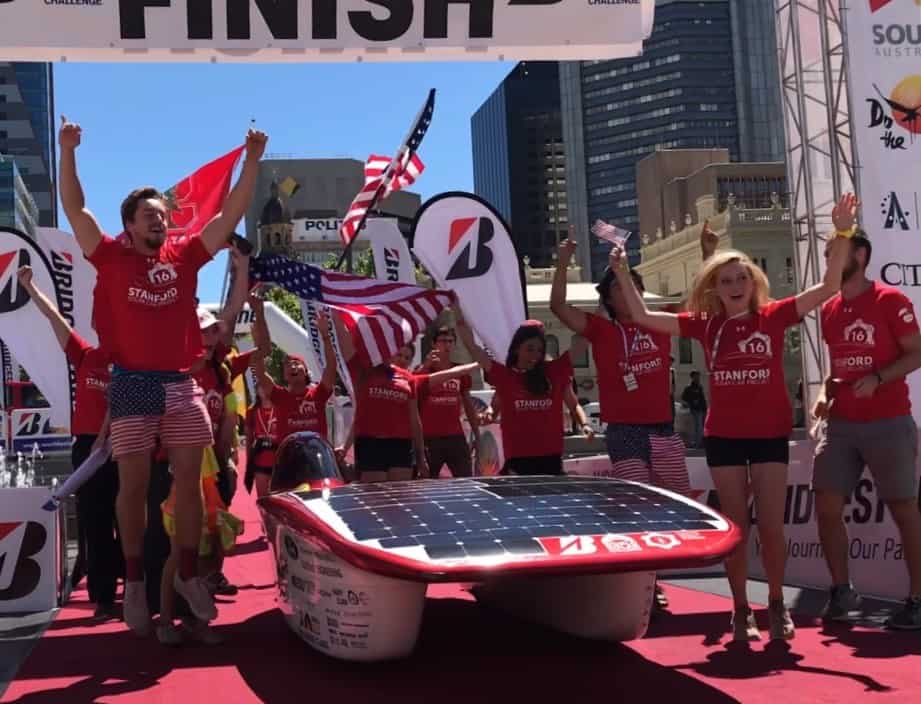 After a captivating race, Sierra finally received exciting news, "Stopping last night at Lake Bumbunga, otherwise known as the Pink Lake, we were able to charge our battery pack to 48% and enjoy the beauty of the hyper-saline waters."
"We then sped to Adelaide (68 miles away) at 55 mph with our surfeit of energy, crossed the finish line, and jumped into the fountain at Victoria Square to celebrate the end of our long, but rewarding rollercoaster ride."
Congratulations Stanford for designing and building Sundae, then fly it and race it in Australia! At its heart, engineering is about using the power of science to find creative and practical solutions to make life better. And what better way to improve our lives than working on clean energy to help save our planet?
PCB West 2017: Tips for Designers