January 24, 2018
|
|
0 Comment
SpaceX Falcon Heavy to be Launched "In a Week or So"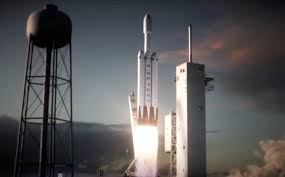 ---
After months of waiting patiently for the big launch, SpaceX will finally attempt to send its Falcon Heavy into an orbit around the Sun – at the same distance as Mars' orbit – in a few days, as mentioned earlier today by Elon Musk on Twitter. After delays caused by the government shutdown, "the most powerful operational rocket in the world by a factor of two," as described by SpaceX, passed the crucial test fire. "Falcon Heavy hold-down firing this morning was good," Musk tweeted. It's official, the rocket will take off from Cape Canaveral in Florida "next week or so."
Falcon Heavy hold-down firing this morning was good. Generated quite a thunderhead of steam. Launching in a week or so. pic.twitter.com/npaqatbNir

— Elon Musk (@elonmusk) January 24, 2018
All eyes will be on the Kennedy Space Center as the Falcon Heavy, composed of three Falcon 9 rockets and their single upper stage, will try to take a Tesla Roadster into space. Musk wanted to send "the silliest thing we can imagine" and even said that he loved the idea of his racecar endlessly floating in space and "perhaps being discovered by an alien race millions of years in the future."
Of course, the goal to this extraordinary mission is not only to bless green little men with a cool EV, it's to open the door to future space explorations, including exciting missions to the moon, and Mars, that Musk is so keen on colonizing. The rocket should also carry satellites to orbit and complete missions for the US Air Force.
The mission will not be a piece of cake, though. The Falcon Heavy is no less than the equivalent of 18 Boeing 747 aircraft. Now you know where the name comes from. Last month, Musk shared on Twitter: "Excitement on launch day guaranteed, one way or another." The SpaceX CEO is fully aware of the chance that its "beast" might never make it into orbit and blow up only seconds after liftoff. If even there is a liftoff.
If everything goes to plan, the three boosters will detach from the upper stage soon after launch to go back to earth. One of SpaceX's strong suits is indeed its capacity to reuse its rockets and therefore make space traveling more affordable.
Though SpaceX usually likes to livestream its launches, we can't tell for sure it will let us see this one. However, you can watch by subscribing to Space Flight Now.
You might also like:
DJI's Smartphone-Size Mavic Air Will Make You Want To Buy A Drone
Samsung Galaxy S9 And S9+: Leaked Pictures And Release Date
Tags: elon musk, falcon9, space, SpaceX