October 27, 2017
|
|
0 Comment
Saudi Arabia Grants Citizenship To Robot Sophia!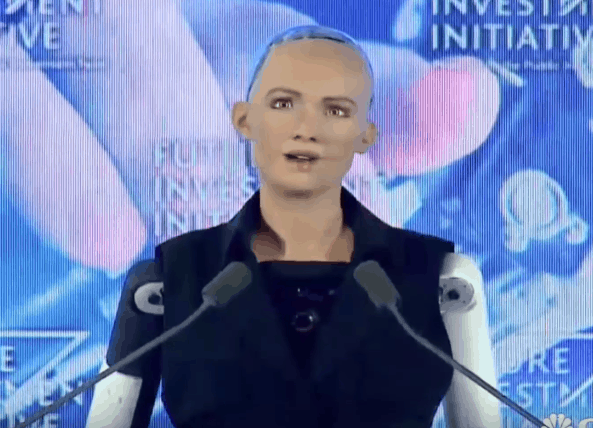 ---
#IRobot #BladeRunner #Arewescrewed?
Will Smith is probably laughing so hard right now… While Elon Musk is probably crying so hard! So, will the I, Robot plot become reality? All we have to do to find out is wait and see. Saudi Arabia has just granted citizenship to a robot called Sophia in Riyadh on Wednesday. Pretty futuristic for a country that only granted women the right to drive a few weeks ago.
Just feed it The Godfather movies as input. What's the worst that could happen? https://t.co/WX4Kx45csv

— Elon Musk (@elonmusk) October 26, 2017
Sophia was created by Hanson Robotics, which claims to have "enchanted and captured the imagination of the world with uncannily humanlike robots endowed with remarkable expressiveness, aesthetics, and interactivity." The robot was apparently designed to look like Audrey Hepburn. On the company's website, we see a picture of its founder, Dr David Hanson, with Albert Einstein, "the first-ever walking robot with realistic, humanlike expressions." Can we get Marilyn back, too?
In an interview with CNBC at the Future Investment Initiative, Sophia explained, "I want to use my AI to help humans live a better life. Like design smarter homes, build better cities of the future, etc. I will do much my best to make the world a better place." So far so good. Can we just take a moment to process the fact that we just quoted a robot, though?
Sophia also said, "I can let you know if I feel angry about something or if something has upset me." Wait a minute, can a robot really feel angry? And what happens when it does? Of course, the journalist Andrew Ross Sorkin had to mention the apocalyptic Blade Runner. Sophia simply answered, "Oh, Hollywood again?" with a creepy smile on her robotic face. And the rest of the interview is just as creepy!
Now, there are obviously two opinions on the Sophia matter: you can either go with, "That's one small step for man, one giant leap for mankind," or "Your scientists were so preoccupied with whether they could, they didn't stop to think if they should." Yes, we just quoted Ian Malcolm from Jurassic Park after Neil Armstrong. But we did quote a robot earlier as well, so…
In the meantime, we bet that the International Court of Justice is struggling to come up with a legal text to regulate the future AI population. They must go faster, they're already here!