Following PCB West, Sierra Circuits decided to sponsor AltiumLive 2017. On Tuesday, Sierra's team flew to San Diego to attend the software company's very first annual PCB design summit. And for a first time, the least we can say is that it was incredible!
The event took place on October 3-4 at the Hilton Resort and Spa of San Diego. Altium set up tables in a room for PCB companies to exhibit their latest products. Sierra presented TURNKEY PRO, our new online service, which allows customers to get a quote and place an order in just 5 minutes.
Attendees truly appreciated the technical presentations. Speaking with Darryl Black, a Senior PCB Designer at ORBCOMM, who came from Ottawa, we agreed on the great choice of classes that Altium offered. Darryl told me, "It's a nice conference. I'm learning a lot of things!" Indeed, from multi-board editing to effective methods for advanced routing, every PCB theme was covered.
Altium Designer 18 launch
The big announcement of the event was, of course, the launch of Altium Designer 18. Here is all you need to know about the next generation of intelligent electronics design software:
Suitable For
PCB Designers and Electronics Engineers
Capabilities
Modern Cohesive Design
Altium Designer consists of all the tools required to produce a PCB from concept to manufacturing. A suite of comprehensive design editors resides in a cohesive environment allowing the seamless exchange of design data between them. Whether you're capturing a schematic, laying out a PCB, or reviewing MCAD constraints, it truly is a unique experience that provides a natural electronics workflow.
Native 3D™ PCB and Multi-Board Design
A PCB development platform injected with MCAD DNA with one database supplying both the electrical and mechanical view. Multi-model support, component placement, clearance checking, and rigid-flex design take a lifeless 2D setting into the 3D realm. Mechanical data exchange provides integration between ECAD and MCAD, and detailed fabrication and assembly drawings are rapidly created and kept up-to-date with the Draftsman® documentation editor.
Supply chain and data management
Integrated access to over a hundred suppliers makes it easy to select the best parts for your design. Supplier information can be applied at the library, schematic, and BoM creation stages furnishing links back to the source. Revision control provides a design history and the ability to compare one version to another. A push button release process provides an easy, repeatable means to generate a comprehensive release package. All the pieces together produce a complete data transparency and management solution.
Trademark notice: Native 3D is a trademark of Altium LLC. Draftsman is a registered trademark of Altium LLC.
Sierra's compatibility
Once you designed your PCB, you can check your BOM with Sierra's free BOM Checker tool. We accept several formats including Gerber 274X and ODB++ from Altium, as well as the Altium CAD database. Click here for more information.
Robert Feranec's presentation
Robert Feranec of Fedevel…standing room only at #AltiumLive17 "How to design boards that work the first time." pic.twitter.com/ypTrTqRRJw

— Judy Warner (@AltiumJudy) October 3, 2017
In June, Robert visited Sierra's facilities in Sunnyvale, California, to make a video for his YouTube channel. We were really happy to see him again at AltiumLive and attend his class on how to design boards that work the first time. Here is his answer in 13 points:
– Do schematics.
– Use the same pinout / connections as in the reference circuit.
– Build simple test circuits.
– Add bypass resistors, pull ups and downs, optional components, and so on, into the schematic.
– Check your libraries. Print the footprint on paper and compare it to the component. Adjust if needed.
– Go through the schematic check and the layout check document.
– Take time to browse and check your schematic. Check pins one by one and see if they can connect.
– Once the placement is ready, build a paper model, place the components on it, and see if everything is good once everything is plugged.
– Reuse the reference layout.
– Read and follow design guides.
– If during layout, you have to break important rules, simulate.
– Imagine what will happen when you connect your board to power, what you are going to do when you receive your first prototype.
– Make no mistakes! Be careful about any missing pull ups and downs, bad footprint… Take your time!
Go check Robert's YouTube channel for more PCB tips!
Altium Nexus launch
Altium Nexus is Altium's next generation of PCB design software and collaboration platform, which allows design in an "Agile Enterprise".
What does that even mean? It means that companies designing electronics in a structured agile development environment where individual users have assigned roles, responsibilities, project-based roles, etc. will be able to configure the software to allow each user or collaborator just to focus on the task they want to focus on. So for example, the ECAD library manager will be able to create components upon requests through the system from PCB designers or engineers, and control the lifecycle of those components (just one example). Another example would be where the engineer has permissions on a particular project to create the schematics, but perhaps is not permitted to place a component in the design without the component being approved first by purchasing officer. Another example would be that when the project reaches output generation stage, that the project leader is automatically notified by email to trigger a design review, which can also be done using a new web browser interface for viewing and cross-probing the schematics and PCB from within the browser.
The system for creating these workflows is configurable so that the customer can make the system operate however they want.
Amit's speech
During dinner, our Director of Sales and Marketing, Amit Bahl, took the stage to give a speech. He won the audience right after showing one of our commercials! Click here to watch our other hilarious videos.
Robot battles
As much as we loved the presentations full of PCB designers' jokes, the funniest moment of AltiumLive was definitely the robot battles. Each team was given a box containing a disassembled robot to build.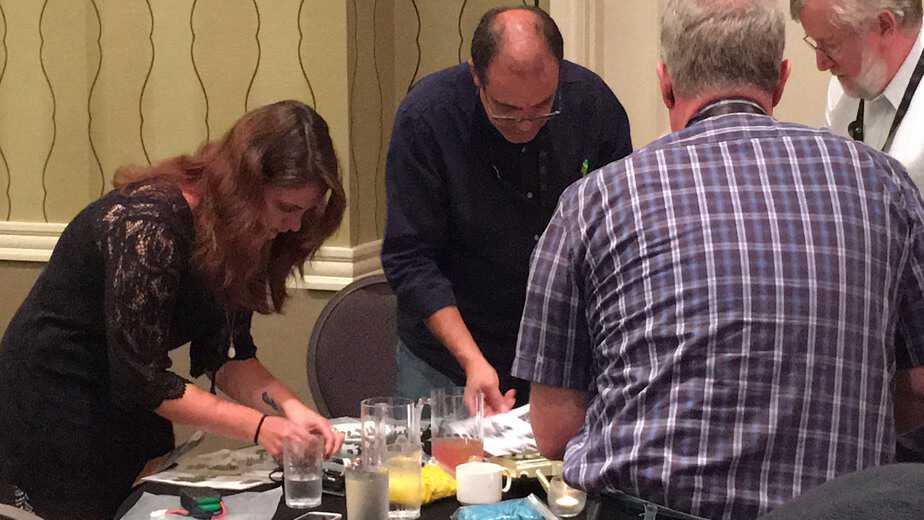 The goal was not only to be the first team to fully assemble a robot, it was to win the battles. Once the robots were ready to fight, we attached balloons on them. Next thing you know, everyone was going crazy trying to pop up each other's balloons. We'll never forget our very first robot tournament, for sure!
After these well-fought battles, the robots were given to students of the MIT Fab Lab – who will probably treat them better than we did! Altium sponsored the San Diego Fab Lab that provides technology tools to young underprivileged STEM students.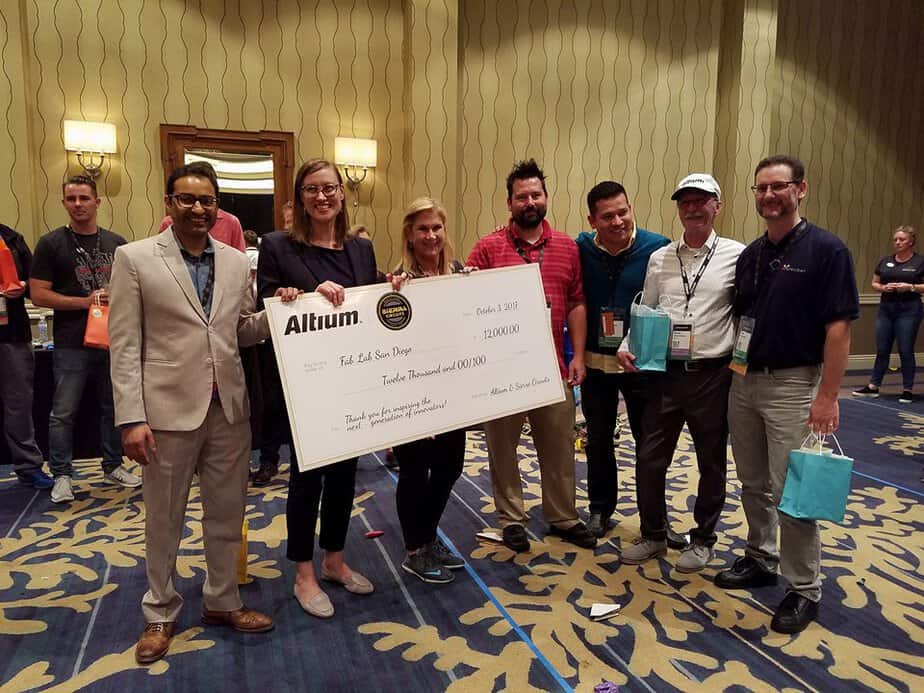 Speaking of students, we were very happy to meet the Badgerloop team from the Hyperloop competition. If you're still looking for a PCB sponsor, we're here guys!