Raspberry Pi had a great booth at Maker Faire! It is the most popular tiny computer across the world, having sold over five million pieces since February 2015. Their credit-card sized computers come in three different sizes and models and two different types of cameras and modules.

At their Maker Faire booth, visitors were invited to play with the boards, and even create their own! Over 1200 guests designed their own responsive PCB. Ben Nuttall, Raspberry Pi development and outreach, was kind enough to talk about this interactive board, and what Raspberry Pi's been up to lately. By using electrically conductive paint, you complete a "connect-the-dots picture on a printed circuit board, and then connect the board to a Raspberry Pi and run a Python program to see the Pi respond to the connections you've painted—in this case, you see an image of an airplane in your choice of color."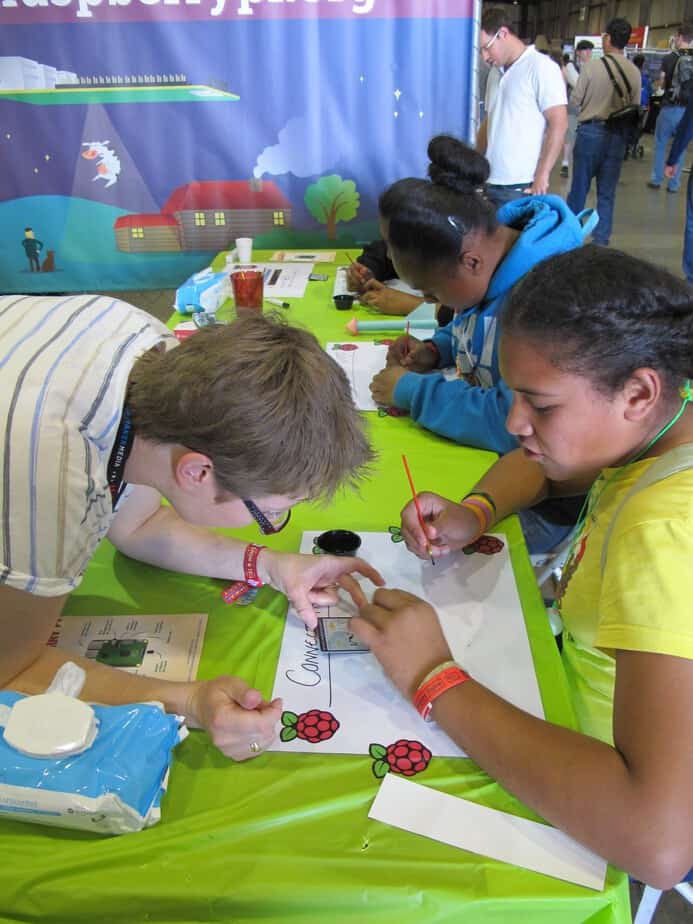 Raspberry Pi is a registered educational charity focused on the advancement of education of all ages in the fields of computers, computer science, and related interests. They are currently hosting a competition which will send the winner's code to the ISS! Astro Pi invites students to code their own app, which will run on Raspberry Pi. Additional information can be found on Astro Pi's website.
There are also free educational resources on their website. They aim to give teachers access to everything computer-related that they would need, helping future generations of coders, STEM enthusiasts, and engineers.
Follow us on Twitter for updates and news.