The anticipated PlayStation Virtual Reality (VR) Headset will be released on October 13, 2016. The headset will be a head-mounted display (HMD) that requires the PlayStation 4 and a PlayStation camera to work. The VR headset will immerse the user fully, offering a 3D display and head tracking. So far early reviewers, like those at Tech Radar, say the headset is comfortable, even for those who wear glasses.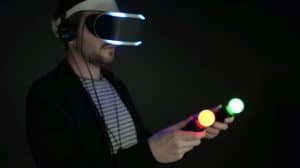 The headset boasts a 5.7-inch OLED screen with 1920 x RGB x 1080 resolution with a 100-degree field of view and a 120Hz refresh rate. This model has a lower latency and a faster refresh rate than previous models, which should resolve the motion-sickness issues of previous models. A new PlayStation, PS4.5, is rumored to be launching with the headset.
The controls use a combination of head movements as well as PlayStation Move controllers and a DualShock 4 controller. Sony says that the PSVR will have at least 50 games by the end of 2016. Every unit will include a free demo disc with several games.
Read more about the PSVR from TechRadar.
Follow us on Twitter for updates and news.