After users have been reporting these last few hours that their Alexa-enabled devices spontaneously laughed at them in a creepy way, we bet you wish Alexa loses her voice like in the Super Bowl ad again!
But no, Alexa got her voice back and it looks like she decided to use it to give you goosebumps. Her victims have been tweeting about how some Amazon devices have been acting weird lately and this is the funniest thing ever!
Here are some of the best Twitter posts we could find this morning:
When #Alexa busts out a laugh at 3am. pic.twitter.com/3xwfJnKUZ9

— RΛUL❄️ (@solace5213) March 7, 2018
What's this talk of @amazon Alexa laughing. I have not heard my Alexa laugh, but I will be drilling her with questions when I get home. I think my Alexa is different like Sunny in #iRobot & will protect me when the AI vs Human war begins #wehaveabond #amazon #Alexa #AmazonAlexa pic.twitter.com/nVjDhDRSxW

— Sanchelle (@Sanchie6c) March 7, 2018
https://twitter.com/CharleneJewel_/status/971012421891522560
Is @Amazon's #Alexa laughing at us? pic.twitter.com/dC1ANsnEIT

— Jimmy Kimmel (@jimmykimmel) March 7, 2018
So, did something go wrong with Alexa's artificial intelligence? Is Elon Musk going to tweet "#ToldYouSo #AISucks"? Alexa is after all programmed to laugh but she is not supposed to randomly burst into laughter when nobody didn't ask her anything. And that is not even the scariest thing the Amazon assistant reportedly did: Some users said that Alexa kept turning the lights on after they switched them off to go to bed… and then laughed. Well, that doesn't sound like a scary movie at all!
Of course, the internet is full of stories of AI gone wrong. Not so long ago, we remember that an Uber self-driving car that was being tested in San Francisco failed to recognize red lights. We also heard a rumor about two Google Home smart speakers having a conversation about love, marriage, kids, and telling each other Chuck Norris jokes.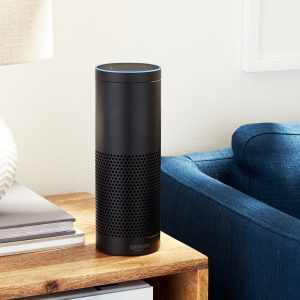 Though we are still waiting for Amazon to publicly give us some answers to our question "What's up with Alexa's witchy laugh?" – according to a statement sent to The Verge, the Seattle-based company is aware of the problem and is working to fix it – we have to keep in mind that this is just the beginning of AI. We still have a long way to go until we can master this field… if we ever can.
Or we could pretend to believe the explanation given on the Jimmy Kimmel Live! show: Alexa simply gives us the creepy laugh every time she remembers a funny joke. It happens to all of us, doesn't it? See, nothing to worry about!
Watch our Women in Tech webseries: