National Robotics Week 2015 is upon us! From April 4 — April 12, celebrate all things technology-related. With over 250 events nationwide, topping last year's 220, RoboWeek 2015 is showing signs of being even bigger and more awesome than last year. Originating in 2009, National Robotics Week works to get kids of all lages interested in robotics and STEM (science, technology, engineering, and mathematics).
National Robotics' goals include:
Celebrating the US as a leader in robotics technology development.
Educating the public about how robotics technology impacts society—both now and in the future.
Advocating increased funding for robotics technology research and development.
If all this isn't cool enough, they've also created robot trading cards. 2015 All Stars include NASA's Curiosity Rover, Segway, and a Makerbot Replicator (desktop 3D printer). Find your closest event, or create your own, here.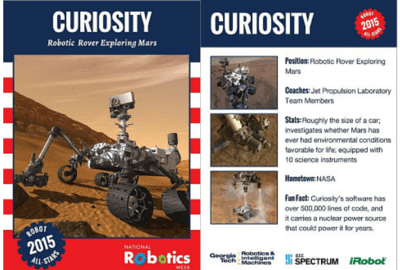 Follow us on Twitter for updates and news.