iPhone X Plus: The Rumored Specs of Apple's New Smartphone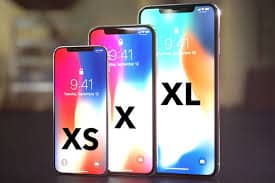 ---
Word on the streets is that Apple could release not just one but three new iPhones in September. And the iPhone X Plus is one of them. After the huge success of the very expensive iPhone X, the Silicon Valley giant doesn't plan on slowing down anytime soon.
Summer is not even there yet but everybody has eyes on Fall 2018. It is that time of the year when it's raining smartphones. These last few years, Apple has unveiled its new iPhones in September. Except the X model which was released in November 2017. But, we can assume that the new smartphone will be available in just four months.
Like the iPhone 8 Plus?
Again, all we have is rumors, but it seems that the iPhone X Plus – or XI or X2 – might share a few similarities with the iPhone 8 Plus. The blog Macotakara heard from a reliable supplier source that the iPhone X Plus should be a 6.5-inch OLED device. This is roughly the same size as the iPhone 8 Plus. And it should also have about the same thickness. Macotakara reports that the X Plus should only be 0.2 mm thicker than the 8 Plus, which is 7.5-millimeter thick. The reason could be the mounting form of the rear camera.
Apple is rumored to keep the same body as the iPhone X. It would make sense to go for the smaller bezels again since they were such a hit. It also means a bigger screen than the 8 Plus 5.5-inch widescreen.
The iPhone X Plus should support iOS 12. The next version of Apple's mobile OS is said to allow horizontal Face ID. Unlike the X model which can only be unlocked vertically.
Other estimated specs include more RAM (4GB), and a bigger battery. Although we can't tell how many more hours of Instagram and Snapchat users will get. The big question mark is the price. How much will you have to spend to own this beauty? Rumors say $999.
It goes without saying that Apple hasn't confirmed any of this yet. Be patient. It is unlikely that the Cupertino-based company shares any details until the unveiling event. It probably brings us to the beginning of September.
Tags: iphone, smartphone