Of the many possible applications of unmanned aerial vehicles, commonly called drones, home delivery appears to be one of the most promising. According to Flexport, Amazon has been developing its drone delivery service, Prime Air, for a number of years now. Google plans to have its drone delivery service, Google Wing, up and running by 2017. Walmart has also begun testing its own drone delivery service. The application of drones as a home delivery service has the potential to radically change companies' cost structures.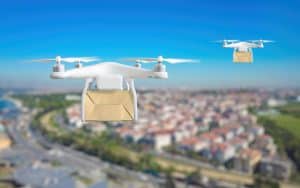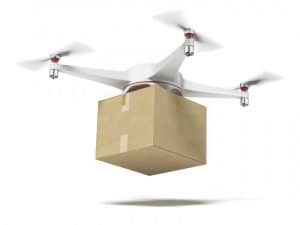 The New York Times reports that, if successful, drone delivery has the potential to drive retail stores out of business and radically change the world we live in. With drones flying down suburban streets delivering packages, experts predict "we would live in a world more like that of 'The Jetsons' than our own."
How Drone Delivery Works
Drone delivery has the potential to deliver packages to the customer's door in under 30 minutes. According to Amazon, drones could deliver packages of less than five pounds. Each drone would weigh around 55 pounds and would fly less than 400 feet above the ground. Although delivery drones would have to be operated by a human pilot, Amazon claims that by using "sophisticated 'sense and avoid' technology," the drones would be able to fly more than 10 miles out of the line of site of its operator.
Drone Delivery Economics
Both Amazon and Google have begun testing drone delivery, with positive results. Amazon recently unveiled a drone capable of transporting small packages. It can fly a maximum of 15 miles, meaning all deliveries must be with 7.5 miles of Amazon's warehouse. Since 86 percent of the packages Amazon ships weigh less than five pounds and Walmart claims 70 percent "of Americans live within five minutes of a Walmart," the feasibility of drone delivery looks promising.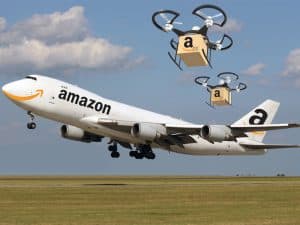 However, it is too early to say if drone delivery is actually cheaper than traditional delivery methods. Two factors determine the economic feasibility of home delivery: the density of the route and the number of packages that can be delivered on the route. As currently envisioned, drone delivery doesn't work with this model. Drones can only deliver one package at a time before returning to their home base. A UPS driver, on the other hand, is able to deliver around 120 packages a day. As human pilots will have to be employed to fly these drones, it's difficult to say how economic drone delivery will be.
Drone Testing and the FAA
So far, drone testing in the United States has been restricted by Federal Aviation Administration (FAA) regulations. According to Forbes, the FAA requires all drone testing to occur at approved test sites. Amazon claims it is impractical to only test its drones at FAA-approved sites, and for this reason, they have only tested drones indoors where FAA regulations do not apply. They are currently moving toward outdoor testing and have asked the FAA for an exemption.
Meanwhile, Google has begun testing drone delivery with limited FAA approval. According to Bloomberg Technology, the FAA recently approved a joint venture between Google, Chipotle, and Virginia Tech to test the delivery of burritos on campus. The experiment will test how quickly the food can be delivered and whether or not the drones are able to keep it both intact and warm. Over time, as the regulatory climate changes, more tests like this may be done in the future.