Tesla released just a few hours ago a new video on its YouTube channel simply entitled "Tesla 2018". In this quarterly video, Elon Musk teases us with cool catchy music and action. Tons of action. Oh and also, is it Model Y under wrap?
The video is less than two minutes long and it is enough to catch our attention. Although Tesla is known for its we-do-not-advertise policy, its Marketing team unveils now and then some pretty cool contents like this one. The video starts with a footage of a wheel of what seems to be a prototype vehicle spinning faster and faster. Goosebumps already! We then get to see the inside of the California-based company's design studio in Hawthorne, where Elon Musk also established SpaceX's headquarters. This is where the new Tesla models are designed.

Wait a second, is that Model Y partially covered? The car is definitely not one of Tesla's current offerings and it would make sense for the car-maker to be working on Model Y right now. But – and this is a big but, no pun intended, we swear – this model does not seem to be a crossover, like Model Y is supposed to be. Some fans noted that this car is too ground to be a crossover and might just be a refresh of Model S or even a prototype of Model 3, that is still in the studio. Whatever it is under that cloth, we can't wait to discover it!
Don't forget about the solar panels…

Let's move on and focus for a second on this beautiful footage of Model 3 driving inside an empty building. It is now time to breathe some fresh air: off to the Gigafactory 1 in Nevada. This is also the part where Tesla wants you to remember that you can get solar panels to reduce your ecological footprint even more.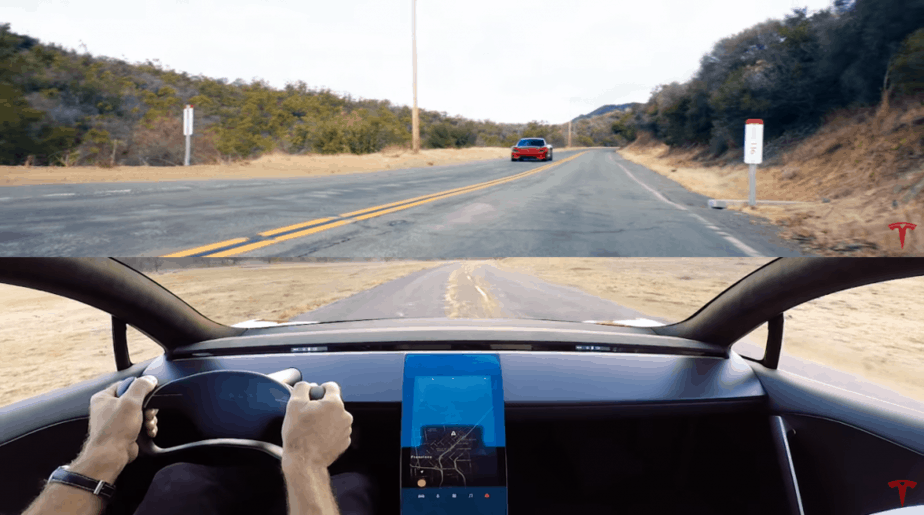 The video now features the semi truck and the new Roadster unveiled last year. Can we agree on the fact that watching the next-gen Roadster in action is the best part of the video? During the unveiling event last November, Elon Musk went on and on about how "nuts" this vehicle is. And we believe him! The Roadster goes from 0 to 60 mph in just 1.9 seconds and has a 620-mile range. Getting exciting about this nuts sportscar is free but driving it will cost $200,000 and $250,000 for the limited edition Founders series. Have you started saving yet?
The video ends with scenes of lucky test riders on the passenger seat of the Roadster screaming and smiling – only a ride in a Roadster can make you do both at the same time – as the car accelerates on a straight road. "Holy sh…" Yes, this summarizes Tesla's performance pretty good!