Patrick Muggler, CEO of AmbyGear, shares his experience creating the AmbyGear smartwatch.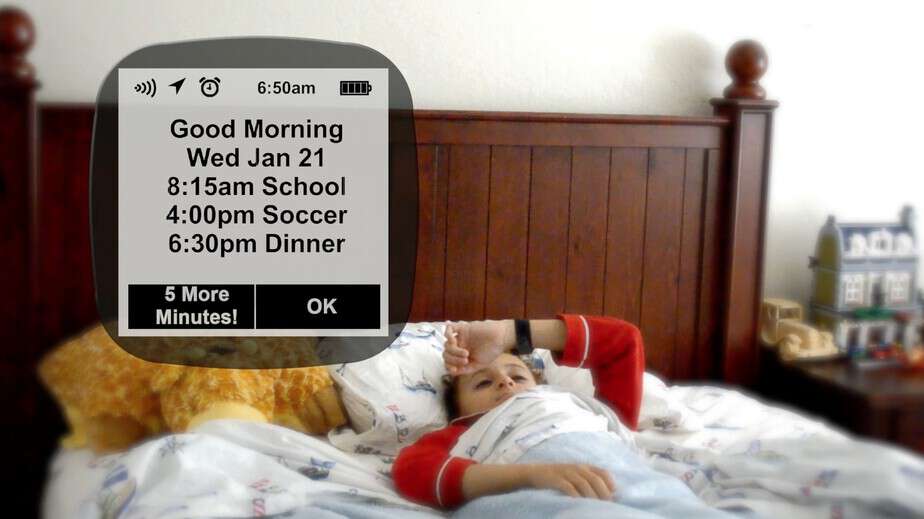 The AmbyGear Smartwatch
Time moves differently the moment a parent realizes they've lost track of their child. Each second feels like hours until they know their kid is safe again. I know the feeling all too well. My daughter went missing in Home Depot once for 10 long minutes. This small incident, while quickly resolved, showed me how stressful a more dangerous situation could be. Another time, my six-year-old son got lost on a bike ride. On the way home, he pedaled ahead of everyone and took a wrong turn. It took over one hour to find him; eventually, a neighbor saw him and called my wife. The experience is one I'll never forget.
I set out to create a smartwatch that brings peace of mind to parents with children between three to eleven years old. At this age, kids are usually too young to have a cell phone, but too independent and curious to stay tethered to their parents when there's a wide world to explore.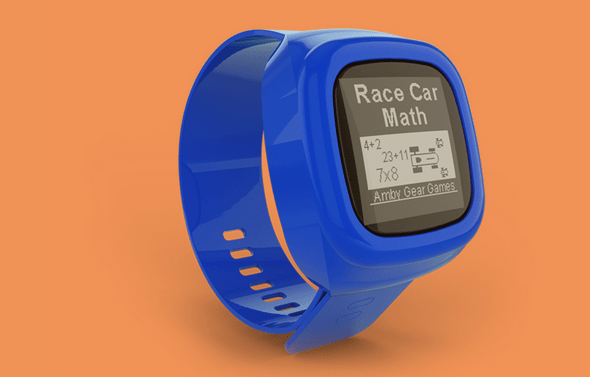 AmbyGear's mission is to make it safe for children to go out and develop new experiences on their own.
With built-in GPS, the AmbyGear smartwatch lets parents see where their children are, and includes the ability to set geofences that send alerts when their children leave a safe area like school boundaries. But AmbyGear is much more than a watch that locates and tracks users.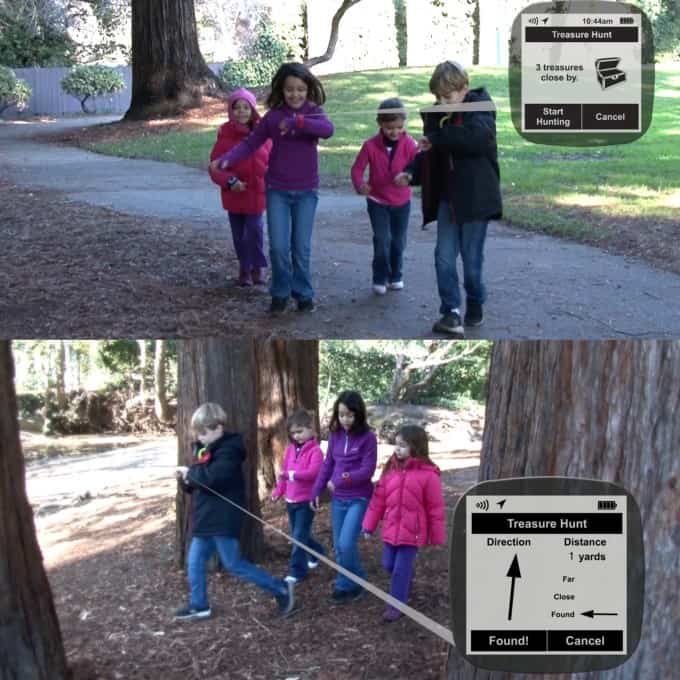 AmbyGear is a two-way communication device. Children can use the Find-Me app on the smartwatch to locate their parent via the parent's cell phone. There's also a two-way texting app on AmbyGear so parents can send text messages that display on their child's smartwatch. For example, telling your child to "come home" has never been easier. They can tap the "Ok" button in response, you know they are safe and on their way home.
With a growing number of apps and games that parents can enable on the watch (from their smartphone app), there will always be something new to do with AmbyGear. One of the first apps for AmbyGear is the connected calendar, which shows the day's upcoming activities. Another app is the treasure hunt game that sends kids on an outdoor exploration to find hidden items.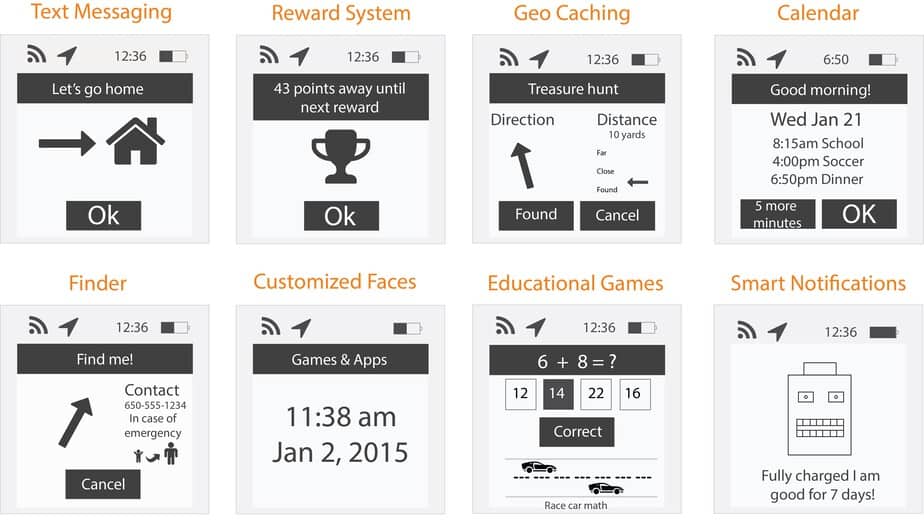 AmbyGear Rewards includes a reward system that enables parents to reward their kids for good behavior, accomplishing tasks, and reaching milestones. Kids collect points by performing tasks, monitored by . Parents determine the type of task that earns points, whether it's through an educational app or completing an activity. Through AmbyGear Rewards' webportal, parents can select from a range of predefined rewards or create their own.
The watch is fully programmable using an open system. We're developing an SDK and a kid's SDK so kids can learn to program their own watch.
AmbyGear Hardware Interacts With A Mobile App For Easy Control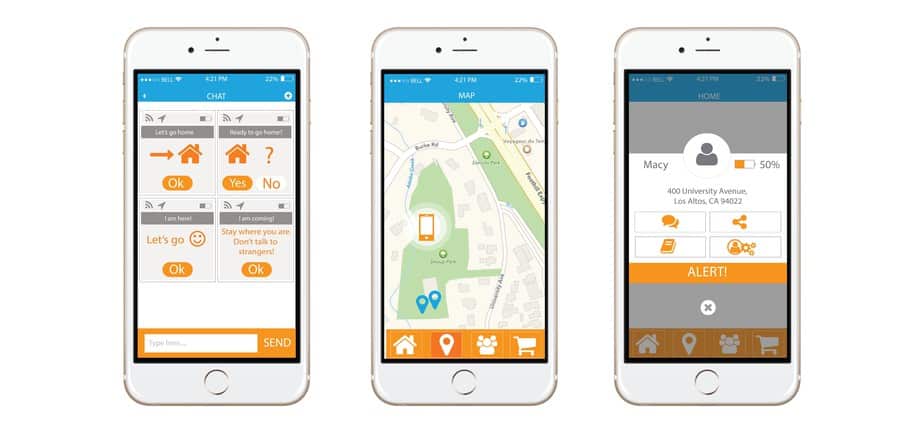 We've developed an AmbyGear app for Android and iOS so parents can manage their child's watch from wherever they are.
Parents can use the app to:
Download new games and apps for the AmbyGear smartwatch.
Control which apps and games are accessible and when.
Monitor points and set the rewards using AmbyGear Rewards.
Send and receive text messages to the AmbyGear watch.
Monitor child locatio, set geo fences and receive real-time alerts.
Control usage of the AmbyGear watch.
Share location with friends and family.
Connect to multiple AmbyGear smartwatches.
Control privacy settings.
AmbyGear connects to your phone in two ways:
Directly via Bluetooth Smart and Wi-Fi direct.
Via the Internet using Wi-Fi hotspots.
The app comes with tight encryption and controls. Privacy and security are a priority for us. All the data transmitted is encrypted and secure. Parents can create a trusted network, and only the phones that are in that network can read the data and location from an AmbyGear watch.
AmbyGear PCB Design, Fabrication, and Assembly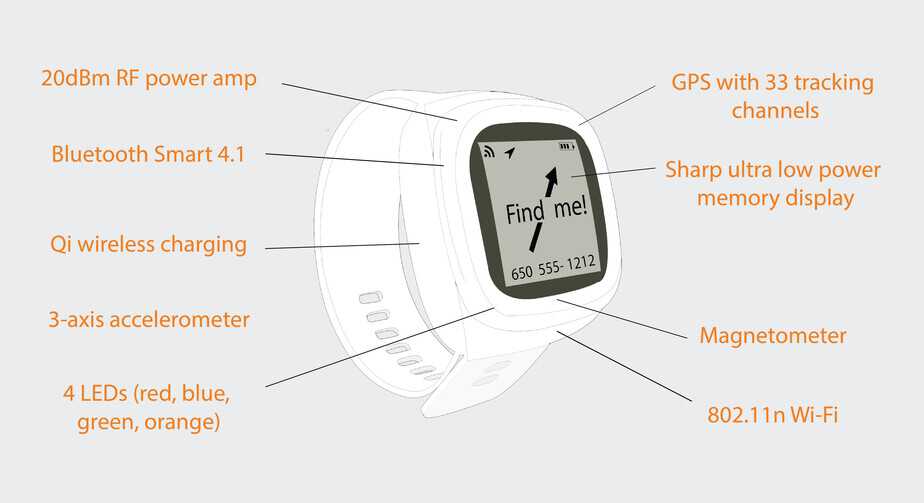 Initial Design Challenges
When our team set out to create a PCB for the AmbyGear watch, we knew we would have to squeeze plenty of technology into a tiny space. The wearable needed to fit on a child's wrist, so needless to say, the PCB would need to be small.
Because of the watch's advanced and diverse functions, we had to fit many components onto the board. Our design required:
GPS with 33 tracking channels
Bluetooth
Low-power memory LCD display
Sensors: a gyroscope, 3-axis accelerometer, and your power management ICs
4 LEDs
Three processors: one for Bluetooth with a 250-yeard range, one for Wi-Fi with a 500-yard range, and one for applications and games
Screen with a tap sensor (instead of touchscreen, for lower cost and higher durability)
7-day battery life and Qi wireless charging
With so many components so close together, we had to take extra care with the design to minimize the risk of interference.
In addition to these design challenges, our small startup faced budget and time constraints—especially during our initial prototype board development, when we knew that there would be a few iterations and some troubleshooting. So, to speed up the development process, we partnered with Sierra Circuits, a local fabrication and assembly shop located about a mile away from our office.
Ensuring Our Board's Success Using A Prototype PCB
We decided to develop AmbyGear's circuit board in a two-stage process: first, create an oversized prototype, and then create a small board design. Because the components in the final board would be very close together, creating a prototype board that spread them out a bit would let us iron out any final kinks before moving to the more challenging, smaller design.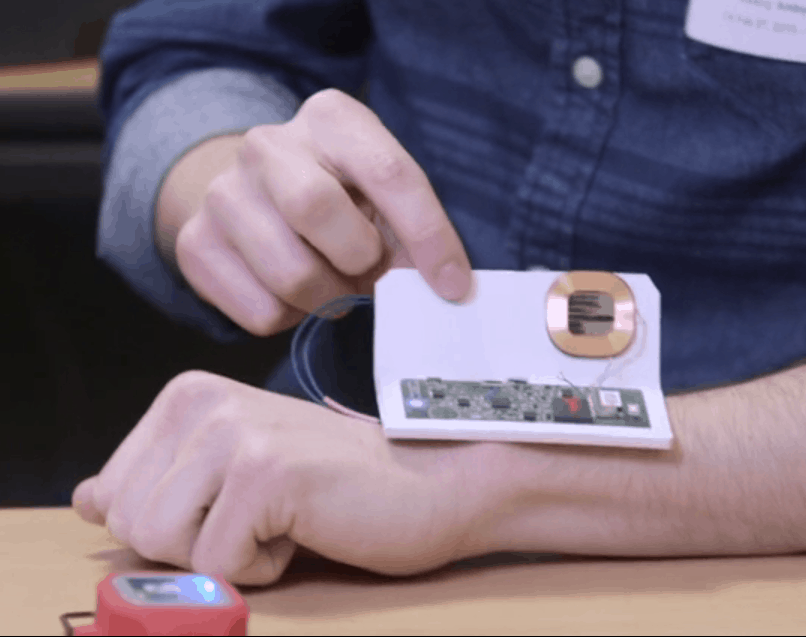 The prototype was a two-layer board with components on one side for easy debugging and assembly. At 82 x 26 mm, it was more than twice the target size for the final board. We created five of these prototype boards and connected it to AmbyGear's software; everything worked right out of the gate.
Next, we designed the final board, which was a 32 x 32 mm four-layer board and had components on both sides. The board had some very fine geometries, including a 0.4 mm pitch ball grid array. We spent many hours on planning in order to minimize interference from the different radios on the board.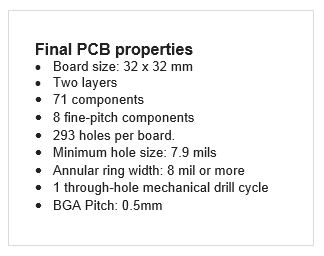 Unexpected Challenges
A Microcontroller With The Wrong Footprint
One Friday morning, in the middle of the fabrication process for the final board, Sierra Circuits called us because the microcontroller our designer had selected didn't match the footprint of the board. The component had 40 pins, while the file in the component library used a 48-pin package.
Sierra Circuits stopped fabrication and we discussed the best course of action. Over the next day and a half, we designed a smaller board that sat between the PCB and the microcontroller component. This daughter board had 48 pins on the bottom and 40 pins on top. This solved the issue in a very short timeframe; we completed the daughter board layout by Sunday, fabricated it by Tuesday evening, and assembled it on Thursday.
A Battery Connector Mix-up
We procured batteries and corresponding connectors for our smartwatch from a vendor who ended up shipping a different connector to us. Sierra Circuits had already used those connectors by the time we received the batteries. Luckily, they were footprint-compatible with the correct battery connectors, so we simply removed them and replaced them with the right ones.
GPS Interference
In the final board layout, the GPS antenna was close to the Bluetooth component and the LCD screen, which caused some interference to the GPS signal. We haven't yet solved this issue fully, but in future versions of the AmbyGear board, we may move the GPS antenna six or seven millimeters to improve the signal. Designers experiencing difficulties with GPS interference should consider separating the GPS antenna and all other circuits as much as possible or adding shielding cans.
Results
We fabricated and assembled the first five units of the final PCB with Sierra Circuits. Once we verified that the board had excellent manufacturability and quality, we produced another 20 units.
The process went quickly. Fabrication and assembly took seven or eight days, which was the right price-performance tradeoff for us. There were no bugs in the fabricated boards, which saved time because no rework was required. We were able to triage the microcontroller footprint hiccup in just a few days.
We stayed within our timing and budget restrictions, and AmbyGear watches are now for sale to the public.