June 3, 2016
|
|
0 Comment
Design Requirements for RFID in Healthcare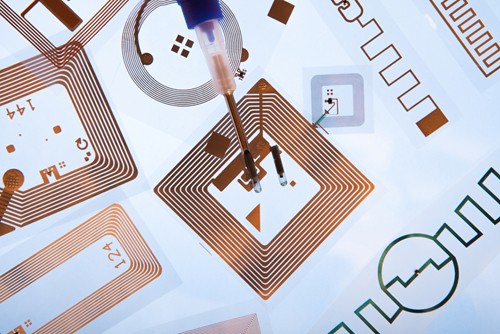 ---
 It is a great time to be a radio frequency identification (RFID) solutions manufacturer.
This is particularly true in the healthcare sector. As an earlier blog highlighted, the global market for RFID healthcare solutions is projected to nearly quadruple by 2019. This includes the tracking of medical equipment and supplies.
As such, businesses that develop and manufacture RFID-dependent solutions for healthcare providers have excellent opportunities on the horizon. In order to best take advantage of this potential, companies need to recognize and adapt to the unique design requirements inherent to RFID devices.
RFID's Healthcare Applications
First, let's quickly review how RFID is being used in healthcare. The most common RFID application is for management assessment. Hospitals, along with clinics and other care providers, deploy RFID solutions to keep track of the vast numbers and varieties of supplies, such as medical equipment, crash carts, and more recently, pharmacy inventory. RFID is useful not only for reducing loss, but also increasing efficiency. This enables hospitals to immediately restock supplies when they are running low, which mitigates the chance of complications in the emergency room and elsewhere.
"Reliability is always going to be a priority for RFID devices."
Additionally, healthcare organizations are attaching RFID chips to patient and personnel badges. This way, with an RFID reader, the care provider can remain aware of exactly who is in the facility and where they are at any given time.
Design Requirements
That established, how do these specific applications affect RFID design requirements? There are two key factors that every RFID device design needs to take into account.
Reliability
This is by far the most important issue when it comes to RFID designs in the healthcare space. Obviously, reliability is always going to be a priority for RFID devices—or any other technology, really. But it is especially critical within the healthcare sector, given the life-critical nature of their operations.
Hospitals can use RFIDs to keep track of the number of units of a particular drug in the emergency room. When a drug runs low, the device can send out an alert, instructing the relevant personnel to replenish the supply. However, if the RFID is not sufficiently reliable, it might cease functioning without anyone noticing—until those drugs are needed but not available. For example, significant amounts of a given drug may be required in the emergency room. The ER staff may not spend their time checking on drug supplies if they know that there is an RFID device installed specifically to provide the necessary alerts. In this case, a reliable RFID could prevent a shortage of crucial medicine.
Reliability is also incredibly important as it relates to the risk of fraud and theft. Many prescription drugs represent a tempting target for criminals, be they hospital employees or visitors. Consequently, healthcare providers need to closely keep track of the pharmaceuticals in their possession. The addition of RFID tracking will make it easy to identify missing products early on.

The bottom line here is that hospitals, clinics, doctors' offices, and other healthcare providers cannot afford even the possibility of failure when it comes to their RFID devices. Every design must make a point of emphasizing dependability. This demands the use of high-quality parts that can be fully trusted to remain operational for the entire product lifecycle.

Durability
Durability, like reliability, is important for RFID solutions, but is even more essential within the RFID healthcare applications.

Consider, for example, pharmaceutical drug tracking, as highlighted above. Many medications have limited shelf lives and need to be removed from inventory as soon as their expiration dates arrive. At the same time, those drugs will often move from one location to another, either between facilities or within a particular healthcare provider as items are pulled out of or put into storage.

This RFID device needs to be designed so that its components can withstand such treatment while continuing to function with perfect accuracy. Designs that do not offer that level of durability will not meet healthcare providers' standards.

The Flex PCB Advantage
These priorities should guide every element of the RFID device design process. And while there are certainly many components to consider, one thing is clear: Flexible printed circuit boards are an ideal match. Flex PCBs are already becoming increasingly popular in the RFID use, as EDN noted. They are especially well-suited for healthcare devices, considering their reliability and durability, along with their small size and adaptability.

By choosing flex PCBs for their RFID designs, companies can go a long way toward ensuring their products meet the stringent standards established by hospitals and other healthcare providers.

Tags: medical devices, RFID