February 5, 2018
|
|
0 Comment
Amazon: Alexa Loses her Voice and Wins the Super Bowl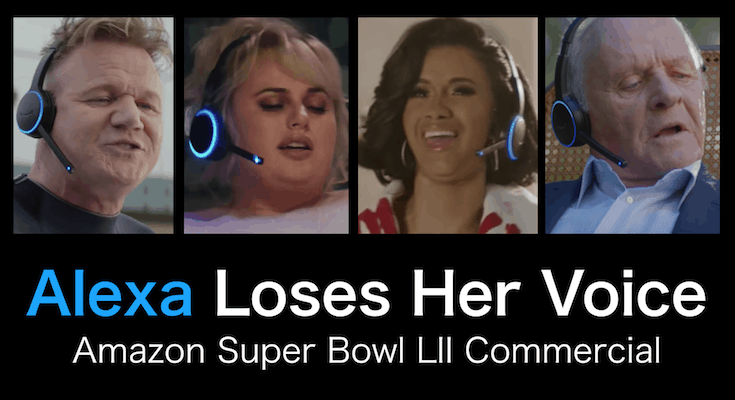 ---
The richest man on Earth is only going to get richer! Jeff Bezos made quite an impression last night when he appeared in the Amazon commercial during the Super Bowl. According to USA Today's Ad Meter, the ad in which Alexa loses her voice got the highest rates. And it was well deserved!
It all starts when Alexa coughs and goes completely silent as she is announcing the weather. Immediately, Amazon launches its plan B with the approval of a skeptical and oh so funny Jeff Bezos. However, the best is yet to come: We can see a man in his kitchen asking Alexa the grilled cheese recipe… only to get yelled at by an angry Gordon Ramsay – which is the only kind of Gordon Ramsay we know, right? "Pathetic! You're 32 years of age and you don't know how to make a grilled cheese sandwich? Its name is the recipe, you bleeeeeep," the chef screams at the poor astonished user.
Then, the rapper Cardi B gets asked how far Mars is, Rebel Wilson sets the mood at a party, and Sir Anthony Hopkins gives us goosebumps. Everything goes back to normal at the end when Alexa takes over, "Thanks guys, but I'll take it from here." Although we have no idea what caused our favorite smart home device to lose its voice, the commercial gathered the highest number of consumer votes.
Money well spent for Amazon which paid millions of dollars to shine during the big game. The Super Bowl prices are not cheapest ones with 30-second TV spots sold for more than $5 million. But advertisers know that it's always worth it and their ads even continue to make money days after their first appearance as they are massively shared on social media. As we published this article, the Alexa commercial has more than 27 millions of views on YouTube.
Well, that Alexa commercial was fun, but now Jeff Bezos has to go back to business and pick a winner among the list of the 20 finalists for Amazon HQ2.
Source: USA Today
You might also like:
Jeff Bezos is the Richest Man on the Planet
The Best 15 Tech Gadgets of 2017